Brazil Bank Robbery: 12 People Killed in Failed Heist After Shootout With Police
Two foiled bank heists led to the deaths of 12 people in Brazil's northeastern state of Ceara, according to some authorities.
The tragedy occurred in the city of Milagres on Friday morning with a 20-minute shootout between police officers and armed robbers. The victims included six officers and six robbers, according to Al Jazeera. Additional reports from Brazil indicate that six hostages were killed—one child and five people from the same family—but not all casualties had been identified.
Milagres Mayor Lielson Landin told a local radio station that robbers attempting to flee hijacked the family of five's car on the highway in an attempt to catch a flight at a nearby airport. As the police approached the suspects, the robbers executed the family.
"The criminals killed the hostages and the police killed the criminals," he said.
Secretary of Security delegate André Costa told Brazilian broadcaster Globo that two suspects were arrested. The confrontation with police officers thwarted the robbers' chances of taking money out of the establishments.
"One of the arrested criminals ended up saying that he killed people who were in the place and were not of the gang, but all the information is insufficient, and the work of the investigation and the investigation will happen," Costa said.
Brazil, Latin America's largest nation, has witnessed a rise in violence. Nearly 63,880 people were killed in 2017, meaning that the South American nation had a murder rate of 30.8 per 100,000 people, up 3 percent from the year prior, according to The New York Times, citing data from the Brazilian Forum of Public Security. In contrast, the U.S. had five homicides per 100,000 inhabitants in 2015, and Mexico—a country that has grappled with skyrocketing violence due to the war on drugs—had 25 homicides per 100,000 last year, the publication noted.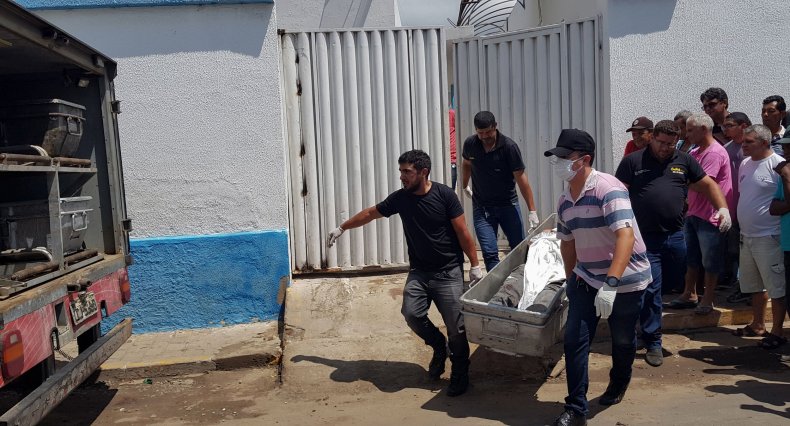 Ceara had the third highest number of violent deaths in Brazil, according to Brazilian website O Povo, with 2,360 casualties—or a rate of 26 deaths per 100,000 inhabitants—registered in the first half of 2018. Due to its geographic location in Brazil, Ceara has turned into a coveted passageway for drug trafficking between South America and Europe, according to the Times.
As a result, rival gangs have attempted to gain control over drug trade in the Brazilian state, giving rise to homicides.
Amid a wave of violence in Brazil, President-elect Jair Bolsonaro has pledged to ease gun laws and "make it easier for the good guys" to own them. Bolsonaro, a man who enjoyed greeting his followers with his gun finger gesture at every campaign rally, once said that he would like to give police more freedom to open fire on suspects.
"We have to stop this politically correct thing, saying that disarming everyone will make Brazil a better place—it won't," he told Brazilian broadcaster Record days after he clinched the presidency in late October.
​