Brazil's Bolsonaro Takes Hydroxychloroquine for COVID-19 As WHO Stops Trials of Drug
Brazil's president Jair Bolsonaro is taking the anti-malarial drug hydroxychloroquine to treat his infection with the novel coronavirus—even as the World Health Organization (WHO) stops its own trial of the medication.
Shortly after announcing that he had tested positive for COVID-19 on Tuesday, Bolsonaro published a video on Facebook in which he purportedly took a dose of the drug touted by himself and Donald Trump, which researchers have not conclusively shown to be effective as a treatment for the disease.
The Brazilian president has spent months downplaying the severity of the virus, which has claimed the lives of more than 66,000 people in his country—the second-highest number of deaths in the world, after the U.S.
Bolsonaro told reporters he had received a lung X-ray on Monday in hospital after experiencing symptoms including fever and muscle aches, with the scan revealing that his lungs were "clean."
The 65-year-old said his fever had abated by Tuesday, claiming that hydroxychloroquine had helped him recover.
"Today I'm a lot better, so certainly it's working," Bolsonaro said in the Facebook video. "We know today there are other remedies that can help fight the coronavirus. We know none of them have their efficacy scientifically proven, but I'm one more person for whom this is working. So I trust hydroxychloroquine. And you?"
On Tuesday, Bolsonari said: "I'm, well, normal. I even want to take a walk around here, but I can't due to medical recommendations."
This weekend, the WHO announced that it had discontinued its own trial of hydroxychloroquine as part of a research project established to find an effective COVID-19 treatment for hospitalized patients.
Interim results from the "Solidarity Trial" and a review of other evidence revealed that hydroxychloroquine produced little or no reduction in the mortality of hospitalized COVID-19 patients. However, the WHO said that the decision has no bearing on potential research investigating hydroxychloroquine for non-hospitalized patients.
Martin Landray, Professor of Medicine and Epidemiology at the Nuffield Department of Population Health, University of Oxford, U.K., said last month that there is a lack of reliable information from large, randomized clinical trials—the gold standard for drug testing—on the efficacy of hydroxychloroquine as a treatment for COVID-19.
But preliminary results from the RECOVERY trial—a randomized trial enrolling 11,000 patients in the U.K. to test a range of COVID-19 drugs—found that hydroxychloroquine appeared to be ineffective at reducing the fatality of the disease.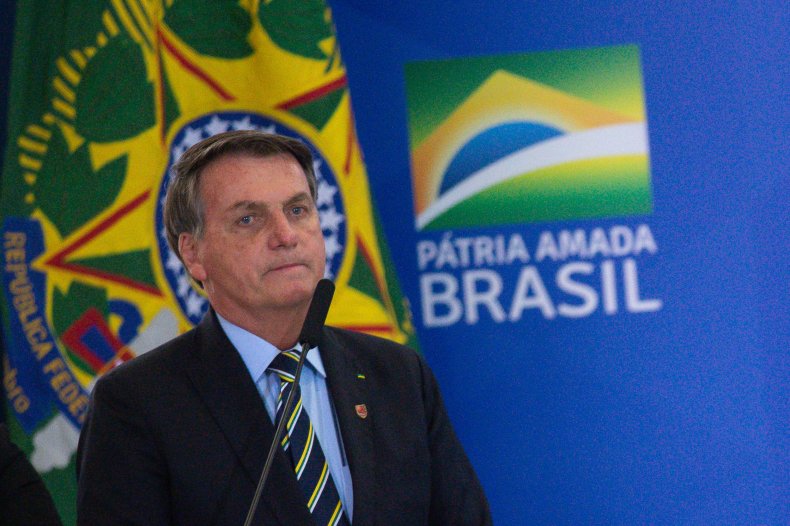 "Preliminary results from the RECOVERY trial are quite clear—hydroxychloroquine does not reduce the risk of death among hospitalized patients with this new disease," Landray, chief investigator of the trial, said in a statement in June.
Bolsonaro has come under fire for downplaying the severity of the virus, opposing lockdowns and flouting social distancing measures as Brazil experiences the second-worst outbreak in the world, with around 1.67 million confirmed infections.
The president has previously said that his history as an athlete meant he would have no reason to worry if he contracted the disease.
"I would feel nothing, or it would be at most just a little flu," he said.