Brazil's Bolsonaro Says Lockdown 'Kills' and 'Suffocated' the Economy
Brazil's president Jair Bolsonaro said that lockdowns implemented by some states and cities across the country during the pandemic have "suffocated" the country's economy.
The president also said on Saturday that "Lockdown kills," Reuters reported. "Without salaries and jobs, people die."
Brazil is suffering the second-worst coronavirus outbreak in the world after the United States with more than 2 million confirmed cases and over 78,000 deaths.
On Saturday, the country's health ministry reported 28,532 new COVID-19 cases and 921 new deaths from the disease.
Over the course of the pandemic, the president has repeatedly downplayed the severity of the virus, while also opposing lockdowns and flouting social distancing measures.
But state governors across Brazil, a country of 210 million people, chose to ignore the president, implementing lockdowns in their region, although many measures have since been relaxed.
In April, the governor of Brazil's most economically important state, São Paulo, said: "Do not follow the guidance of the president."
Toward the end of March, as São Paulo went into lockdown, the president criticized the "hysteria" over coronavirus and urged Brazilians to go back to work.
"We must return to normality," he said in an address to the nation. "The few states and city halls should abandon their scorched-earth policies."
Last month, Brazil's central bank forecast that the country's economy will contract by 6.4 percent as a result of the COVID-19 pandemic. While the bank expects the economy to recover over the second half of the year, this will only happen gradually.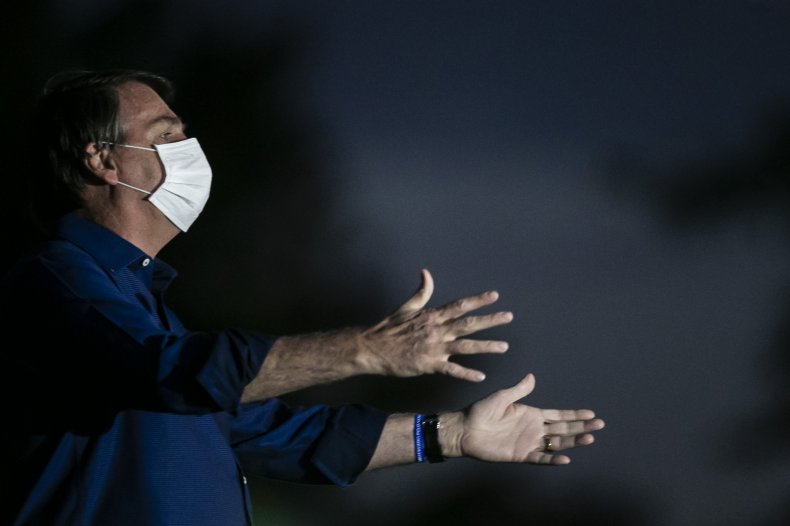 Furthermore, "the level of uncertainty about the pace of economic recovery throughout the second half of this year remains higher than normal," the bank said.
Bolsonaro announced that he had tested positive for COVID-19 on July 7. And on Wednesday he told reporters that he had tested positive again, suggesting he has yet to fully recover, according to Al Jazeera.
On Saturday, Bolsonaro met supporters at the presidential palace in Brasilia, wearing a mask and keeping several yards of distance. He told them he was feeling well, saying that his good health could be attributed to the anti-malarial drug hydroxychloroquine which he has been using as a treatment. The drug is unproven for the treatment of COVID-19.
"I am a living proof [that the drug works,]" he told supporters.
The president has previously said that his history as an athlete meant he would have no reason to worry if he contracted the disease.
"I would feel nothing, or it would be at most just a little flu," he said.