Brazil COVID-19 Deaths Rapidly Approaching U.S. Toll
Six months into the COVID-19 pandemic, the U.S. continues to lead the world in cases and deaths. But experts fear Brazil is in danger of overtaking it when it comes to fatalities.
Over the weekend, the World Health Organization (WHO) reported 230,370 new global COVID-19 cases in the 24 hours preceding July 12, 10:00 CEST—a record spike. The U.S. and Brazil had the most new cases—at 66,281 and 45,048, respectively—and deaths, at 803 in the former and 1,214 the latter.
The U.S. accounts for 3.3 million of the 12.9 million confirmed worldwide coronavirus cases, and more than 135,000 of the almost 570,000 deaths, according to Johns Hopkins University. In recent weeks, the U.S. has seen a surge in COVID-19 cases, with Southern states hit particularly hard.
Meanwhile, Brazil is the second worst-hit country, as shown in the Statista graph below, with over 1.8 million reported coronavirus cases and over 72,000 deaths. However, Anya Prusa, senior associate at the Brazil Institute of the U.S.-based Wilson Center think tank, told Newsweek the number of cases is likely higher. There is a broad consensus Brazil is underreporting cases, she said, especially because testing is still limited. The daily test positivity rate, or the percentage of people who test positive for infection of all those tested, is 33.2 percent in Brazil, with countries testing widely tending to be closer to 5 percent.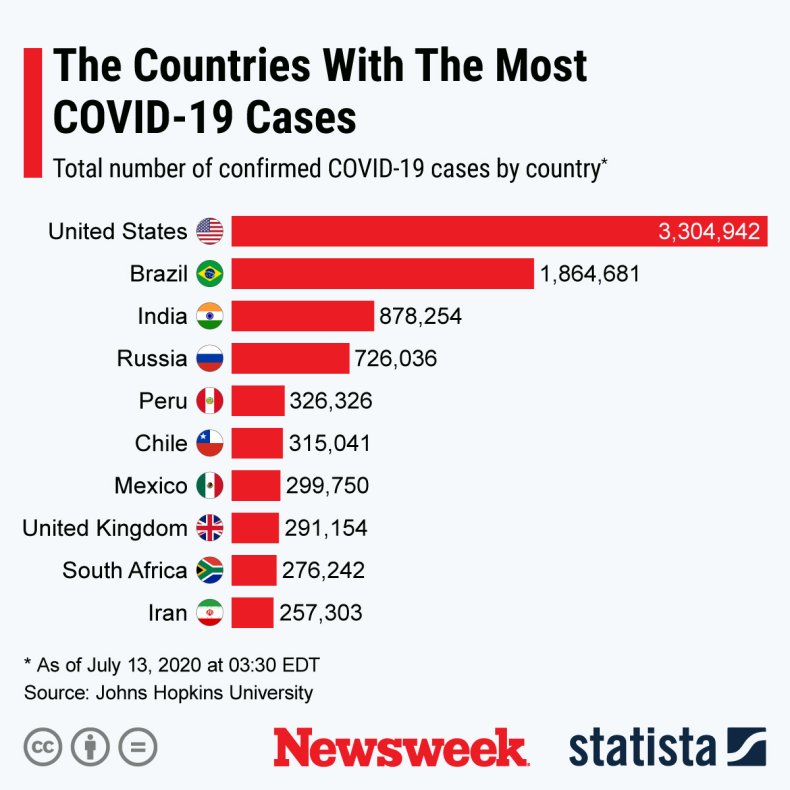 "This suggests that people who are getting tested in Brazil are likely those with obvious symptoms or at high risk, and that many who have more mild symptoms may not be getting tested," said Prusa. One study published last week estimated the figure could be as high as 9 million.
Last week, Luis Felipe López-Calva, UN Assistant Secretary-General and UNDP Regional Director for Latin America and the Caribbean, said COVID-19 deaths in the region are likely "vastly underestimated," including in Brazil. Excess deaths, or those above the average expected during a period of time, can help elucidate the impact of a new infectious disease like COVID-19. Data collected by The Economist cited by López-Calva showed 32 percent of excess deaths in Rio de Janeiro were unaccounted for by confirmed COVID-19 deaths, with that percentage as high as 80 in Manaus. Similar findings have been made in the U.S.
Miguel Lago, executive director of the Brazil-based non-profit the Institute for Health Policy Studies, told Newsweek he believes Brazil will surpass the U.S. in terms of deaths "in the next few weeks."
He pointed to research published by the University of Washington's Institute for Health Metrics and Evaluation (IHME) in May forecasting that deaths in Brazil will exceed 125,000 in early August and continue rising after that. In late June, the IHME forecast 166,362 people will die through October 1, based on the assumption that officials will impose or keep social distancing measures when deaths per day in each state reach 8 per million people. On Monday, an IHME graph suggested that Brazil would overtake the U.S. in total deaths by early August.
In a statement published alongside the June forecast, IHME Director Dr. Christopher Murray commented: "Brazil is at a grim tipping point."
"Unless and until the government takes sustained and enforced measures to slow transmission, the nation will continue its tragic upward trajectory of infections and deaths."
Brazil's President Jair Bolsonaro has been compared to President Donald Trump in both his populist politics and his downplaying of the pandemic. Last week, he tested positive for the coronavirus.
Back in March in the early days of the pandemic, Bolosonaro described the coronavirus as a "little flu," and also said "Brazilians should be studied. We don't catch anything. You see people jumping in sewage, diving in it and nothing happens to them."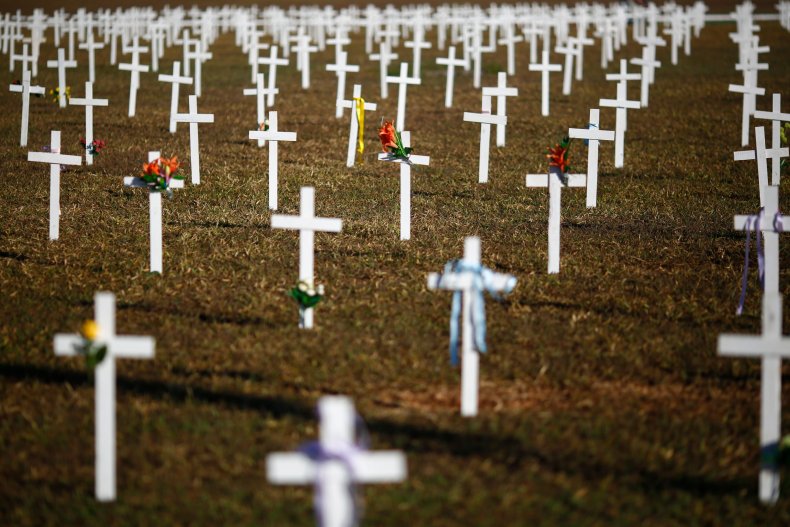 After COVID-19 reached Brazil, businesses and borders in the country were closed, but the president expanded the list of essential businesses to include personal service establishments and gyms. He said lockdowns were "the path to failure, to breaking Brazil."
Lago said: "It's clear that the country is not leading fair responses to the pandemic, so I don't see anything that could stop this trend."
He went on: "If nothing changes Brazil will become the biggest victim of COVID-19 in the world. Politics are to be blamed for that."
Brazil is one of the few developing nations to have the capacity to deal with COVID-19 in terms of healthcare and social policies, Lago said, as it has built one of the largest universal healthcare systems in the world over the past thirty years and also has one of the largest cash transfer programs.
"Unlike the majority of Latin American countries, Brazil had the tools to respond properly to the COVID-19 crisis," said Lago. "However the chronic incompetence of the federal government, fuelled by the irresponsible political strategy adopted by the president himself to save his popularity, have turned impossible to activate this state capacity."
Prusa said the virus is increasingly spreading in the country's interior where there are fewer health resources, and cases and deaths in the country are likely to continue to increase.
Lago and Prusa both expressed concern that state and local governments are easing social distancing measures when the virus is not yet under control. GPS data from cell phones from geo-tracking technology firm Inloco seen by Prusa showed that the rates of social isolation went up in early March but have declined from a high in early April, and are nearing pre-lockdown levels. She said this indicates fewer people are staying at home. Data on traffic congestion from the Inter-American Development Bank reflects similar patterns.
To Prusa, the situation could still go either way. "New cases had flattened in the United States in May and early June, whereas Brazil was continuing to climb. But now we are seeing cases surge again in some parts of the United States."
She said: "Whether Brazil overtakes the United States for total number of deaths, and when, will depend as much on U.S. actions as it does Brazilian ones."