Brazil Fan in Lebanon Killed While Celebrating Germany's World Cup Exit
Two assailants allegedly stabbed and killed a Lebanese fan who was supporting the Brazilian soccer team on Wednesday night, news outlet Agence France-Presse reported.
Mohammad Zaher was murdered in Beirut by two neighbors after celebrating Brazil's progression to the next round and Germany's defeat in the group stages of the World Cup. Lebanese online media company Naharnet reported that "Zaher was reportedly cheering for Brazil's win when the assailants from the Shamas and Braytaa families, who turned out to be Germany fans, stabbed and killed him, leading to his instant death."
The army said it had sent a suspect to court after making an arrest and conducting an interrogation. Lebanese online media company Naharnet identified the suspect as Hussein Khodr Braytaa.
"This is ridiculous. To kill someone because of a football match is beyond crazy," a soccer fan told Lebanese newspaper Annahar. "We're not even German or Brazilian."
Germany, the defending World Cup champion, failed to progress to the second round after losing 2-0 to South Korea on Wednesday. Brazil beat Serbia 2-0 to win its group and advance to the knockout stages of the tournament the same day.
In 2014, Germany walloped Brazil, the host nation, 7-1 in a semifinal match.
AFP reports that "the rivalry between Germany and Brazil is behind one of the largest rifts among football fans in Lebanon, which has never qualified for the World Cup itself."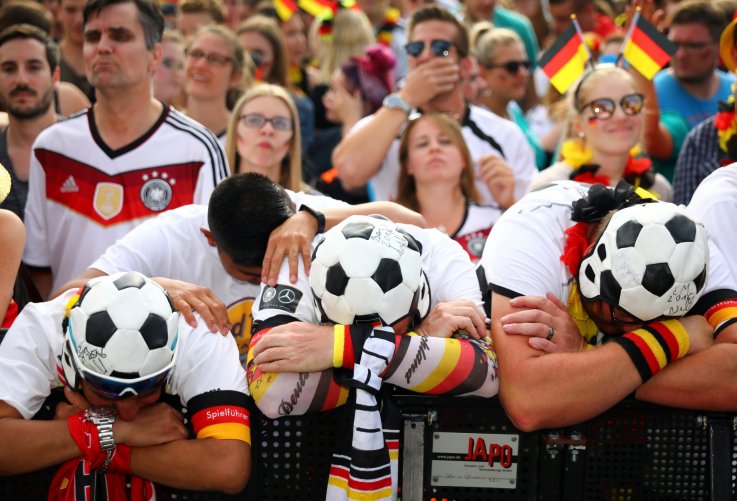 Fighting between Germany and Brazil supporters in Lebanon broke out earlier in the World Cup. Beirut-based newspaper The Daily Star reported that clashes erupted on Saturday night in the country's north after Germany beat Sweden 2-1. One man suffered a knife wound in his back during the altercations. Other fights also broke out in the northern Lebanese city of Minyeh, with fans brawling with chairs and glass hookah pipes after the same game.
Clashes between fans are not exclusive to Lebanon during this World Cup. Supporters of Serbia and Brazil fought in the stands of Moscow's Spartak stadium yesterday, prompting stewards to intervene. Officials in Russia have said they will not tolerate brawls between rival fans, according to newspaper The London Evening Standard.
The animated support fans show during the World Cup has also turned deadly during prior tournaments. In 1994, Colombian captain Andrés Escobar scored an own goal while playing against the U.S. Colombia failed to progress to the knockout stages, and Escobar was shot and killed days later.
Brazil Fan in Lebanon Killed While Celebrating Germany's World Cup Exit | World