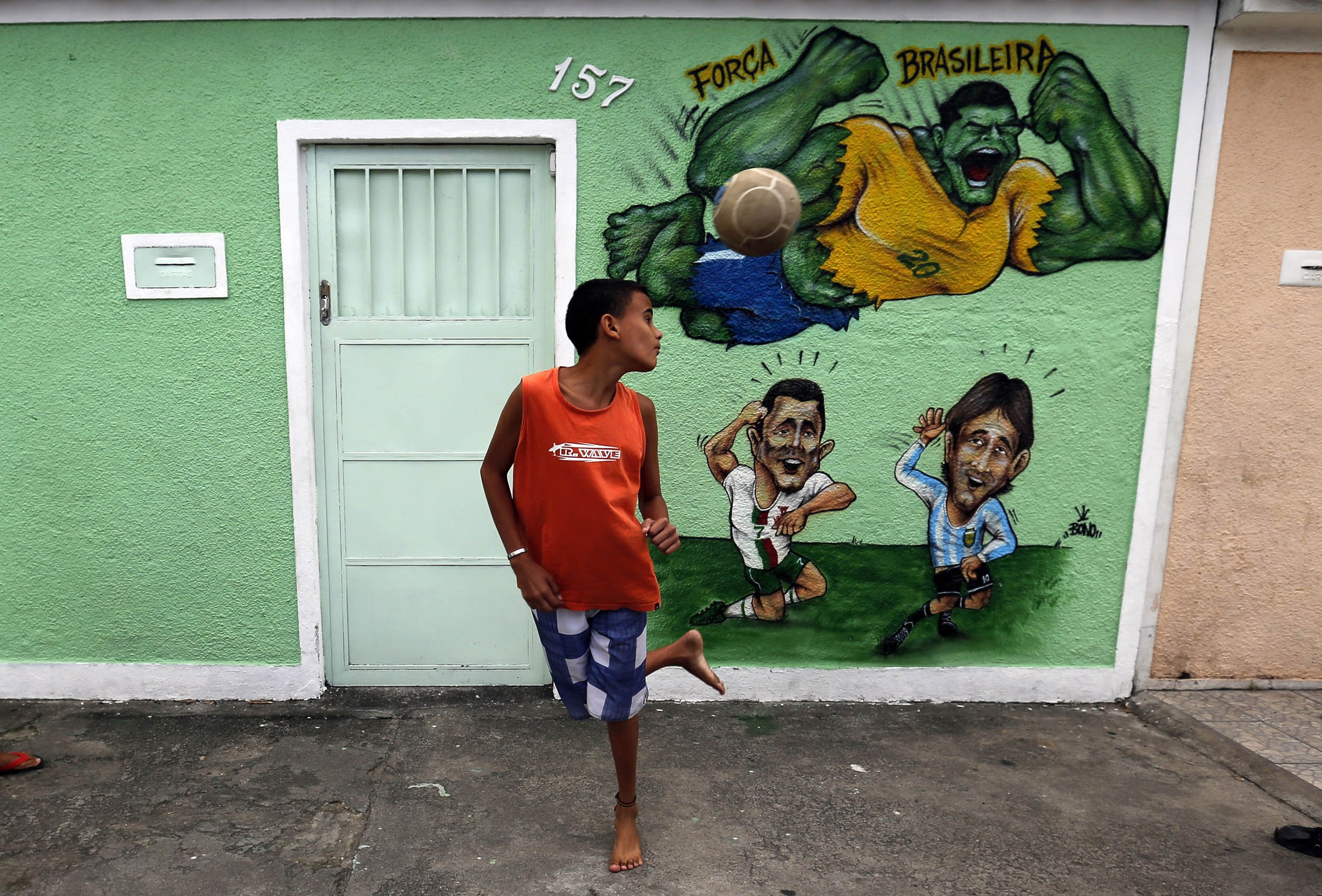 As soccer fans around the world gear up for the World Cup, Brazilians are growing increasingly unhappy about hosting the games, which start on Thursday, according to a new survey.
Sixty-one percent of Brazilians think hosting the event is bad for their country, "because it takes money away from schools, health care and other public services," according to the study, released Tuesday by the Washington-based Pew Research Center. Just 34 percent think the World Cup will benefit Brazil, which last hosted the games in 1950.
Frustration with Brazilian President Dilma Rousseff is also running high, the poll says. More than half of those surveyed disapprove of her handling of a variety of issues including corruption, health care and crime as well as preparations for the World Cup.
"Whatever the discontent was before…it's exacerbated 10 times because so much of the public spending is focused on the mega-events, on the building of the stadiums," said Elizabeth Leeds, Brazil expert at the Washington Office on Latin America.
This anger has been evident on the streets, where more than a million people have flocked since last summer to protest everything from a proposed bus fare increase to corrupt politicians and police brutality. The protests were a surprise abroad, where the country had for years been viewed as an emblem of stability, democracy and growth. But in Brazil, experts say, resentment had been quietly brewing for some time, and the World Cup was the final ingredient needed to make it explode.
Lauded for its robust growth and favorable image abroad not long ago, Brazil is now in a grim mood. Seventy-two percent of Brazilians are dissatisfied with the general situation in the country, up from 55 percent in June 2013. Two-thirds of those polled say the country's economy is in bad shape, with rising inflation and a lack of employment cited as the most pressing economic concerns.
Still, fewer than before now say that the gap between rich and poor is a major problem.
Besides the economy, Brazilians cite crime, health care, political corruption and poor-quality schools as major problems. While these issues are not new, says the Pew report, which is based on interviews with 1,003 randomly selected adults from across the country during April, "the current level of frustration Brazilians express with their country's direction, its economy and its leaders is unmatched in recent years."
Distrust of the police is also on the rise, according to the survey. Thirty-three percent of Brazilians say the police are having a good influence on the country, down from 53 percent in 2010. With the World Cup approaching and the Olympics slated for 2016, Brazil has been trying to pacify conflict-ridden areas in Rio de Janeiro, sending special police forces to favelas, or mountainside slums. In October, 10 police there were charged with the torture and murder of a favela resident. Human Rights Watch prompted the São Paulo state government to investigate the legality of force used by security forces during last summer's protests.
Some Brazilians have taken their resentment and turned it into street art. In Rio de Janeiro and São Paulo, graffiti artists have tagged walls with images juxtaposing the country's needs with the games' frivolity, which is especially arresting in a country synonymous with soccer. In one image, a hungry, crying child sits at a table with a soccer ball on a plate in front of him. In another, soccer superstar Neymar da Silva Santos wears a face mask used by members of Black Bloc, an anarchist group that opposes the World Cup.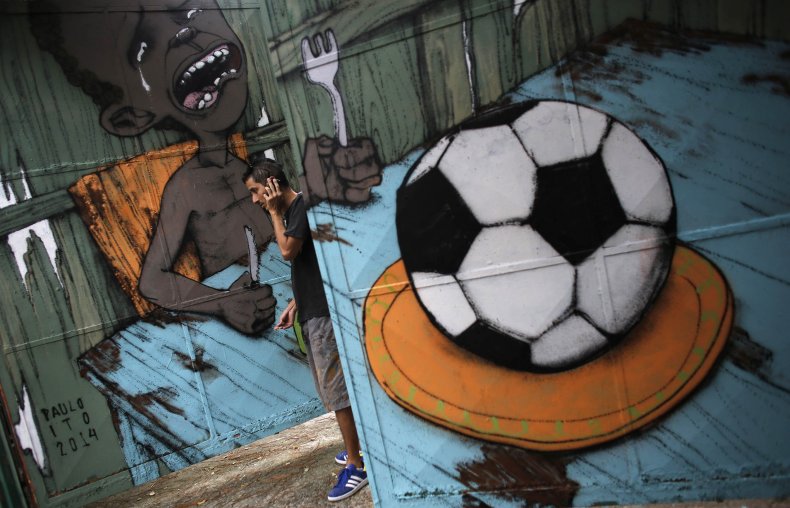 But not everyone is expecting to lose with the World Cup. Prostitutes in one of Brazil's biggest cities, Belo Horizonte, have been learning English in anticipation of the clientele boom. "They'll have to learn how to work out financial deals and also use a specialized vocabulary with sensual words and fetishes," said Cida Vieira, president of the Minas Gerais State Association of Prostitutes in Belo Horizonte, according to Voxxi.
For Rousseff, who is seeking re-election in October, much is riding on the World Cup. Her reaction to the demonstrations that will take place during the games will be closely watched. But so will her country's ability to take home the trophy. If it does, "it's almost as if the government itself has made Brazil win," said Leeds. But if the country loses, "it's been shown in the past that the party in power is at a disadvantage, especially during an election year."