Brazil's Lula Sworn In as Minister Amid Protests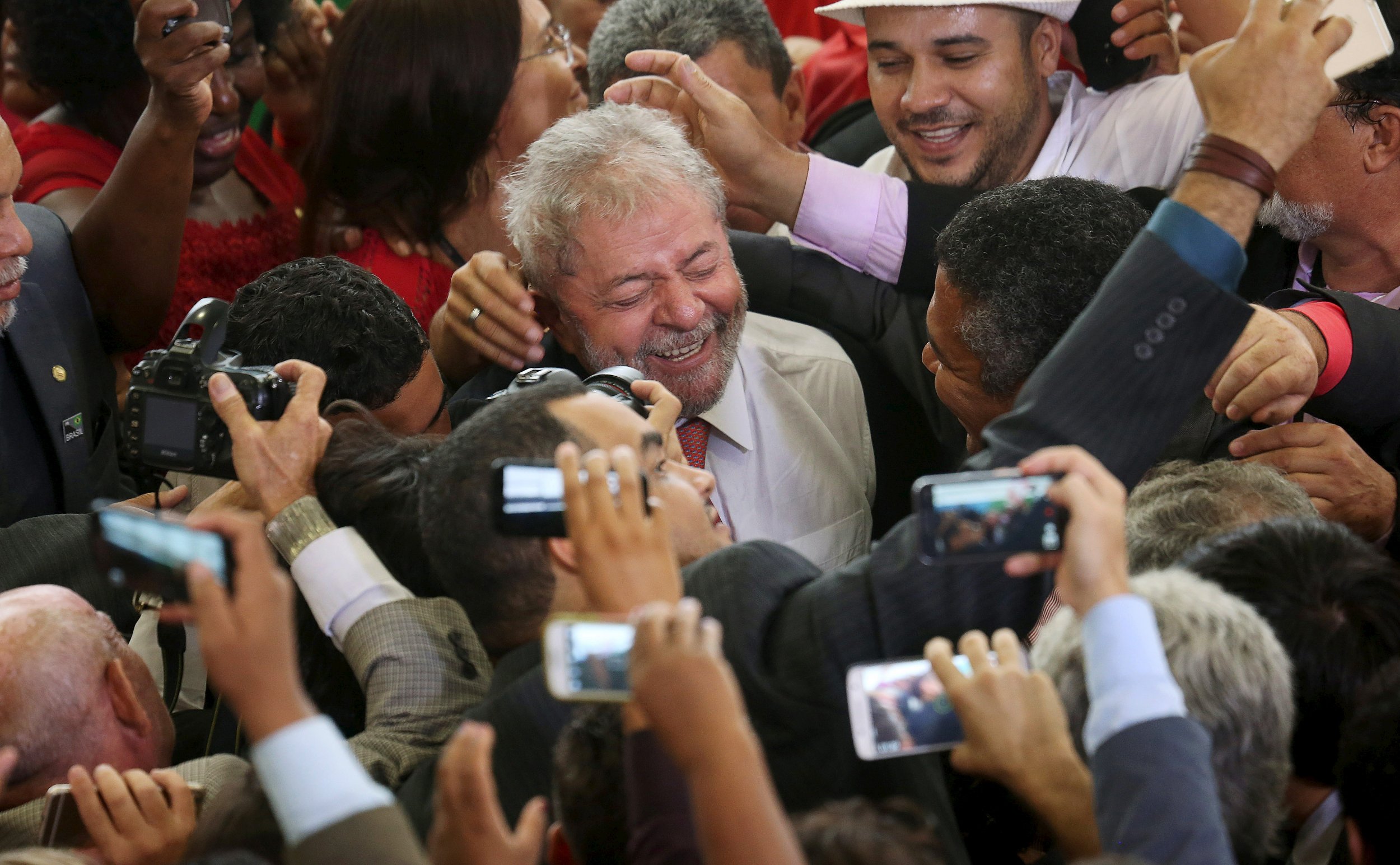 BRASILIA (Reuters) - Leftist leader Luiz Inacio Lula da Silva was sworn in as President Dilma Rousseff's chief of staff on Thursday amid a deepening political crisis as protests against his appointment continued for a second day and a judge sought to block the move.
Soon after the swearing-in ceremony, the federal judge in Brasilia issued an injunction to suspend the appointment on the grounds it prevented "the free exercise of justice."
Prosecutors have charged Lula with money laundering and fraud as part of a sweeping graft probe centered on state oil company Petrobras. The former president's appointment as a minister would provide him immunity from prosecution by all but the Supreme Court.
The government can appeal the injunction in a higher court but the judge's move could raise tensions that are already running high between the executive and the judiciary.
During the swearing-in ceremony, Rousseff strongly criticized the release on Wednesday of a taped telephone conversation between her and Lula that was made public by another federal judge, calling it illegal and anti-democratic.
"Convulsing Brazilian society with lies, with reprehensible practices violates constitutional rights and as well as the rights of citizens," said Rousseff, who is herself facing mounting pressure to quit.
Lula's supporters clashed briefly with opponents of his Workers' Party outside the presidential palace before the ceremony. Police said they used pepper spray to stop it and move away some 300 opposition protesters.
Hundreds of anti-government protesters calling for Rousseff's impeachment and Lula's arrest also blocked the central Avenue Paulista in Sao Paulo, Brazil's largest city and economic hub, for a second day.
An impeachment process against Rousseff was expected to kick off in Congress on Thursday, with the nomination of the commission expected to hear the proceedings in the lower house.
Government supporters hope the return of Lula will help to reunite a fragmented coalition before the impeachment process reaches a vote.
Brazil's currency and stock market gained sharply on Thursday, as a second day of protests calling for Rousseff's ouster boosted bets on her removal. Investors hope the fall of her left-leaning government would usher in more market-friendly policies.
The appointment of Lula to the cabinet triggered large protests in several Brazilian cities on Wednesday.
With Brazil's economy mired in its worst recession in a generation, popular anger at Rousseff is mounting as the wide, long running investigation into bribes and political kickbacks at Petrobras taints her inner circle.
The corruption scandal has divided her governing coalition and moved her main partner, the PMDB party, closer to breaking with her government.
Vice President Michel Temer, leader of the PMDB, did not attend the swearing-in of Lula, his aides said, because Rousseff appointed a party lawmaker, Mauro Lopes, as civil aviation minister even though a party convention on Saturday banned its members from taking new posts in her government.
Centered on an unrelated allegation of irregularities in the government budget accounting, the impeachment proceedings have become a test of the political strength of Rousseff's government and the mood on the streets.
Lula and Rousseff have denied any wrongdoing.