Brazil Natural History Museum Fire: Here's What Could Be Lost Forever
Brazil's oldest natural history museum was heavily damaged in a fire, severely threatening the loss one of the most important collections of cultural artifacts in South America.
A massive blaze engulfed the National Museum of Brazil in Rio de Janeiro late Sunday, and while no injuries were reported, officials have been assessing the extent of losses. The museum was home to some 20 million items and, based on preliminary reports, much of them have been lost in a stunning blow to the region's cultural history.
Brazilian President Michel Temer called the fire an "incalculable loss," tweeting that "200 years of work, research and knowledge have been lost." The building once housed the country's royal family under the Portuguese Empire, but its condition had deteriorated over the years and attention had been called to its poor state.
"It's a sad day for all Brazilians," Temer said.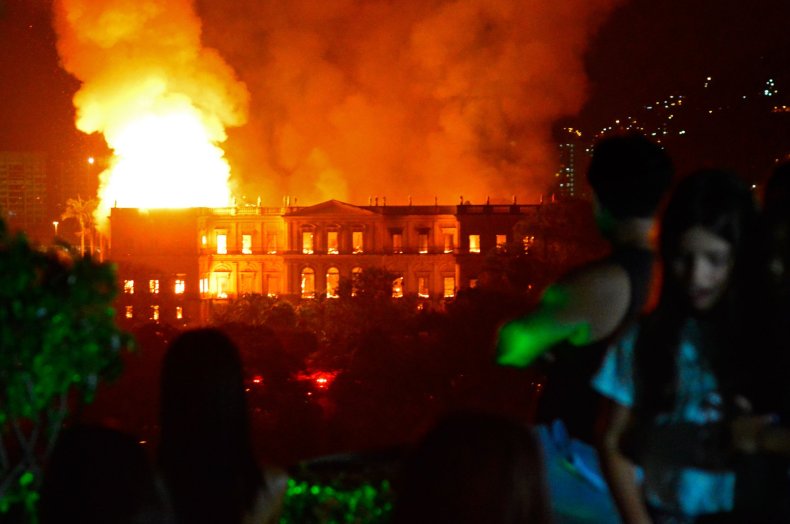 The museum was founded by Portugal's King John VI in 1818 and became a part of the Federal University of Rio de Janeiro in 1946. The Museums of Rio website calls it "the oldest scientific institution in Brazil" and "a center of excellence in natural and anthropological history research in Latin America." The collection included key insights into the indigenous cultures of Brazil and surrounding countries, including tools, art and mummies. Among its many highlights were the country's oldest human remains, an 11,500-year-old skeleton nicknamed "Luzia."
Brazil's largest meteorite—the Bendegó Meteorite—was also on display, along with dinosaurs, including a massive Maxakalisaurus topai. In addition to marvels from the country's leading archaeological and paleontological finds, the museum contained a wide variety of native bird species that dated back to the institution's founding 200 years ago. The museum had amassed a large collection of insects as well.
Adding to the nation's own natural and human history, the institution had an impressive array of foreign works, including hundreds of artifacts from ancient Egypt and cultures across the Mediterranean. Items included Egyptian mummies and frescoes from Pompeii, the Italian city that was famously swallowed in the year 79 by the eruption of Mount Vesuvius and excavated more than 1,500 years later. The museum also contained up to 470,000 volumes of scientific research and 2,400 rare works.