Brazil President Asks Twitter, 'What's a Golden Shower?' After Sharing Graphic Video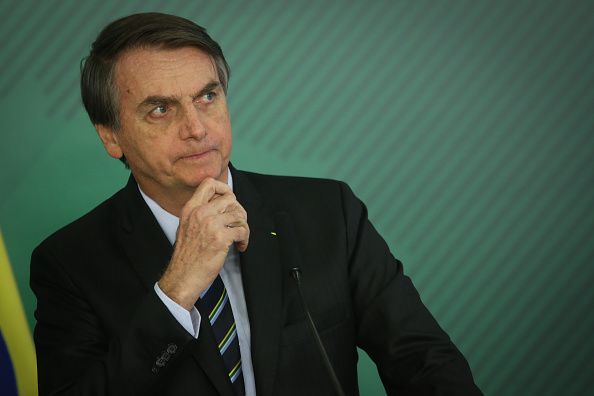 Brazil's new far-right President Jair Bolsonaro outraged some Twitter users and attracted ridicule after he shared a video of Brazil's Carnival in which several entertainers performed explicit sexual acts, including a golden showers routine in which one performer urinated on the other's head.
"I don't feel comfortable showing this, but we have to expose the truth to the population so that they are aware…. This is what has become of many street parties during the Brazilian carnival," Bolsonaro tweeted on Tuesday night.
Later, presumably in response to commentary about his tweet, Bolsonaro followed up by tweeting the question, "What is a golden shower?"
The series of tweets drew criticism, both from people who claimed Bolsonaro was ridiculing and attempting to discredit the long-held Brazilian tradition of debaucherous Carnival celebrations, and others who argued that it was inappropriate for a president to share such explicit material. Some critics slammed Bolsonaro for sharing "pornography," and members of the political opposition suggested that they would take the president to court for sharing the content.
"I saw so many beautiful things this carnival. Then I see this on Twitter from the president of our republic who many children follow?" Television anchor Astrid Fontenelle tweeted.
"It's ridiculous that the President of the Republic post an eschatological and explicit video, saying that is what happens in the carnival. No one would see such a scene if it weren't for the president's own divulgation! Is that the posture of a head of state? Where is the decorum and respect?" tweeted congresswoman Mônica Francisco.
Brazilian newspapers ran provocative headlines like "Bolsonaro Shares Video of Man Fiddling With His Anus and Suggests It Is a Common Scene During Carnival" and "A Pornographic Tweet Embarrasses the Government."
Bolsonaro is also well known for making homophobic comments, and some observers pointed out the hypocrisy of a homophobic leader sharing a video of two men engaging in sexual acts. Bolsonaro once called himself a "proud" homophobe and suggested that he would no longer love his children if they were gay.
"I'd rather have my son die in a car accident than have him show up dating some guy," Bolsonaro once said.
The new right-wing president has also criticized Carnival for its excesses. Speculation spread in the lead-up to the event that he had threatened to cancel it. Bolsonaro's office later denied the rumors. Still, many of the progressive Brazilians partying during Carnival used the opportunity to protest the new president.