Brazilian President Jair Bolsonaro announced Friday he will send his country's military units throughout the Amazon region to help battle a major fire that has brought both regional and international scrutiny.
Beginning Saturday, Brazilian armed forces will deploy to indigenous regions, border areas and other places where the fire has burned for a month in an effort to extinguish the blaze. The military will work with public security and other environmental agencies, according to the Associated Press Friday evening.
The Amazon rainforest is vital in that it not only provides so much oxygen for the planet, but the burning of the forest is a roadblock in the battle against global warming. Bolsonaro has stated in the past that protecting the rainforest puts a burden on economic development projects in his country.
An AP reporter who traveled to the Amazon described charred trees and smoke billowing in the distance as far as they can see.
"Charred trees and fallen branches were seen around Porto Velho, the capital of Rondonia state, which borders Bolivia," the report said. "In some instances, the burned fields were adjacent to intact livestock ranches and other farms, suggesting the fires had been managed as part of a land-clearing policy."
The fire has reached into the forests, woods and fields of neighboring countries Bolivia and Paraguay, and protestors have demonstrated in South American countries as well as diplomatic areas in Paris, London, Geneva and Bogota, Colombia to urge Brazil to do a better job at combatting and containing the fire.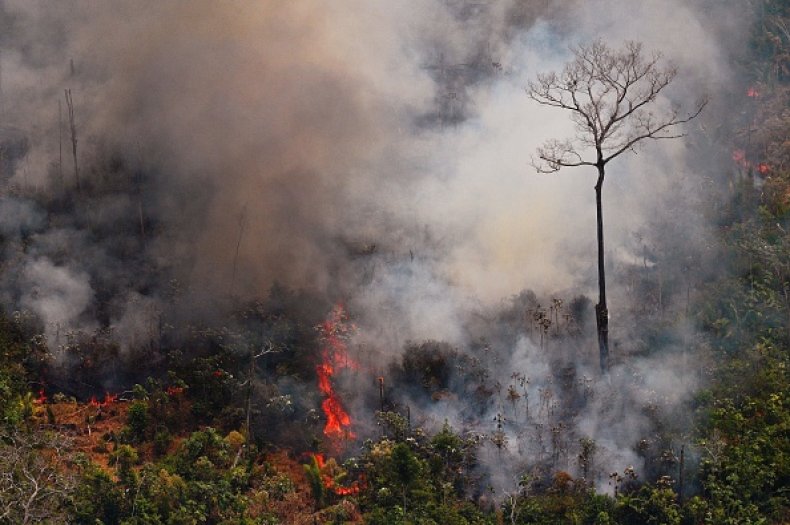 Bolivian Defense Minister Javier Zavaleta said about 2,900 square miles (7,500 square kilometers) have been affected in his country. Another 140 square miles (370 square kilometers) have burned in Paraguay near the Brazil-Bolivia border, according to a Paraguayan state official.
George Mason University environmental scientist Thomas Lovejoy said that roughly 20 percent of the Amazon has been deforested by this fire. He said Brazil has "turned its back" on past progress made in the region, which includes the 1992 Earth Summit.
"I worry that the current deforestation will push past the tipping point leading to massive loss of forest and biodiversity," Lovejoy told The Associated Press.
NASA scientist Doug Morton said the burnoff of forestation is creating more carbon, which ultimately affects greenhouses gases and climate change.
"Fires are directly burning into the Amazon rainforest and that releases the carbon stored in those trees," Morton said. "The carbon then enters the atmosphere as carbon dioxide or methane, where it contributes to the greenhouse gases that are causing climate change, bringing us a warmer and a drier planet."
President Donald Trump said he spoke with Bolsonaro, telling the Brazilian president the U.S. is ready to help as needed.
"Our future Trade prospects are very exciting and our relationship is strong, perhaps stronger than ever before," Trump wrote in a tweet. "I told him if the United States can help with the Amazon Rainforest fires, we stand ready to assist!"