Brazil's Jair Bolsonaro Tells Journalist 'You Have a Terribly Homosexual Face' When Confronted About Corruption Allegations
The president of Brazil told a reporter that he has a "homosexual face" this week after being asked about corruption allegations involving his son.
Jair Bolsonaro made the homophobic comments on Friday when asked by a journalist from Globo about the ongoing investigations into Flávio Bolsonaro. As reported by the Associaed Press (AP), his son is suspected of financial irregularities during his time as a lawmaker.
President Bolsonaro told the reporter: "You have a terribly homosexual face, but I don't accuse you of being homosexual," The Independent reported.
Clips of the outburst spread quickly on social media. In the footage, aides and supporters appear to laugh at the jibe, which came after the president complained about media coverage, saying he was accused of being racist and committing environmental crimes.
Talking to the journalists, Bolsonaro fumed that details of the investigations had leaked, saying: "Is the process under seal or not? Answer! Answer, damn it!"
Earlier this week, Rio de Janeiro's public prosecutor reportedly spearheaded raids on addresses linked to Fabrício Queiroz, a former driver of the president's son. Bolsonaro previously said money Queiroz put into his wife's account was a "repayment of a debt," AP reported.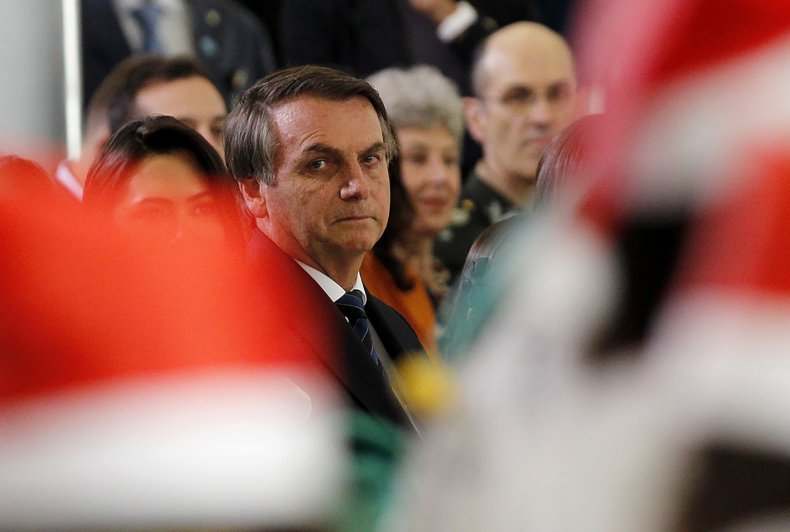 Flávio Bolsonaro posted a video to social media on Thursday denying the allegations against him, calling them a "conspiracy" involving "many powerful people," The Guardian reported. The son is accused of hiring "phantom employees" as staff and taking part of the salaries, AP reported.
Some suggested that the aggressive comments by the president were a way to distract from the real story. Politician Manuela D'Ávila tweeted: "Bolsonaro commits homophobic crime so that we forget about his son's schemes. But we do not forget: he is homophobic, and the son..."
It's not the first time anti-LGBTQ comments have been voiced by Brazil's leader. In April, he faced backlash after saying his country should not be known for "gay tourism."
"If you want to come here and have sex with a woman, go for your life," Bolsonaro told journalists at the time, as reported by Crusoe (via BBC). "But we can't let this place become known as a gay tourism paradise. Brazil can't be a country of the gay world, of gay tourism. We have families."
Politician David Miranda criticized the comments, telling The Guardian: "This is not a head of state, this is a national disgrace. He is staining the image of our country in every imaginable way." In 2013, Bolsonaro said he was "proud to be homophobic," The New York Times reported. Back in 2011, the president said he would "rather his son die in a car accident than be gay."