Brazil Presidential Election: Jair Bolsonaro Is Hugely Controversial, but Could He Rescue Country's Economy?
Brazilians will head to the polls on Sunday to choose between a leftist leader's heir apparent and what many call the "Brazilian Donald Trump" in a second presidential election runoff.
The presidential race occurs as the country continues to reel from the widespread corruption exposed in the 2014 "Operation Car Wash," one of the world's largest investigations of government graft. The scandal ultimately led to the arrest and imprisonment of one former president, Inácio Lula Da Silva, and the ouster of his successor, President Dilma Rousseff, in 2016, for failing to comply with fiscal rules. Dozens of other politicians as well as the country's largest companies were implicated as well.
Cynicism and mistrust in the political system are running high, to say the least. However, voting is mandatory in the country and more than 140 million Brazilians are expected to cast their ballots. On October 7, 46 percent voted for Jair Bolsonaro of the right-wing Social Liberal Party, and 29 percent for former Sao Paulo Mayor Fernando Haddad, of the left-leaning Workers Party (PT). Because neither candidate claimed more than the 50 percent needed to win the presidency in the first round, the top two candidates must face off against each other again.
Here's what they are up against: The aftermath of a trucker's strike that gripped the country in May, continuing recession, high unemployment rates and the depreciation and volatility of the national currency. Both candidates offer different alternatives to keep the economy afloat.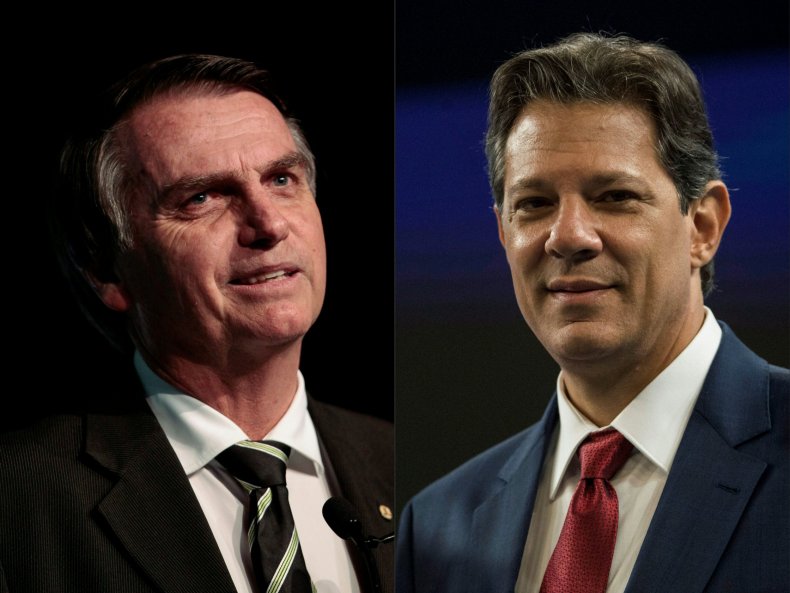 Bolsonaro's economic project is part of a blueprint entitled "Brazil Above Everything. God Above Everyone," and it references the Book of John, verse 8:32, which reads: "Then you will know the truth, and the truth will set you free." Blaming Brazil's financial woes on "populist" policies, he said he intends to reduce government spending and balance public debt by 20 percent, in the shortest time possible, through widespread privatization and the sale of state companies. He has also pledged to open markets. "With more companies competing the consumer improves and he gains access to more options, better quality and a cheaper price." The magic bullet? International trade—"the reduction of many import rates and the non-tariff barriers, in parallel with the establishment of new bilateral agreements," the blueprint read.
Haddad's strategy centers on promoting the policies of his mentors, the two fallen figures of Brazil's leftist movement. "The Lula and Dilma governments have created more than 20 million jobs," Haddad wrote in his breezily titled plan: "A Happy Brazil Again."
Unlike Bolsonaro, he said he believes in the expansion of government, as well as the use of public banks and the role of state-oil company Petrobras as a "strategic agent of development" in the realms of exploration, production, refining and resale of fuels. While Bolsonaro wants to redistribute a tax burden "so that those who evade pay more and those who pay a lot would see a reduction," Haddad said he sees employment as an avenue to clamp down on tax evasion and the driving force to finance Brazil's pension system.
Whoever clinches the presidency, the new leader won't have an easy task to emerge from the institutional and economic malaise. "There is uncertainty over the pace, scope and quality of policy adjustments after the elections," an August report from Fitch Ratings revealed. "The presidential elections are offering varied options for required fiscal policy adjustment. Moreover, the congressional base of the winner would be an important indicator to evaluate governability and the prospects for reforms after the elections."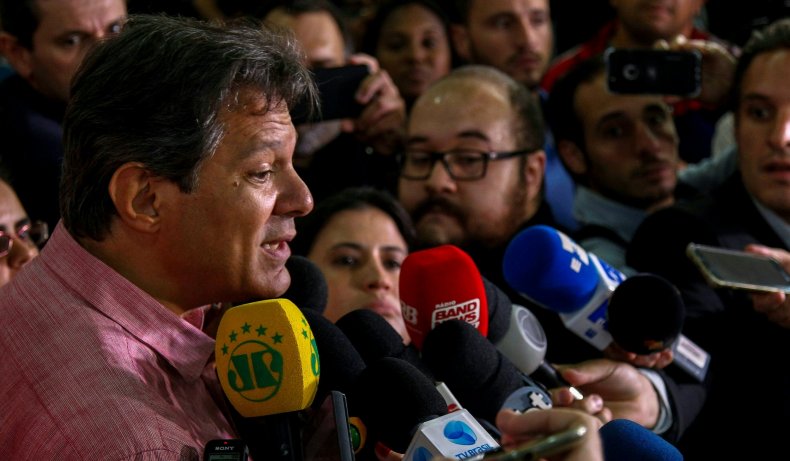 General government debt is expected to reach 77.5 percent of GDP in 2018 and will keep rising in 2019-2020 and beyond, Fitch indicated. The same credit rating agency gave Brazil a "BB-" meaning that the country still experiences "weak growth prospects and a challenging political environment and corruption-related issues that have weighed on effective economic diversity."
According to local reports, Brazilian economists do not believe any proposal offers concrete solutions and that current policies such as the reduction of public spending through reforms and privatizations will continue. Notwithstanding, the Brazilian market would prefer to see Bolsonaro as the next president because Haddad's party has recently invoked the expansion of public spending, which at the same time increases taxes—something the market adamantly opposes. In fact, as Bolsonaro widened his lead over Haddad prior to the first round of elections, the Brazilian stock market had seen a 2 percent increase, the highest since May 2017.
But not all experts are smitten with a Bolsonaro administration. "A Bolsonaro victory would likely have very damaging effects not only for Brazil's economy but also for the preservation of Brazilian institutions," Monica de Bolle, senior fellow at the Washington, D.C.-based Peterson Institute for International Economics, told Newsweek. "He is openly clashing with his pro-market economic advisor—Bolsonaro is a nationalist at heart—proving that the economic agenda is simply an exercise in improvisation under his campaign. Markets have been fooled into thinking that his presidency would bring much-needed stability. It won't. I see turbulence ahead and great social upheaval."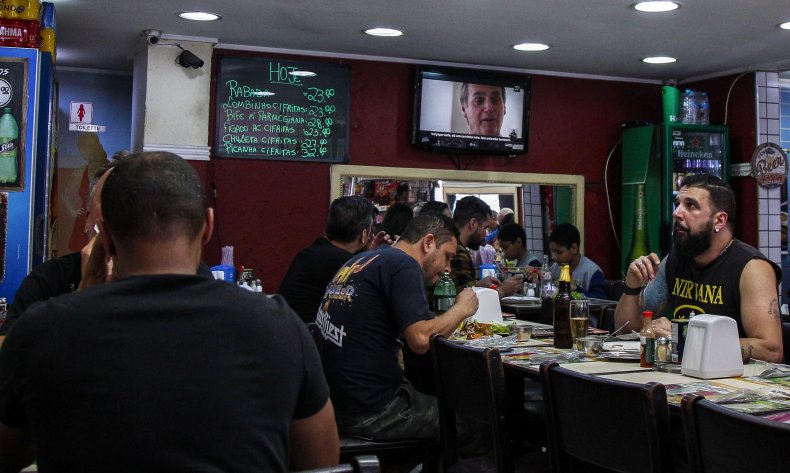 Others believe, however, that it's too soon to determine an accurate outlook for Brazil's economy. "On the one hand, I do not see major difficulties to attract talents to an economic team and I do not expect major government interventionism in regulated sectors, oil and gas or energy, meaning that investments in infrastructure would accelerate," Zeina Latif, chief economist for the Sao Paulo-based investment company XP, told Newsweek. "On the other hand, there are doubts about Bolsonaro's political skills to build a broad coalition in Congress, which is needed to approve constitutional bills, such as the Social Security reform. A mediocre agenda for fiscal adjustment could hurt growth via higher inflation and tight monetary policy."
Brazil's elections could also have repercussions in the international arena. Considered one of the world's main breadbaskets, the South American giant also ranks among the globe's top 10 largest economies. Although it relies on China as its largest export partner in 2017—with 21.8 percent of the total share according to Statista—and the United States as its second largest trade partner with 12.5 percent of the total export share for the same year, the election's ripple effects will most likely be felt across elsewhere.
"Bolsonaro has alluded to pulling Brazil out of Mercosur [an economic bloc also comprised of Argentina, Paraguay, Uruguay and Venezuela] something that would undoubtedly create negative externalities and consequences for the country and for its relationships with Latin America and Europe," Roberta Braga, associate director of the Atlantic Council's Adrienne Arsht Latin America Center in Washington, D.C. told Newsweek. "Bolsonaro has made statements indicating a goal of his is to establish closer ties with President Donald Trump. The leading candidate has been compared to Trump in many ways, both have indicated favorability toward bilateral trade agreements over multilateral agreements, and both rely heavily on a conservative base of voters, utilizing social media predominantly to reach them."
Despite Bolsonaro's misogynist, anti-gay rhetoric—which has sparked fear among Brazilian minorities and progressives—many Brazilians believe that Bolsonaro represents a break from a perceived political establishment that has done more harm than good, particularly in the wake of Operation Car Wash. Nevertheless, losing candidates such as Guilherme Boulos and Ciro Gomes, who came in third place with 12.5 percent of the vote, are rallying behind Haddad. "One thing I can tell you now, as you have already seen: my life story is a life story that defends democracy and against fascism," Gomes said in a statement.
On the economic front, however, time will only tell whether the future president will be able to reconcile modernizing Brazil's economic agenda and support from Congress.