Brazil Removes Ryan Lochte Teammates From Flight to U.S. Amid Robbery Investigation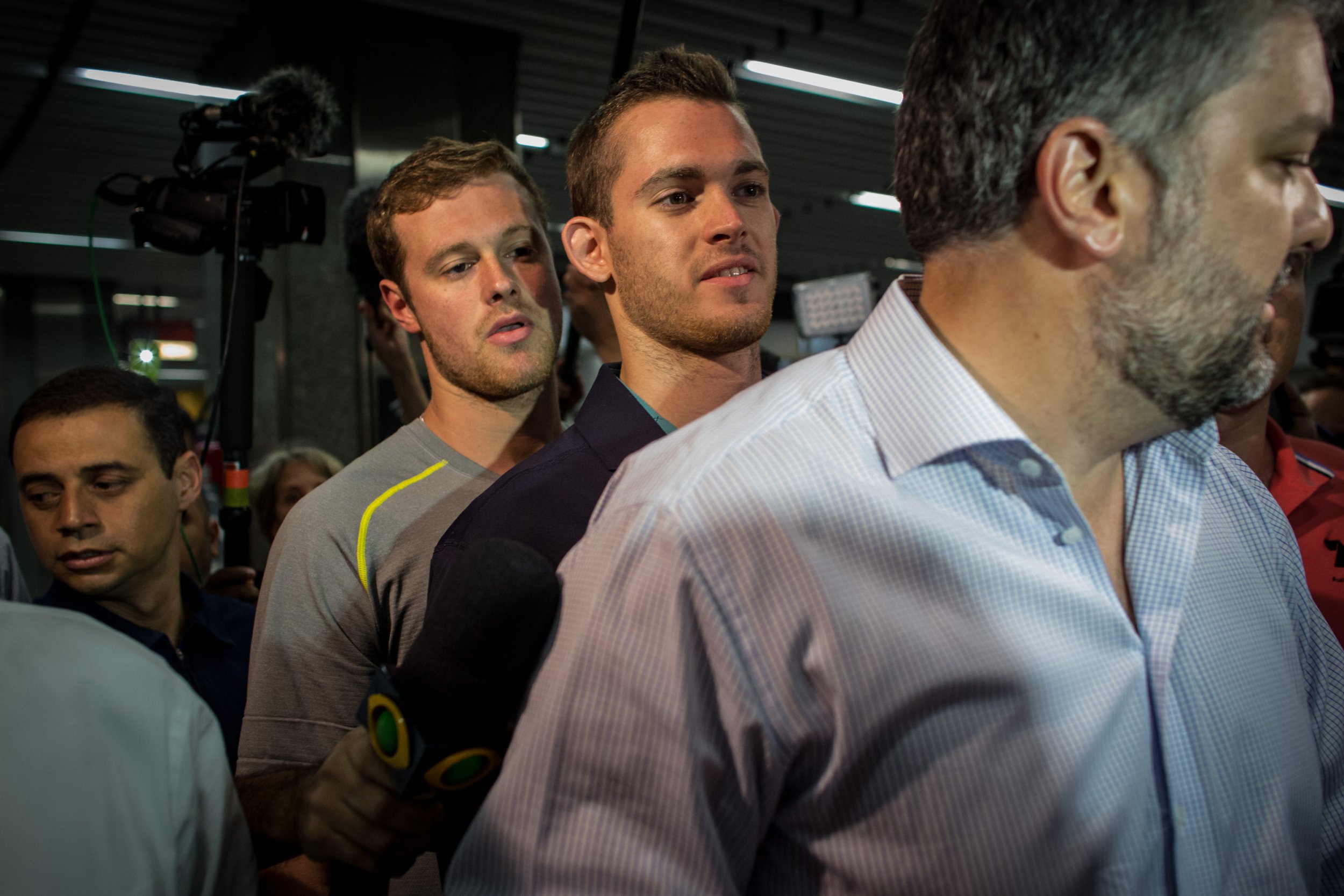 Brazilian authorities removed two U.S. swimmers, teammates of 12-time medalist Ryan Lochte, from a flight traveling from the Rio Olympics to the U.S. on Wednesday as an investigation into an alleged robbery targeting the U.S. team continues.
The pair, Jack Conger and Gunnar Bentz, left Rio de Janeiro airport on Thursday morning after being pulled from the aircraft.
Both will not be allowed to leave the country until they have testified about the robbery against Lochte and his colleagues, the pair's lawyer Sergio Viegas told the Associated Press. They are yet to comment on the incident.
It comes after Lochte said that he and his teammates, Conger, Bentz and Jimmy Feigen, who also remains in Brazil, were robbed at gunpoint by assailants with false police identification. The incident is alleged to have occurred as the athletes made their way back to the Olympic village in a taxi after a party to mark the end of the swimming events at the summer games.
Lochte, 32, had initially said that he had a gun pointed to his head but has appeared to backtrack on his initial version of the incident, saying that a gunman only pointed his weapon at him, in an interview with NBC. He also said that the swimmers were not stopped at a roadside by men with a police badge but at a petrol station.
Both swimmers were "released by local authorities with the understanding that they would continue their discussions about the incident on Thursday. James Feigen is also communicating with local authorities and intends to make further statements regarding the incident on Thursday as well," said Patrick Sandusky, U.S. Olympic Committee spokesperson.
Brazilian authorities say they have found little to no evidence that the swimming team was robbed at gunpoint and therefore wishes to continue its questioning of the team. The swimmers did not call police but Lochte's mother detailed the robbery to media outlets.
But when investigators went to the Olympic village to take Lochte and Feigen's passports, the swim team had already left the complex. Lochte had already flown back to the U.S. This came after a Brazilian judge ordered the seizure of their travel documents on Wednesday.
Lochte's father, Steve, said that there was no fabrication of the story and that there was confusion in the family over why Brazilian authorities were making such a big deal about the incident.
"I'm just happy he's safe," Steve Lochte said. "It was an unfortunate experience for him and the other three. I don't know what all the controversy is. They were basically taken out of the taxi and robbed. The main thing is he's very lucky that he's safe and that all they got was his cash and wallet."