Brazil's Temer: No Amnesty for Corrupt Politicians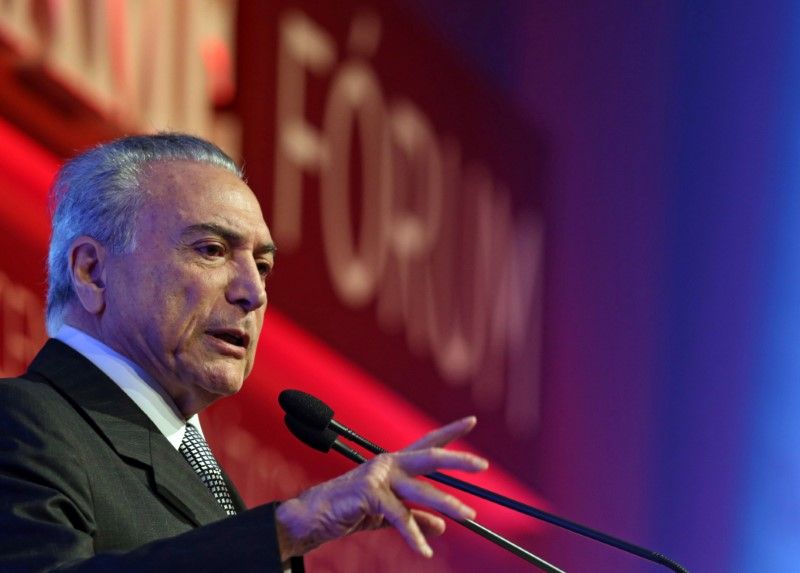 Brazilian President Michel Temer said on Sunday that he and leaders of Brazil's Congress will not allow an amnesty for election slush funds sought by some lawmakers to avoid prosecution for receiving graft money.
Temer called a news conference to staunch a deepening crisis over new corruption allegations against members of his government that are causing new political uncertainty that is delaying economic recovery from a severe recession.
"We agreed there will be no consideration of an amnesty for slush funds or any other electoral crime," he said, flanked by the leaders of the Senate and lower chamber of Congress.
Brazil's political establishment is under fire for trying to shield itself from the sprawling corruption investigation surrounding state-controlled oil company Petrobras that threatens to implicate more than 100 politicians for taking kickbacks.
Temer, who replaced impeached leftist Dilma Rousseff earlier this year, vowing to clean up government, lost a fourth Cabinet minister to corruption allegations on Friday.
Lawmakers drawing up anti-corruption legislation have discussed proposals for an amnesty for past election crimes involving illegal funding that came form graft money. Temer said he would veto any such move.
He acknowledged, however, that his government is worried about the expected fallout from a massive leniency and plea bargain deal being signed with federal prosecutors by Brazil's largest engineering consortium Odebrecht.
Dozens of the company's executives are expected to make plea statements on who they paid bribes to, which could implicate as many as 200 politicians in Congress, many from Temer's governing coalition, including members of his Cabinet.
Temer called on the Congress to focus on passing fiscal belt-tightening measures he has proposed to cut spending and reduce a widening budget deficit so that the country can return to growth and emerge from its worst recession since the 1930s.
"We are fighting the recession step by step and we are now starting to foster growth," he said.
His government is looking for a reduction in interest rates to spur economic activity, but a recovery will not come until the second half of next year, Temer said.