Brazil's Tourism Ambassador Calls Amazon Fires 'False Fires,' Threatens to Choke Emmanuel Macron
Brazil's tourism ambassador Renzo Gracie called wildfires burning in the Amazon rainforest "false fires" and threatened to choke French President Emmanuel Macron, who has criticized Brazil's handling of the blazes he considers an "international crisis."
Gracie, a former Mixed Martial Arts (MMA) fighter, in a recent interview with Brazilian news site UOL, complained that tourism to his country seemed to be dipping because of "false fires" and said the Amazon is burning at a normal level without providing any evidence.
"I was with the American Airlines people, and the guy was checking how many passengers were going to Brazil and started to have an absurd crash, a lot of people canceling their trip because of this false fire," Gracie said in Portuguese, according to a translation.
"That gang of clowns only open their mouths to speak badly about our country," Gracie continued, referring to Macron. "Of course many will be astonished, they will think I called him a female chicken because his manhood is questionable, but no. I've met many gays more manly than this imbecile."
Gracie also attacked Macron's wife, Brigitte Macron, by saying, "the fact that he is sleeping with the dragon does not make him a fire expert," and, "she's ugly, my brother."
In video shared earlier on Twitter that went viral, Gracie threatened to choke Macron for "talking bad about my country."
"The only fire going on is the fire inside Brazilian hearts and our president's heart, you clown," Gracie said in the video. "Come over here you'll be caught by the neck, that chicken neck. You don't fool me."
Gracie was appointed as tourism ambassador last month by Brazilian President Jair Bolsonaro, a far-right leader who has been condemned internationally and domestically for not protecting the region and blamed for a 77 percent increase in wildfires this year compared to the same time frame last year.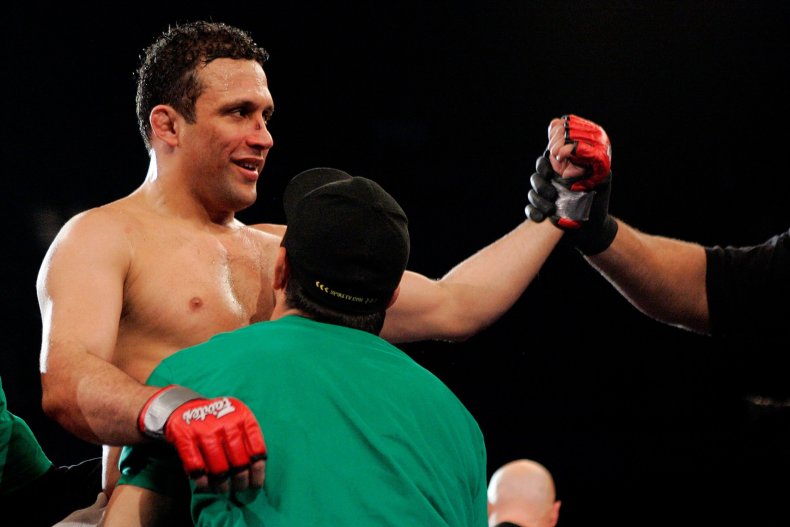 Macron last week criticized Bolsonaro for "extremely disrespectful comments" about Brigitte after the Brazilian president liked a post on his Facebook page implying that Bolsonaro's wife Michelle was better looking and suggesting that Macron was "persecuting" him out of jealousy.
More than 72,000 wildfires, an unprecedented number, have been documented across Brazil in the first eight months of 2019, The Amazon contributes about 20 percent of the world's oxygen. Macron last month called for the fires to be on the agenda of the G7 summit, leading Bolsonaro to respond it was an "unreasonable and gratuitous attacks on the Amazon."