Brazil Considers Allowing U.S. Military Base in Country in Response to Russia's Support for Venezuela's Maduro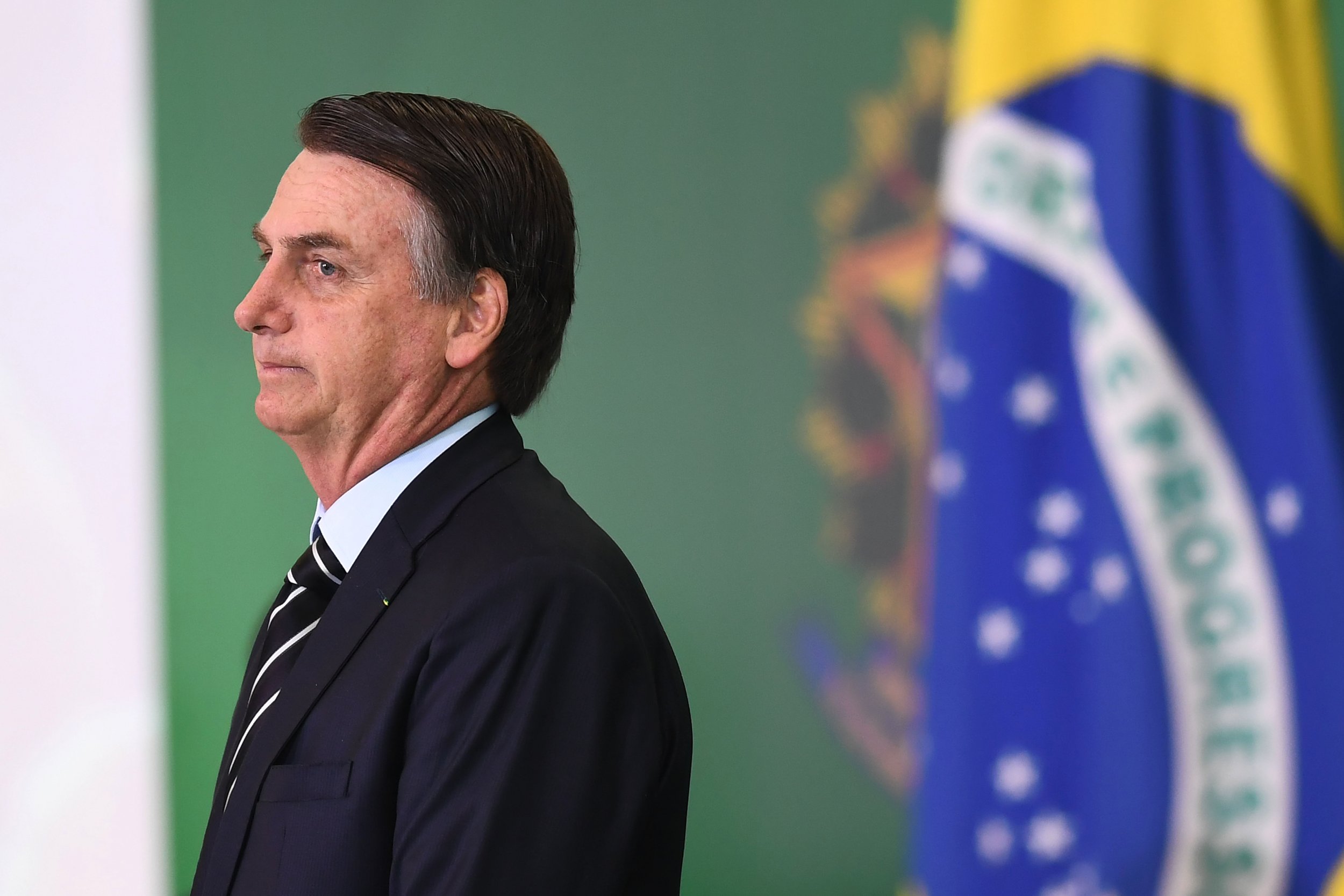 Brazil's far-right president Jair Bolsonaro said that he would consider allowing the U.S. to operate a military base in his country, especially in the wake of Russia's increasing military and economic cooperation with Venezuelan strongman Nicolás Maduro.
Speaking to Brazilian broadcaster SBT on Thursday, Bolsonaro added that he would be open to negotiating a U.S. military presence on Brazilian soil, especially since Moscow's presence has exacerbated tensions in the region. "Depending on what happens in the world, who knows if we would not need to discuss that question in the future," Bolsonaro said, according to Reuters. He also underscored that Brazil's purpose is to cement its "supremacy here in South America."
As he was sworn in as Brazilian president on Tuesday, he declared that his country "was freed from socialism" in an apparent reference to the former administrations of Dilma Rousseff and Inacio Lula Da Silva. He added that the Brazilian flag "would never be red again," alluding to the color of left-leaning party Worker's Party, "even if it takes our blood to keep it green and yellow," The New York Times reported. In what was considered a rightward shift, Bolsonaro did not invite the presidents of Nicaragua, Venezuela and Cuba—former allies of left-leaning Brazilian administrations—to the ceremony.
Prior to Bolsonaro's election in October, he used Venezuela's socioeconomic unrest under theChavista regime as a scare tactic to voters if they continued voting for leftist leaders. After Bolsonaro clinched the presidency, a report that made the rounds on Brazilian media and was attributed to a Colombian diplomat said that Colombia would support a Brazilian intervention to overthrow Maduro. Nevertheless, Colombian and Brazilian officials rejected the claims.
A new geopolitical strategy may be brewing in Latin America, however. Last month, Russia deployed two Tupolev Tu-160 strategic bombers, an Antonov An-124 heavy military transport aircraft and an Ilyushin Il-62 long-haul plane to Caracas, Venezuela, as part of a joint air exercise, according to Venezuelan Defense Minister Vladimir Padrino at the time.
Padrino ensured "that nobody in the world should fear" the presence of the Tu-160s and other Russian aircraft because "we are builders of peace and not war." However, Secretary of State Mike Pompeo, who represented the U.S. during Bolsonaro's inauguration, also said last month that such cooperation only amounted to "two corrupt governments squandering public funds," while the Russian government called his remarks "completely inappropriate."
Although Bolsonaro may not have intentions of invading Venezuela to oust Maduro, an apparent diplomatic alignment with the United States could posit more pressure to the already beleaguered Venezuelan leader.
As the far-right Brazilian head of state was assuming office, President Donald Trump tweeted a congratulatory note: "Congratulations to President Jair Bolsonaro who just made a great inauguration speech - the U.S.A. is with you!" Bolsonaro replied, "Dear Mr. President @realDonalTrump, I truly appreciate your words of encouragement. Together, under God's protection, we shall bring prosperity and progress to our people!"
U.S. relations with Brazil began to warm in November when the White House's National Security Council (NSC) lauded Bolsonaro's decision to change the terms and conditions of "Mais Medicos (More Doctors)" a 2013 program that allowed Cuban health care professionals to offer medical help to Brazil's poorest regions. Bolsonaro, however, questioned the quality of doctors' training in Cuba, calling their work "slave labor." The Brazilian leader's comments prompted the island nation to withdraw the doctors from the South American nation.
"We commend Brazilian President-Elect Jair Bolsonaro for taking a stance against the Cuban regime for violating the human rights of its people, including doctors leased abroad under inhumane conditions," the NSC tweeted at the time. Bolsonaro responded with a "thank you" note and a thumbs-up emoji.
Bolsonaro's ascent may usher in a new stage of military cooperation that also includes Israel. Reuters reported that the Brazilian president and state governors are seeking to purchase drones and rely on U.S. and Israeli technology in order to fight against drug cartels.