The World Cup favorite is set to face its toughest test yet on Friday. At 2 p.m. ET, Brazil is scheduled to face Belgium in a quarterfinal World Cup matchup.
Rather than the exciting contest, though, a lot of the pre-match chatter has focused on diving and over-acting from Brazilian star Neymar. The Atlantic dubbed him in a headline "The Annoying Genius Who Makes the World Cup Worth Watching." Manchester United manager Jose Mourinho (sort of) defended the forward while speaking with a Russian broadcaster.
"People are focusing on Neymar, but if it was only Neymar I'd be happy—but it's not only Neymar," he told Russian broadcaster RT. "Every team has lots of diving, lots of pretending, lots of putting pressure on the referee. The game loses quality, and for me that was the negative point."
Brazil outlasted Mexico 2-0 to make it to the quarterfinals. They will be without star Casemiro against Belgium after he earned a second yellow card in the Mexico win. Fernandinho is expected to step into his role.
"[Casemiro] and Fernandinho are similar, they both mark very well," Brazil's Willian said, according to ESPN. "Of course Casemiro is a very important player for us, and it's complicated missing a game like this. But we have other quality players to fill in when he is absent."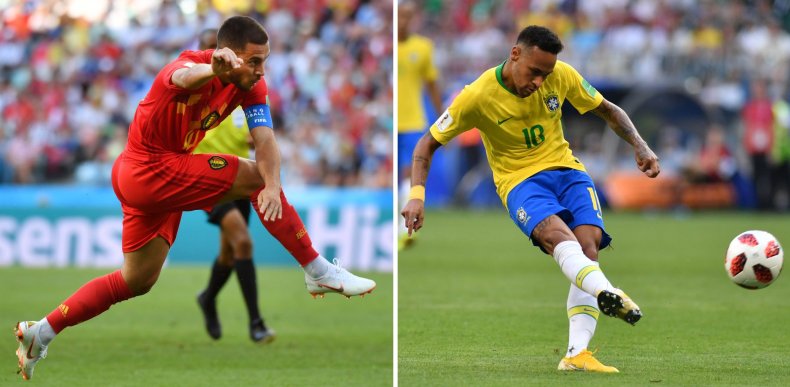 Belgium advanced to the quarterfinals via a remarkable comeback against Japan, winning 3-2 after falling behind by two goals. Manager Roberto Martínez said the squad did what was necessary, even if it was a stressful affair.
"In the World Cup you want to be perfect, but it's about getting through, it's about winning," Martinez said after the match.
Belgium will, of course, face a tough assignment on Friday. According to Sky Bet, Brazil is considered the favorite to win the World Cup at 5/2 odds, but Belgium isn't too far behind at 6/1. Belgium's Marouane Fellaini said the team has grown and is up for the challenge against Brazil
"We're more mature than before," he said. "We've been working together for a long time now, you can't forget that, and want to show everyone what we can do against Brazil."
Belgium's confidence aside, Odds Shark has Brazil as the favorites in the match, pegging the team's money-line odd at +108 and Belgium's at +215.
Many of the experts expect Brazil to advance to the semifinals as well. BBC Sport's Mark Lawrenson predicted a 2-1 victory for the Brazilians. Data-centric website FiveThirtyEight gave Brazil a 64 percent chance of winning and Belgium a 36 percent chance. Sports Illustrated's Planet Fútbol predicted Brazil would come out on top by a 2-1 score-line. The Guardian, likewise, predicted a 2-1 Brazil victory.
Uncommon Knowledge
Newsweek is committed to challenging conventional wisdom and finding connections in the search for common ground.
Newsweek is committed to challenging conventional wisdom and finding connections in the search for common ground.
About the writer
Reporter, covering a bit of everything.