Brazilian President Bolsonaro Plans 30-Person BBQ Despite Coronavirus Guidelines
Brazilian President Jair Bolsonaro recently said that he is planning a 30-person barbecue on Saturday despite the outbreak of the novel coronavirus and the different guidelines in place to stop the spread.
"I'm going to have a barbecue on Saturday here at home. Let's have a chat, maybe a peladinha," Bolsonaro said at the Alvorada Palace, according to Time24 News in Brazil. "There must be 30 (guests). There won't be a drink. There will be a kitty."
The remarks made by Bolsonaro come as Brazil continues to see a rise in coronavirus cases. According to a tracker provided by Johns Hopkins University, there are currently over 136,000 confirmed cases in Brazil, as well as at least 9,265 deaths. The World Health Organization has continued to urge that people across the globe should practice social distancing and isolation during the coronavirus pandemic.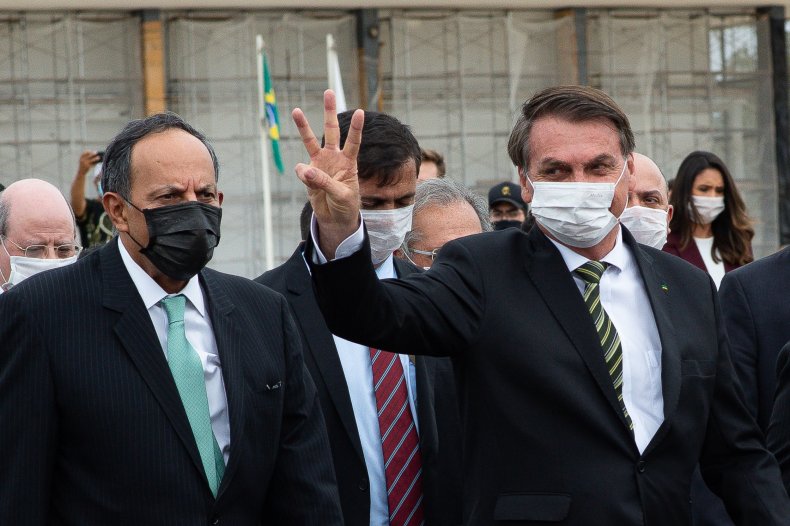 In addition to the increasing number of cases in Brazil, Bolsonaro's spokesperson, Gen. Otavio Santana do Rego Barros, recently confirmed that he had tested positive for the virus, and last month, former Brazilian Health Minister Luiz Henrique Mandetta suggested that "the toughest months," of the pandemic are likely to be May and June for the country.
Throughout the COVID-19 pandemic, Bolsonaro has continued to downplay its severity in Brazil and just last week, he said that he believed "the worst had passed," for the country in relation to the pandemic, during a press conference outside the Alvorada Palace.
Across Brazil, state governors have imposed their own quarantine and lockdown measures to slow the spread of the novel coronavirus, but Bolsonaro has continued to disagree with these decisions and suggested that the economic impacts caused by the lockdowns will have a worse impact than the virus itself.
On Thursday, Bolsonaro was accompanied by Brazil's Finance Minister Paulo Guedes during a speech at the Supreme Court where Guedes said that the country's economy could suffer a "total collapse," if it does not reopen soon.
"The issue of unemployment, the issue of the economy no longer working. We can't let the side-effect of the fight against the virus be more harmful than the disease itself," Bolsonaro said.
Bolsonaro has also previously suggested that Brazilian citizens aren't likely to contract the virus because "they already have the antibodies to keep it from spreading."
"Brazilians should be studied; we don't catch anything. You see people jumping in sewage, diving in it and nothing happens to them," Bolsonaro added during a press conference in March.
The new coronavirus, which causes the respiratory disease COVID-19, has continued to spread across the globe, infecting over 3.8 million people, according to the tracker. The virus has also caused at least 270,118 deaths.