Brazilian President Jair Bolsonaro Undergoes MRI, COVID-19 Test Scheduled
Brazil President Jair Bolsonaro said Monday he was exhibiting symptoms of COVID-19 and was expected to undergo a coronavirus test on Tuesday.
Many observers blame Bolsonaro's slow response to the coronavirus pandemic in Brazil to the country's high rate of positive cases. On Sunday, Brazil reported 26,209 new cases of the virus, making the cumulative total 1,626,071 cases of COVID-19 for the country's 65,556 fatalities that have been reported from the virus.
According to CNN Brasil, Bolsonaro was suffering a fever of 100.4 degrees Fahrenheit. Bolsonaro also said an MRI had been performed.
"I came from the hospital now, I did a lung check," Bolsonaro said in a Monday video. "The lung is clean. I'm going to do the COVID exam. It's okay."
Bolsonaro was previously tested for the virus in March after a meeting in Florida with President Donald Trump. Upon returning to Brazil, members of Bolsonaro's entourage tested positive for the virus. Bolsonaro was tested for the virus three times, all of which returned negative results.
Newsweek reached out to the Embassy of Brazil in the United States for comment.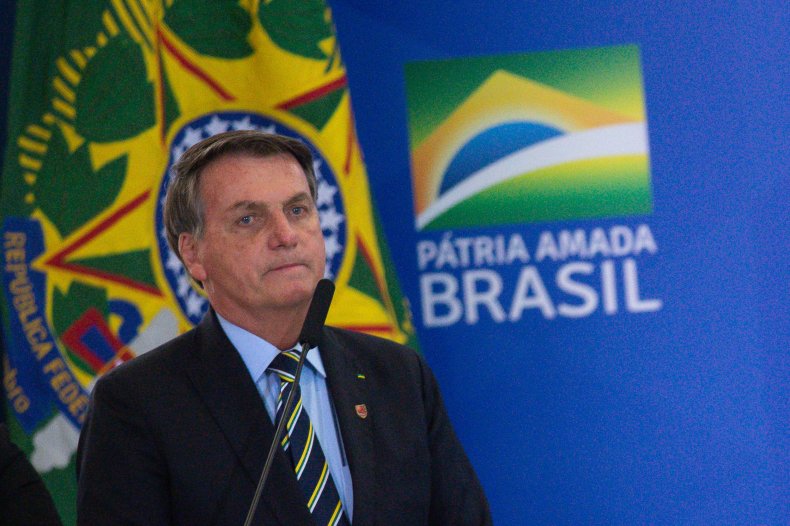 Bolsonaro has been a proponent of the anti-malarial drug hydroxychloroquine as a therapeutic for the coronavirus. Studies of the drug's efficiency in fighting the virus have shown varied results.
An emergency use authorization for hydroxychloroquine for hospitalized coronavirus patients was revoked by the Food and Drug Administration in June. According to the FDA website, hydroxychloroquine "showed no benefit for decreasing the likelihood of death or speeding recovery."
Brazil's government disagreed with the FDA's findings and recommended hydroxychloroquine for both pregnant women and children to treat the coronavirus.
"The studies referenced by the FDA today cannot be used as examples for Brazil or for the rest of the world," said Brazilian Health Ministry official Mayra Pinheiro during a June press conference.
In some public appearances, Bolsonaro seemed to not take the threat of the coronavirus seriously. In March, Bolsonaro referred to the virus as a "little flu." Bolsonaro was seen without a facemask at political rallies. He has also been opposed to shutting down businesses within Brazil, telling reporters in May that an economical shutdown was the "path to failure, to breaking Brazil."
On Friday, Bolsonaro vetoed certain sections of Brazil's face mask mandate. After Bolsonaro's revisions, face masks were not required in places of public worship or retail shops. A provision requiring people to wear face masks inside was also struck down as Bolsonaro said it was unconstitutional. Individual local governments, however, can still keep the mandates in place.
Despite the number of coronavirus cases, some areas of Brazil have begun to reopen for business. In the resort region of Rio de Janeiro, bars and restaurants began opening their doors on Thursday.
Rio de Janeiro reported 26,051 new cases of COVID-19 on Sunday creating a cumulative total of 121,879 positive cases.
Overall, Brazil has the second-highest number of coronavirus cases in the world. The U.S. has the most with 3,040,509 positive cases of COVID-19 reported since the pandemic began.