Brazilian Soccer Team Coach Resigns After Team Hires Convicted Murderer
A Brazilian women's soccer coach has resigned after her club's men's team signed a goalkeeper who was convicted of murdering his mistress and feeding her body to dogs.
Rose Costa resigned from her role as coach of Brazil's Rio Branco women's soccer team on Thursday, according to Agence France-Presse (AFP).
The move came four days after the men's team announced they were signing convicted murderer Bruno Fernandes das Dores de Souza as goalkeeper, who is known simply as "Bruno" and was considered a rising star before his 2010 arrest.
"My life story as a woman and a professional prevent me from remaining at Rio Branco," Costa wrote in an Instagram post announcing her resignation, as translated by the AFP. "I need to respect my own beliefs, including that we educate by example."
Costa said that the club experiencing financial difficulties was no excuse for signing Bruno in hopes of improving their fortunes by making the team more competitive.
She stressed that her focus in life "will never be just football" and that she could not continue with a club that would implicitly endorse a justice system that allows men to walk free after murdering women.
Rio Branco competes in Brazil's Série D, the fourth tier of professional soccer in the country. At the time of his arrest Bruno was a regular and the team captain of Flamengo, one of top league Série A's best teams.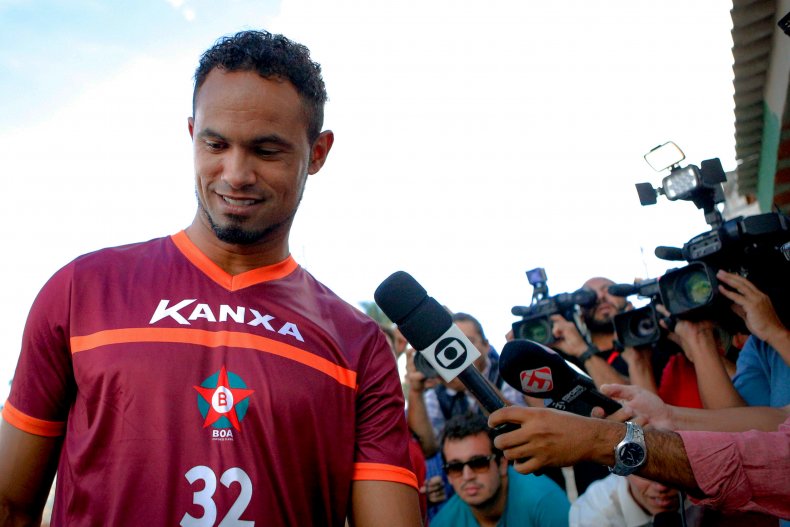 His career came to an abrupt halt after he was arrested for the 2010 murder of Eliza Samudio, a 25-year-old model with whom he had an affair and fathered a child while married to another woman. In 2013, he was found guilty and sentenced to 22 years.
Samudio disappeared shortly after Bruno refused to financially support their child, just before he was expected to move to a top club in Italy. Authorities later discovered, and proved in court, that Bruno and accomplices had murdered Samudio before dismembering her body and feeding parts of it to dogs while burying the rest under concrete.
Last month, he posted pictures of himself posing with dogs at a kennel on social media. He reportedly responded to critics by insisting that the photos were not in reference to his disposal of Samudio's body but were instead done out of an unrelated love for animals.
Bruno has been out from prison pending an appeal since last year. He was briefly released on appeal in 2017 and signed with a different low-level club before being put back behind bars after a court decision overturned his release.
Bruno blasted those who would "bury" his "dream" of being a professional soccer player after the murder and dismemberment, insisting that he is "not a bad guy" in an interview given during his brief 2017 release.
"Dude, what happened, happened. I made a mistake, a serious one, but mistakes happens in life – I'm not a bad guy," he told The Guardian. "People tried to bury my dream because of one mistake, but I asked God for forgiveness, so I'm carrying on with my career, dude. I'm starting over."