Brazil's Bolsonaro Expands Use of Controversial Hydroxychloroquine After Daily Coronavirus Deaths in Country Hit Record High
Brazilian President Jair Bolsonaro said Tuesday that the Ministry of Health would issue new guidelines to expand the use of the anti-malaria drug hydroxychloroquine to treat COVID-19, although the drug has yet to be recognized as an effective remedy.
On the same day, Brazil's daily death toll hit a record high of 1,179. Before Tuesday, the highest number of daily coronavirus deaths was 881, on May 12. According to a Johns Hopkins University tracker, Brazil is now the country with the third-highest number of confirmed cases, behind the U.S. and Russia.
Bolsonaro has been a strong advocate for wider use of hydroxychloroquine, a view that has cost the country two health ministers in the last month. Nelson Teich resigned May 15 after he resisted expansion of the drug because of a lack of scientific evidence. Luiz Henrique Mandetta was dismissed earlier last month after clashing with the president over the use of hydroxychloroquine and social distancing measures.
Interim Health Minister Eduardo Pazuello will sign the new hydroxychloroquine guidelines on Wednesday.
Bolsonaro, who has downplayed the coronavirus's threat to his country, has insisted on reopening Brazil's economy and encouraged people to violate lockdown orders put in place by governors and mayors.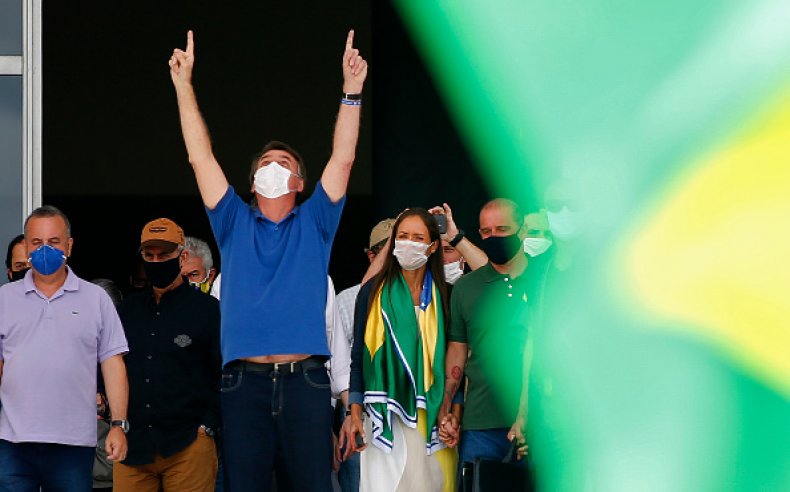 The president said on Tuesday that he keeps an emergency box of hydroxychloroquine at home for his 93-year-old mother.
President Donald Trump has also been vocal about his support for the drug and disclosed that he is using it as preventive measure. On Monday, Trump said that there's a "very good chance" it has a positive impact on the virus, but if not, "you're not going to get sick and die."
Hydroxychloroquine has not been approved by the U.S. Food and Drug Administration, but the drug has been given Emergency Use Authorization and clinical trials began late last week.
The outbreak has overwhelmed hospitals in Brazil's hot spots, specifically São Paulo, the country's most populous state.
On Monday, São Paulo Mayor Bruno Covas said that the city's public hospitals had reached 90 percent capacity and that in only two weeks they will no longer be able to support the influx of patients. Covas has extended the city's mandatory quarantine until the end of the month.
Trump told reporters on Tuesday that he is considering enacting a travel ban on Brazil.
"I don't want people coming over here and infecting our people. I don't want people over there sick either. We're helping Brazil with ventilators," the president said. "Brazil is having some trouble, no question about it."
Brazil has reported 271,628 confirmed cases of the virus and 17,971 deaths.