Brazil's Lula, Whom Obama Once Called the Most Popular Politician on Earth, Loses Appeal in Corruption Case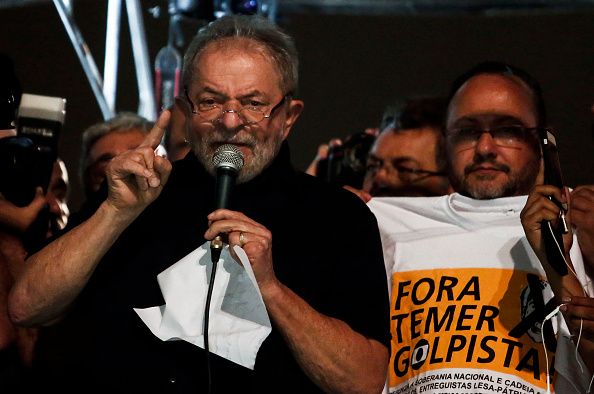 Brazil held its breath Wednesday as its widely supported former Brazilian President Luiz Inacio Lula da Silva lost an appeal in a corruption case against him, a decision that could thrust the nation's upcoming presidential race into chaos.
In Porto Alegre, Brazil, three judges voted to uphold the conviction and increase Lula's prison sentence to over 12 years, up from the nine-year sentence handed down in the original ruling. Lula was charged last year for money laundering and accepting more than $1 million in bribes as part of a massive investigation into Brazil's business and political leaders that has become known as Operation Car Wash.
"I consider the culpability in the case extremely high," Judge João Pedro Gebran Neto said Wednesday, according to The Associated Press. "This is about a former president and a corruption scheme that prevailed for years."
Lula was found guilty of accepting 3.7 million reais ($1.2 million) worth of bribes from engineering firm OAS SA after prosecutors argued that figure was the amount the company spent renovating Lula's beachfront apartment in exchange for help in obtaining contracts from Brazil's state-control oil company Petrobras.
Lula was seen as the front-runner against right-wing Congressman Jair Bolsonaro in the nation's presidential race scheduled for October. Lula, who is seeking a third presidential term, declared "we will return and transform this country" while maintaining his innocence before the conviction was upheld Wednesday. But he could be barred from winning the election under Brazil's "Clean Record" law, which rules out political candidates if their convictions have been upheld by an appellate court.
Public perception of politicians in Brazil is already at an all-time low as Michel Temer, Brazil's unpopular president, currently holds an approval rating of just 6 percent. In September, the rating held at 3 percent. Temer also faces allegations of corruption and there are calls for him to step down.
While Lula can still appeal up to the Supreme Court after Wednesday's conviction, "it will be hard for him" in his ongoing battle to defend his reputation, Mauricio Santoro, a political science professor from Rio de Janeiro State University (UERJ), told Newsweek. "With each new decision against him, his situation becomes more difficult," Santoro said.
Lula, 72, is the leader of the left-wing Workers' Party. He served as president from 2003 to 2010 and former U.S. President Barack Obama once dubbed him the "most popular politician on Earth." During the end of his second term in 2010, Lula reached an approval rate of 87 percent, "levels never before registered," according to Brazil's Ibope poll.
Lula was known for his economic and social reforms, mostly notably his Bolsa Familia, a conditional cash transfer program that according to the World Bank was "among the most effective social protection programs in the world" and brought 20 million people out of poverty between 2003 and 2009.
The World Economic Forum's Global Competitiveness Report put Brazil last in its "confidence in politicians" ranking and Brazilians have expressed frustration over the current state of affairs.
"Brazilians are very angry with politicians, the big political parties are in crisis," Santoro said, adding of Lula, "Many other voters will think that he is corrupt, but then, all politicians are corrupt and they believe that Lula is not the worst case."