Brazil's Health Minister Resigns After Disagreement with Bolsonaro Over Chloroquine and Lockdown Measures
Brazil's health minister Nelson Teich handed in his resignation on Friday after disagreements with President Jair Bolsonaro over handling the country's response to the pandemic.
Bolsonaro has been advocating for wider use of chloroquine as treatment, which Teich has resisted due to a lack of scientific evidence. A recent study in Brazil using the malaria drug for COVID-19 patients was terminated after it became associated with increased heart arrhythmia and death.
The president has also pushed for a quicker reopening of the country's economy, urging Brazilians to ignore quarantine restrictions.
"The issue of unemployment, the issue of the economy no longer working. We can't let the side-effect of the fight against the virus be more harmful than the disease itself," he said in a speech at the Supreme Court on May 7.
Teich said last week that he was not consulted before Bolsonaro made the announcement allowing gyms, beauty parlors and hairdressers to reopen. The former health minister has said the hardest-hit regions of the country need stricter lockdown orders.
Bolsonaro's insistence for the country to reopen has been resisted by other government officials. Some governors have stated that they will not comply with the decree to reopen businesses, while Sao Paulo, the country's most populous state, extended mandatory quarantine until May 31.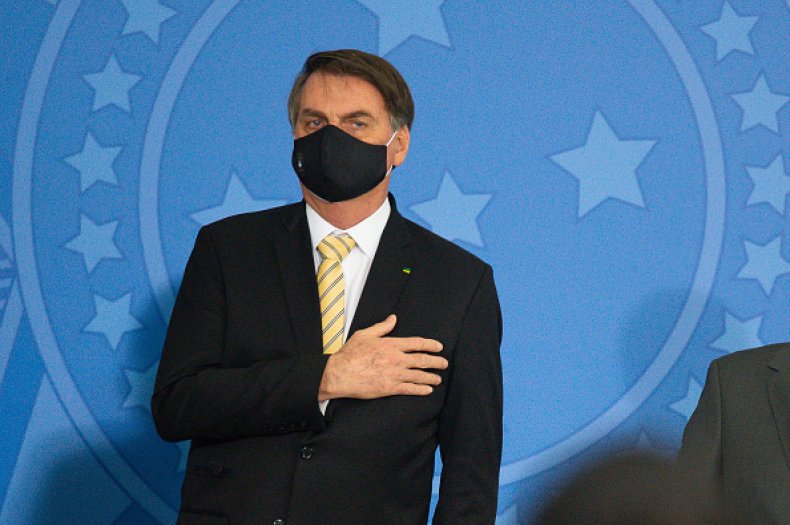 Bolsonaro has come under global criticism for downplaying the severity of the new coronavirus, especially as Brazil is quickly becoming a hotspot for the virus. However, in a press conference last week, the president said, "the worst has passed."
According to a tracker provided by the Kaiser Family Foundation, which compiles data from Johns Hopkins University and the World Health Organization, Brazil saw the second greatest increase in new cases with over 13,000 confirmed, only behind the United States.
As of Friday, Brazil has seen 203,165 cases of coronavirus and 13,999 deaths.
Bolsonaro's congressional opponent and member of the Brazilian Socialist Party, Alessandro Molon, said the president should be impeached for his response to the public health crisis.
"Bolsonaro does not want a technical minister, he wants someone who agrees with his ideological insanity, like ending social distancing and using chloroquine," Molon said in a statement.
On Tuesday, Bolsonaro wrote on Twitter that, "Governors who do not agree with the decree can file lawsuits in court."
Teich is the second Brazilian health minister to resign in the past month. Teich was appointed on April 17 after Bolsonaro dismissed Luiz Henrique Mandetta, who also resisted the use of chloroquine and supported lockdown measures.
Before he was fired, Mandetta had predicted that May and June would be the toughest months for Brazil.
No details were provided on who would replace Teich. Brazil's Ministry of Health did not respond to Newsweek's request for comment. A press conference will be held later today.