Brazil's President Bolsonaro Tests Positive for Coronavirus After Long Dismissing Risks
Brazil's President Jair Bolsonaro on Tuesday confirmed that he has tested positive for COVID-19 after downplaying the risks of the novel coronavirus pandemic for months, even as cases and deaths have surged in his country.
Bolsonaro, 65, told reporters Tuesday that he had tested positive, after it had been reported on Monday that he had a fever and was tested again to determine whether he was infected. When reached for comment, the Brazilian embassy in Washington, D.C. forwarded Newsweek the statement released by the president's communications team.
"The result of the covid-19 test carried out by President Jair Bolsonaro on Monday evening, July 6, and made available this morning, July 7, was a positive diagnosis. The president is in good health and is, at that [sic] moment, at the official presidential residence, the Alvorada Palace," the statement said.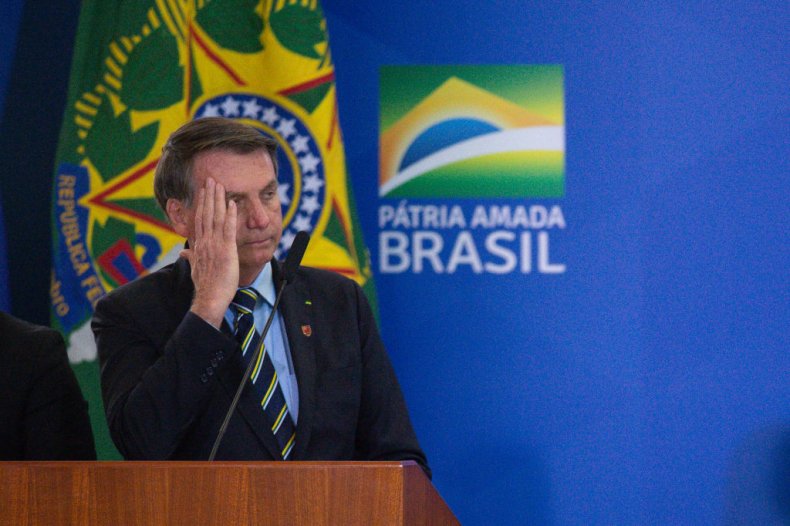 "Everyone knew that it would reach a considerable part of the population sooner or later. It was positive for me," Bolsonaro told reporters.
The Brazilian president has been skeptical of measures intended to curb the virus as well as the advice of medical experts since the early days of the pandemic. In March, he said that he would not fall seriously ill if he became infected.
"In my particular case," the far-right former Army officer said in a national address at the time, "with my history as an athlete, if I were infected by the virus, I wouldn't need to worry. I wouldn't feel anything or, if very affected, it would be like a little flu or little cold."
Bolsonaro has repeatedly appeared at rallies and events with his supporters without wearing a mask and shaking hands, despite the advice of public health experts. The Brazilian president has been dismissive of health advice and pushed to keep the economy open, even as cases and deaths have spiked in the South American nation.
Brazil has the second-highest number of infections and deaths after the U.S. The country of nearly 210 million has reported more than 1.6 million confirmed cases and over 65,000 deaths.
After it was revealed on Monday that he had been tested again for COVID-19, Bolsonaro attempted to reassure his supporters following an MRI of his lungs.
"I've done a lung screening, my lung is clean, OK? I went to do a Covid exam a while ago, but everything is okay," he said. The president also wore a mask, warning people not to get too close.
Brazil's president previously had at least three separate examinations for the novel coronavirus back in March. Those tests, which were negative, came after a close aide to Bolsonaro tested positive for the virus following a trip to the U.S. to hold meetings with President Donald Trump and Vice President Mike Pence.
Bolsonaro was pictured with the U.S. ambassador to Brazil, Todd Chapman, at a July 4 party. The Brazilian president was photographed close to the ambassador without wearing a mask. The U.S. embassy in Brazil said on Monday that Chapman would be tested and "is taking the proper precautions."
This article has been updated with further information and comment from the Brazilian embassy in Washington, D.C.