Brazil's President Is Too Afraid to Stop the Amazon Fires. But the World Can't Wait | Opinion
For weeks, the world has watched with horror as the Amazon, the world's largest tropical rainforest, has burned. Besides being home to indigenous Brazilian people, the Amazon rainforest plays a huge role in the regional and global water cycle, providing countless other benefits to our climate and wildlife.
Brazilian President Jair Bolsonaro may not have held the torch that lit the fire, but make no mistake: He set events in motion that have fanned its flames. And this total disregard for the Amazon has been evident throughout his political career.
Before his 2018 presidential campaign, Bolsonaro spent 27 years as a largely unknown and unremarkable politician in the Brazilian National Congress. He made it clear he was much more invested in aggressive agribusiness than in the people living in Amazonia, and his open nostalgia for the country's military dictatorship led many Brazilians to view him as a caricature of a machismo generalissimo from a bygone era.
Then Bolsonaro ran for president on a platform aimed at exploiting and developing the Amazon, promoting policies that would help his agribusiness allies and lead to environmental disasters.
And since his election, Bolsonaro has worked to dismantle environmental protections and related civil penalties. He directed Brazil's IBAMA agency, charged with upholding environmental laws, to decrease enforcement actions by 20 percent. He also gutted FUNAI, the agency responsible for safeguarding the nation's nearly 1 million indigenous people—many of whom rely on the Amazon for their way of life. And, in early August, he fired the president of the Brazilian National Institute for Space Research for defending the scientific findings that the Amazon was shrinking.
Bolsonaro is not only the architect of this disaster. He's actively worsening the crisis. Since the fires in the Amazon started to draw international attention, Bolsonaro and his administration have been quick to point fingers and failed to take any responsibility.
The administration claims there is "an environmental psychosis" surrounding the Amazon. That we are wrongfully obsessed with protecting it. That obsession, it argues, is the result of a "Marxist plot" sponsored by international forces with economic interests in exploiting Brazil's natural resources. Foreign nongovernmental organizations, unpatriotic scientists and interfering countries such as France and Germany are threatening Brazilian sovereignty, our president warns.
Brazil's vice president, former army General Hamilton Mourão, has backed Bolsonaro's conspiracy theories, describing the global outcry over the fires as "an international campaign against Brazilian sovereignty." They claim that there is nothing exceptional happening in the Amazon, and that the rising international pressure is a result of the same supposed lies about global warming.
If you're having trouble understanding this logic, you're not alone. These are baseless ravings of a hubristic leader who continues to put his personal ideology ahead of facts and what's best for those he is supposed to serve. It's that same hubris that led him to reject the $22 million in aid the G7 nations recently offered to help fight the fires.
In addition to environmental protection, Bolsonaro has also been a vocal opponent of progressive policies like same-sex marriage, affirmative action and gender equality.
Pressure on Bolsonaro to act continues to mount across the globe. Global brands like Timberland and Vans are boycotting Brazilian goods. European leaders said they "might walk away from a trade deal struck in June." If he's not careful, Bolsonaro could manufacture an economic downturn in addition to his environmental crisis.
Last week, Bolsonaro did take a promising step of announcing a summit with the goal of developing a regional approach to protecting the Amazon. Unfortunately, just days later, he withdrew from the summit, citing health reasons leaving the fate of the summit uncertain.
Bolsonaro—and Brazil—are at a crossroads. He can continue the dangerous path he started when he was elected, or he can embrace science, facts and the international community.
In the meantime, the world cannot wait for him to act. The stakes are too high.
There is a broad coalition of environmental, human rights and feminist groups in Brazil fighting against Bolsonaro's far-right agenda. These groups recognize that we have a common cause. Bolsonaro is not just a nationalist speaking about economic sovereignty in Amazonia. He is following the international script of pro-business, anti-people leaders, whose policies devastate the environment and minority groups.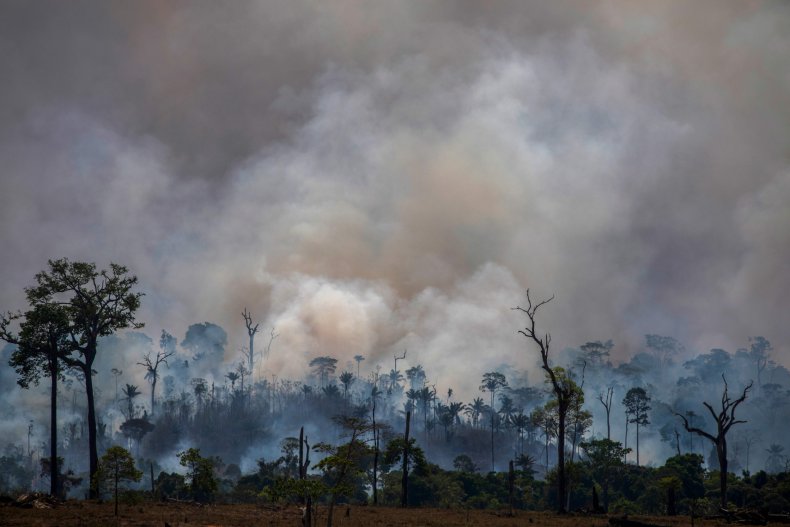 What's happening in Brazil is a reflection of what we've seen in countries like Hungary, Poland, the Philippines and the United States. Leaders in these countries, driven by the pursuit of money, have disrespected our environment and human rights under the guise of populist values. The erosion of environmental rights is closely correlated with the erosion of human rights. In the case of Brazil, Bolsonaro's policies have the dual effect of destroying the homes of indigenous Amazonians and disrupting their access to health and reproductive care.
The International Planned Parenthood Federation/Western Hemisphere Region is supporting our partners in Brazil to run campaigns, inform and mobilize marginalized groups, advocate and, when necessary, litigate. Together, we will empower indigenous Brazilians and effect change in not only this reckless government but also the entire world.
Debora Diniz is the deputy director of the International Planned Parenthood Federation/Western Hemisphere Region.
Giselle Carino is the CEO and regional director of the International Planned Parenthood Federation/Western Hemisphere Region.
The views expressed in this article are the writer's own.