On Monday evening, explosions rocked the headquarters of the Ministry of State Security building in Tiraspol, capital of the self-declared Pridnestrovian Moldavian Republic, more commonly known as Transnistria. The attack on the Ministry building was followed on Tuesday morning by two explosions at a radio tower 30 miles to the north. No one has claimed responsibility for the bombings.
Photographs from the scene of the first explosion showed that a grenade launcher had been left lying in the road near the Ministry building following the attack. No workers were in the building at the time of the incident, as the attack fell on an official holiday connected with the Orthodox Christian observance of Easter. No injuries were reported.
The Tuesday morning explosions disabled two Soviet-era radio towers which were known to broadcast Russian state-affiliated stations. Russian war correspondents reported that a military airfield near Tiraspol had also come under attack.
"Something unusual is definitely going on, but there's no clear answer as to who is behind it," Keith Harrington, a PhD candidate at Maynooth University Ireland, told Newsweek. Harrington is currently researching the origins of the Transnistrian conflict, and has published extensively on contemporary politics in the breakaway region.
Harrington said that in Abkhazia and South Ossetia, two Georgian territories whose independence is recognized in few capitals outside Moscow, "the leadership has gone all in on the Russian war effort, but Transnistria has walked a tightrope to avoid being pulled into this conflict directly."
Transnistria has taken in upwards of 20,000 Ukrainian refugees since the start of the Russian invasion, and Ukrainian still enjoys its pre-war status as one of the region's three official languages, along with Russian and Moldovan.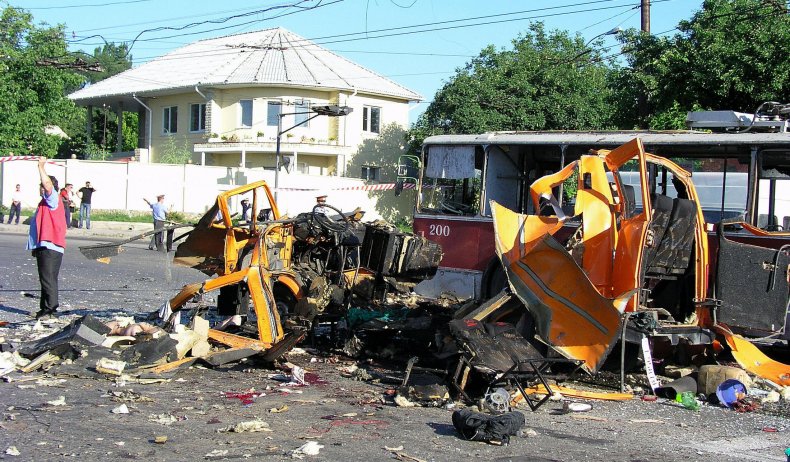 "There are pro-Russian Telegram channels which are already accusing three Ukrainian nationalists of being behind the bombings," Harrington said. "But it's not difficult to imagine Russia doing something like this in order to try to bring Transnistria into the fight."
According to the Telegram channel of local media outlet TVS, "President Vadim Krasnoselsky held a meeting of the Security Council of Transnistria. The main issue is terrorist attacks on infrastructure facilities and state institutions of the republic...A decision was made to introduce a 'red' level of terrorist threat in the country, which provides for the adoption of additional measures to ensure the security of the individual, society and the state."
Approximately 1,400 active-duty Russian soldiers are stationed in the unrecognized republic, which has been under de facto control of pro-Russian forces since 1992.
In the early days of Russia's most recent invasion of Ukraine, there was much speculation that these troops might mount an attack on Odesa from the west. However, such a maneuver has not yet materialized.