The 'Breaking Bad' Movie Has 'Already Been Shot': What We Know So Far
Breaking Bad has been keeping fans in the dark about a sequel since the final episode aired five years ago. But Bob Odenkirk, who plays Walt's shady attorney Saul Goodman, discussed the film sequel and has revealed the whole movie has already been shot during an interview about season five of Better Call Saul.
"I've heard so many different things about it, but I am excited about the Breaking Bad movie. I can't wait to see it...I don't know what people know and don't know," Goodman told The Hollywood Reporter on Tuesday. "I find it hard to believe you don't know it was shot. They did it. You know what I mean? How is that a secret? But it is. They've done an amazing job of keeping it a secret."
So what do we know? (Spoilers ahead if you haven't watched the original series).
One thing that's not changing is the director Vince Gilligan, who's putting the movie together.
It's reportedly a sequel to the series, following Jesse Pinkman in the wake of the series finale. A prequel, Better Call Saul, has already run for four seasons on Netflix and a fifth is planned for next year.
In other reports, we know that the movie is a joint venture between AMC and Netflix, potentially airing on AMC in installments, and as a single movie on the streaming service.
Jesse Pinkman actor Aaron Paul hinted to Variety magazine back in March that he'd be involved, pointing out, "In case you haven't caught up on the TV series, Walter dies, so it has to star Jesse."
A bigger question is whether Bryan Cranston will return as Walter White. Bryan's Breaking Bad character is be dead in the series but when asked if his character might "pop up" again, he's told Entertainment Tonight in June, "Well, rigor mortis has a way of allowing that to happen."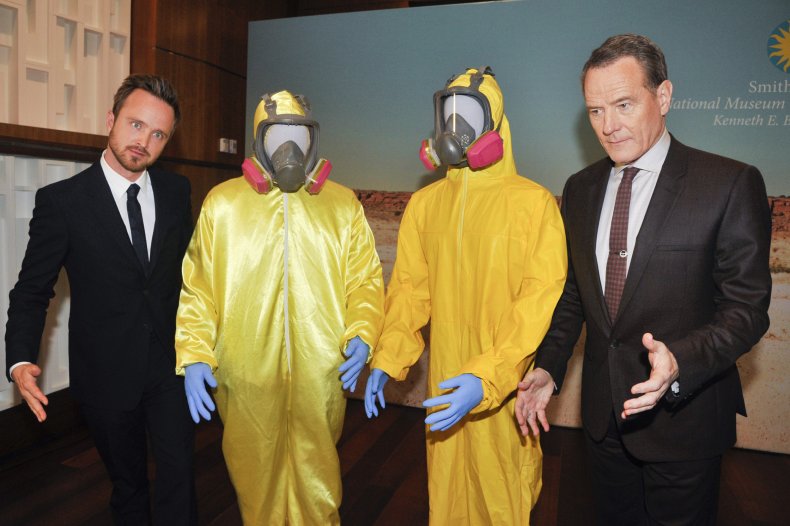 "Could be in a flashback, or a flash forward. I'm still dead, Walter White, I don't know what could happen."
Back in June, Cranston and Paul both took to social media to post identical, cryptic messages, writing "soon" — making fans hope this was an implication about the upcoming film.
The photos were potentially alluding to the fact they were in Breaking Bad's New Mexico setting.
Fans have known for the last two years the movie has been in the works, but reports say it won't be released until 2020.