Jersey City Bodega Active Shooter Prompts Police Response, Schools Locked Down: Live Updates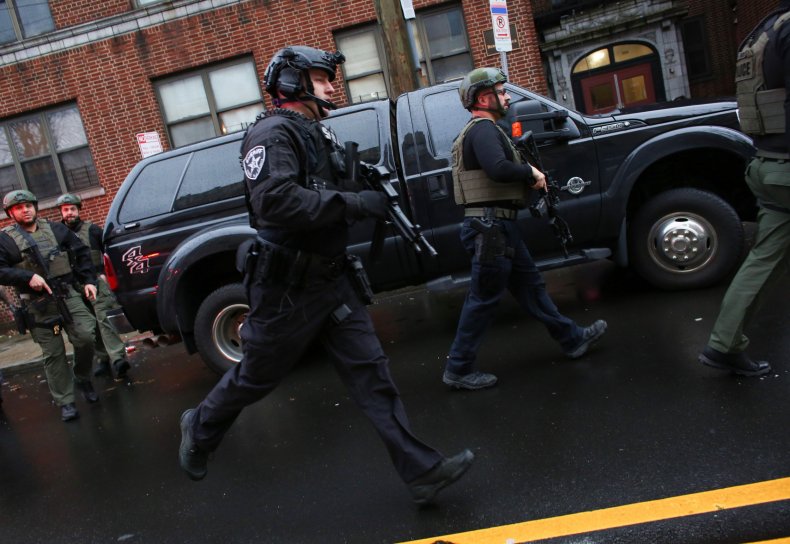 UPDATE: 7:45 p.m. EST — Sen. Cory Booker of New Jersey released a statement on the shooting.
"Once again, our nation is faced with scenes of carnage, fear, hopelessness, and loss. There should be no place in America where residents are gunned down while shopping for groceries, officers are slain while protecting our communities, and children are sheltering in place at school. These tragedies cannot become our new normal," Booker said.
"I am thankful to the Jersey City Police Department, first responders and law enforcement officers from across New Jersey and neighboring areas that bravely ran toward danger to steer their neighbors to safety. My prayers and deepest sympathies are with the victims of today's horrific and senseless tragedy in Jersey City," he continued. "Our focus now should be continuing the investigation, honoring the sacrifice of Detective Seals and our other fallen New Jerseyans, praying for the full recovery of the injured officers, and doing everything we can to protect our communities from gun violence."
UPDATE: 5:22 p.m. EST — Jersey City Police Chief Michael Kelly identified the deceased police officer as Joseph Seals, a longtime police officer who was promoted to the rank of detective within the last few years. He was assigned to the city's ceasefire unit, Kelly said in a press conference. Kelly confirmed Seals was "our leading police officer in removing guns from the street" and was married with children.
Two other officers have been released from the hospital. Police had not yet identified any motive in the shooting.
"Our officers were under fire for hours," Kelly said.
UPDATE: 4:45 p.m. EST — At least six people were killed in Tuesday's shooting in Jersey City, the New York Times reported. The six people include a police officer, two of the suspects and three people who were inside the store. Authorities said another press conference would be held at 5 p.m. EST.
UPDATE: 4:15 p.m. EST — Jersey City confirmed that the lockdown on its public schools was lifted and all students would be released.
UPDATE: 3:41 p.m. EST — Jersey City Mayor Steven Fulop confirmed in a press conference that there were "multiple" people dead inside of the building, but did not confirm the number. Fulop also said two officers were shot. One officer was killed, and another was shot in the shoulder and is expected to survive.
UPDATE 3:31 p.m. EST — The Hudson County Prosecutors Office confirmed one officer was killed in the shooting. Two other officers and one civilian were also shot, but are stable, the prosecutor's office said. A spokesperson for the Jersey City Police Department said authorities would be holding a press conference at 3:30 p.m. EST.
Original story: Police responded to an active shooter situation in Jersey City on Tuesday afternoon.
New Jersey Governor Chris Murphy said on Twitter that he was briefed on the unfolding situation, and that "officers [were] shot during this standoff."
"I have been briefed on the unfolding situation in Jersey City," Murphy tweeted. "Our thoughts and prayers are with the men and women of the Jersey City Police Department, especially with the officers shot during this standoff, and with the residents and schoolchildren currently under lockdown."
Police have not yet commented on the specifics of the incident. Local authorities initially told Newsweek that a press conference is expected to be held at the Jersey City Medical Center later in the afternoon. The hospital later told Newsweek there would not be a press conference.
The Hudson County Sheriff's Office declined to provide Newsweek with any additional details.
New Jersey State Police said on Twitter that T.E.A.M.S., Canine Unit, Bomb Unit, Marine Services, Aviation, Field Ops, Tactical Patrol, Central Security, Trafficking, and Emergency Response Bureau were all aiding police in the investigation.
Media was alerted to the situation by a tweet from the Bureau of Alcohol, Tobacco, Firearms and Explosives said that the situation was being treated as an "active shooter" situation as of 1:45 p.m.
Jersey City Public Schools said all schools in the district were on lockdown due to the situation, and that all students and staff were safe. Press Secretary Hogan Gidley said President Donald Trump was briefed on the shooting and was monitoring the situation, CNN reported.
This story is no longer being updated.