Breaking the Silence: Fleetwood Mac is Back Intact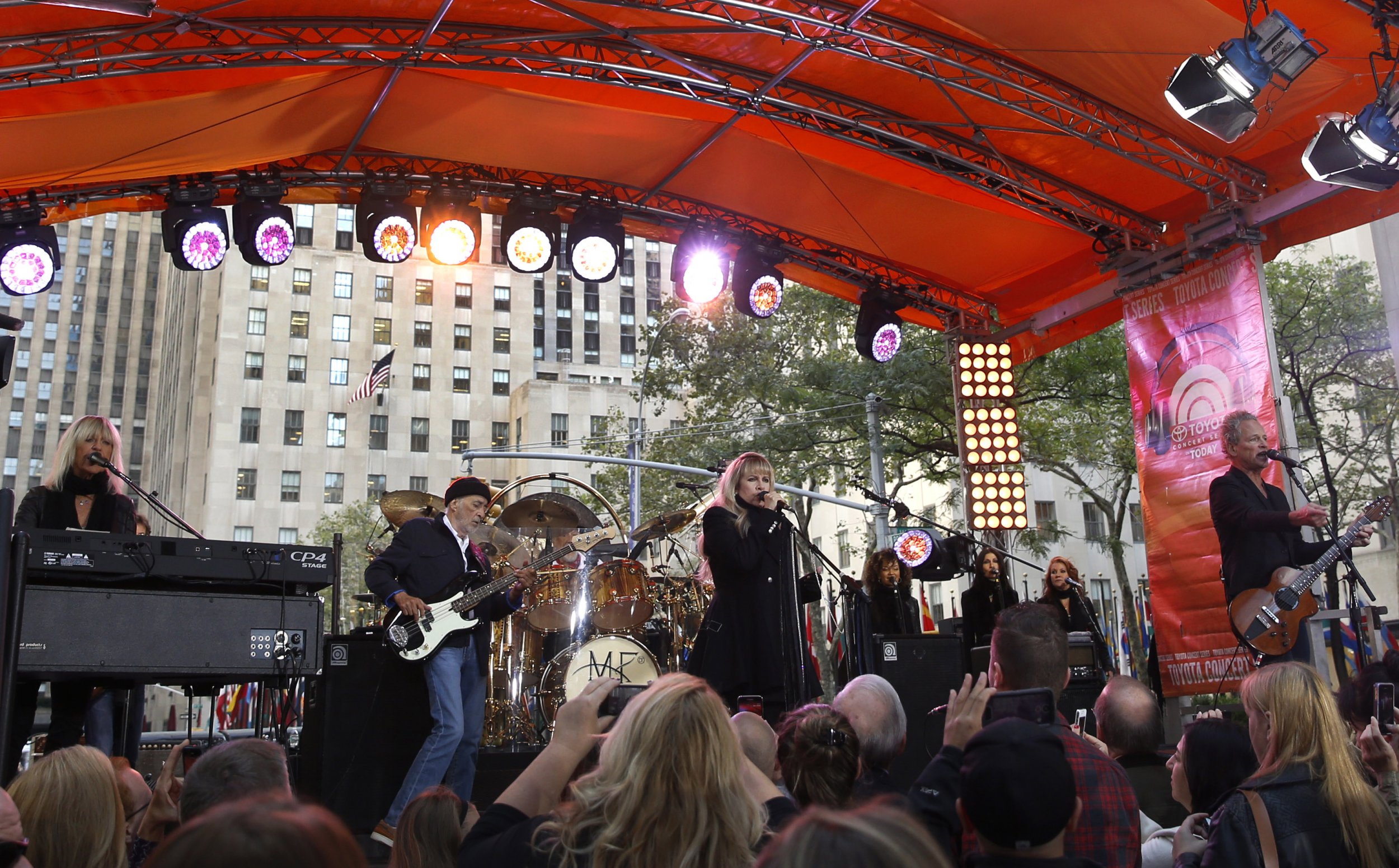 Stevie Nicks may have invented the selfie.
I'm standing next to the gold-dust woman herself, admiring a room of faded self-portraits in a New York City gallery space at the Morrison Hotel Gallery. The blown-up Polaroids, which Stevie Nicks dug up from the '70s, feature the artist in all her witchy glory. In some her eyes are at half-mast, long past closing time. Others depict her cloaked in shawls and lounging in empty hotel rooms, a penetrating glare boring through the lens. The most transfixing images feature Nicks as she sees herself: vulnerable yet tough, both the subject of and a mediator for the madness that defined — and almost destroyed — Fleetwood Mac.
The exhibition's opening party on a gusty Thursday night was appropriately opulent, featuring a spread of crostinis, crystal-clad guests and a specialty "24 karat gold" drink for the occasion. When I ask Nicks which image is her favorite, she softly shrugs and tells me she has none. Instead she describes her aversion to being photographed in a pool, and how it felt to find these prints again.
The exhibit coincides with the release of other treasures Nicks recently unearthed from the vault; namely, 24 Karat Gold, a collection of songs she wrote then tucked away in the '60s and '70s. Fleetwood Mac was at its most notorious then, with tales of hard partying, wife- and husband-swapping, indulging in too much nose candy, and struggling for a connection onstage and off. While the notoriety has followed them throughout the many years of break-ups and disagreements, solo careers and hiatuses, it wasn't enough to break them.
24 Karat Gold, which dropped on October 7th, was released just in time for the 'Mac's glorious return to the stage. The band's five members —Stevie Nicks, Lindsey Buckingham, Christine McVie, John McVie and Mick Fleetwood — kicked off a massive "On With the Show" tour late last month that will take them across the globe.
Several days before the selfie gallery opening, I'm at Madison Square Garden watching Fleetwood Mac burn through "The Chain," all tormented harmonies and lysergic guitar riffs. In lieu of lighters, thousands of fans held up their cell phone screens to dance in the dark. Strangers to my left hugged each other, jumped up and down, and cried together. The performance felt as intimate as a living room acoustic gig, the audience humming along to Rumours hits and Tusk deep cuts.
Forty-plus years later this band lives up to the hype: Lindsey Buckingham on the lip of the stage, coaxing his cherry-red guitar into a wail; Stevie Nicks next to him, close but far away, shrouded in billowy black. On her right, Christine McVie the group's secret songbird, holds court over her keyboard. John McVie, the band's backbone, stands dutifully in the background with his bass, at the right hand of Mick Fleetwood, the group's impish father figure helming a gold-embellished drum set.
Before Fleetwood Mac became synonymous with chains, gold dust and never going back again, the group was a British blues-rock band co-founded by Peter Green in the late '60s. It featured John McVie and Mick Fleetwood, along with Danny Kirwan and Jeremy Spencer in its initial lineup. The band had mild success, and began to amble towards pop territory after Christine McVie, then married to John, joined on the keyboards. Sometime after Green's departure the group eventually stumbled upon the young couple Lindsey Buckingham and Stevie Nicks, who had been creating righteous tunes in their duo act Buckingham Nicks, which saw lukewarm initial success with their eponymous album.
While Fleetwood Mac is one of the most successful bands in history, it may also be one of the most dysfunctional. When asked about the band's, erm, storied reputation, Mick Fleetwood tells me he gets it. "I have to say — for me — [Fleetwood Mac's legacy] is almost more meaningful than the music. It's about a bunch of people who had a story to tell, and everyone was pretty damned aware of the pain, the happiness, the grind of working out human conditions," he says.
That "grind" is the crux of Fleetwood's forthcoming book Play On: Now, Then and Fleetwood Mac, which will be released later this month. Play On speaks openly about Fleetwood's various marriages, personal failure and reconciliation. His new memoir is a shift from his 1991 book, Fleetwood: My Life and Adventures in Fleetwood Mac, which confirmed the rumors of the past. Fleetwood is the nucleus of the band and its caretaker, although he wasn't immune to the heartbreaks and hangups.
So why do people still care so much about this band? And what keeps these five together? According to Fleetwood, they don't have much of a choice given the ancient history. "We're all friends, and ex-lovers, and have deep, deep friendships sometimes gone horribly wrong," Fleetwood says. "If there are issues — there have been, and probably will be! — we have to go through them in order to do what we're doing. And that is worth a shit."
Artists often describe their work as a calling. Christine McVie claims that itch was stronger than the tranquility she'd found in the English countryside, during the 18-year hiatus she spent away from Fleetwood Mac. "I thought I fancied being the country lady, da dee da dee da, wearing old Wellington rain boots. I wanted to get away from the intensity of touring," McVie tells me. "I think it was just burned out, it was never anything personal with the guys. I [then] thought what am I doing here? Am I going to rot here in the country, watching my dogs get older?"
But first, she had to confront the very real fear of airplanes that halted her from leaving Europe for nearly twenty years. With the help of therapy and Fleetwood's companionship, she traveled to Maui (where he lived at the time). The fear went away. She talked with Nicks about possibly reuniting with the group and after swearing to commit, they tried it out. As she says, it was "the strangest thing, like a time warp. It was as though I'd never left!"
McVie tells me that she and Fleetwood have been involved in intense fitness regimens to prepare for the tour, and as a group they've recording new songs. "The songs are very powerful and very beautiful and very rock and roll too," she says. "They're different because of the time change, but it's undeniably Fleetwood Mac."
Correction: This article originally incorrectly stated that the Madison Square Garden performance was several weeks before the gallery opening. It was several days before the gallery opening.