Viral Photos Show Arkansas Woman Battling Breast Cancer: I Wanted to 'Make It Beautiful'
Photos of a young couple from Gillham, Arkansas, went viral days after being posted to Facebook Tuesday. The pictures—taken by photographer Mandy Parks—show Kelsey Johnson, 33, shaving the head of his wife, Charlie Johnson, a 34-year-old nurse who was recently diagnosed with breast cancer.
The Johnsons were high school sweethearts who found each other again in 2016 and resumed their romance. On May 4th of this year, they were married. Less than two weeks earlier, Charlie Johnson had found a lump on her breast.
She was not worried at first –– her OB/GYN said that the growth was completely benign.
"I wanted to have it surgically removed regardless because it was causing some discomfort," Charlie Johnson told Newsweek. "It was the surgeon who discovered it was cancer."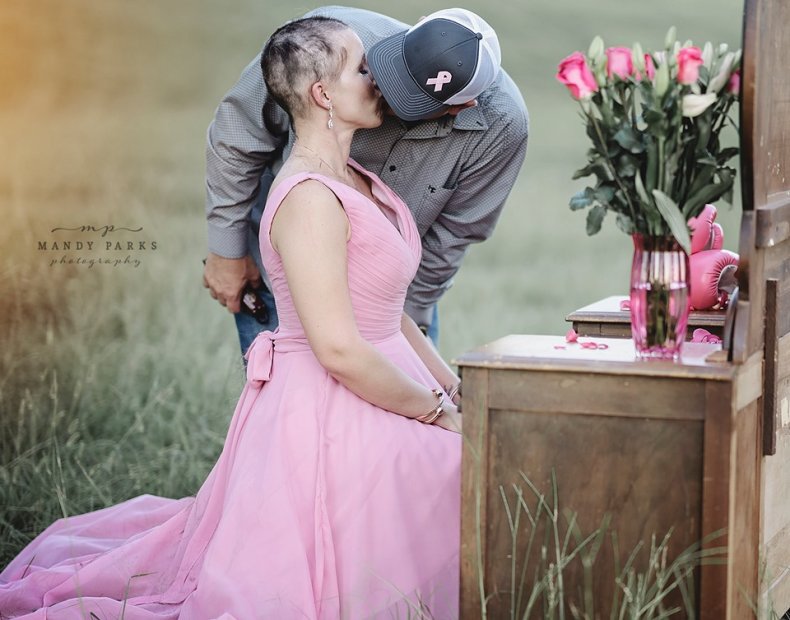 The photoshoot became what Charlie Johnson described as her "what if" plan, as the questions started to emerge soon after her diagnosis. "My thoughts became 'What if I take the chemo and lose my hair?' I want to take this thing and make it beautiful," she said.
The photoshoot was quickly planned with photographer and church-friend Parks, who shared the same vision for the project. According to Parks, the session had to be moved to an earlier date because Charlie Johnson's hair began to fall out faster than anticipated after the start of her chemo treatment at the beginning of August.
"I know what it is like when pictures are all you have," said Parks, widowed in 2011. Remarried now, she said the project was important to her not only because of a friendship with Charlie Johnson, but because she believes strongly in "capturing the moments that will mean something one day."
For Charlie Johnson, her husband Kelsey has been an "absolute rock." He has been the one to make sure she's doing everything she needs to during the day from getting enough rest, to drinking the correct amount of liquids. The couple, each with children from previous relationships, is determined to keep going for their family. The Johnsons remain busy with their work—and the outpouring of support that's come in since the photos were posted online.
"I never dreamed that this type of support system exists, not just for me, but everyone who has ever gone through this or ever will," Charlie Johnson said.
As Parks put it, "Some of the comments on it will make you cry harder than the post itself."