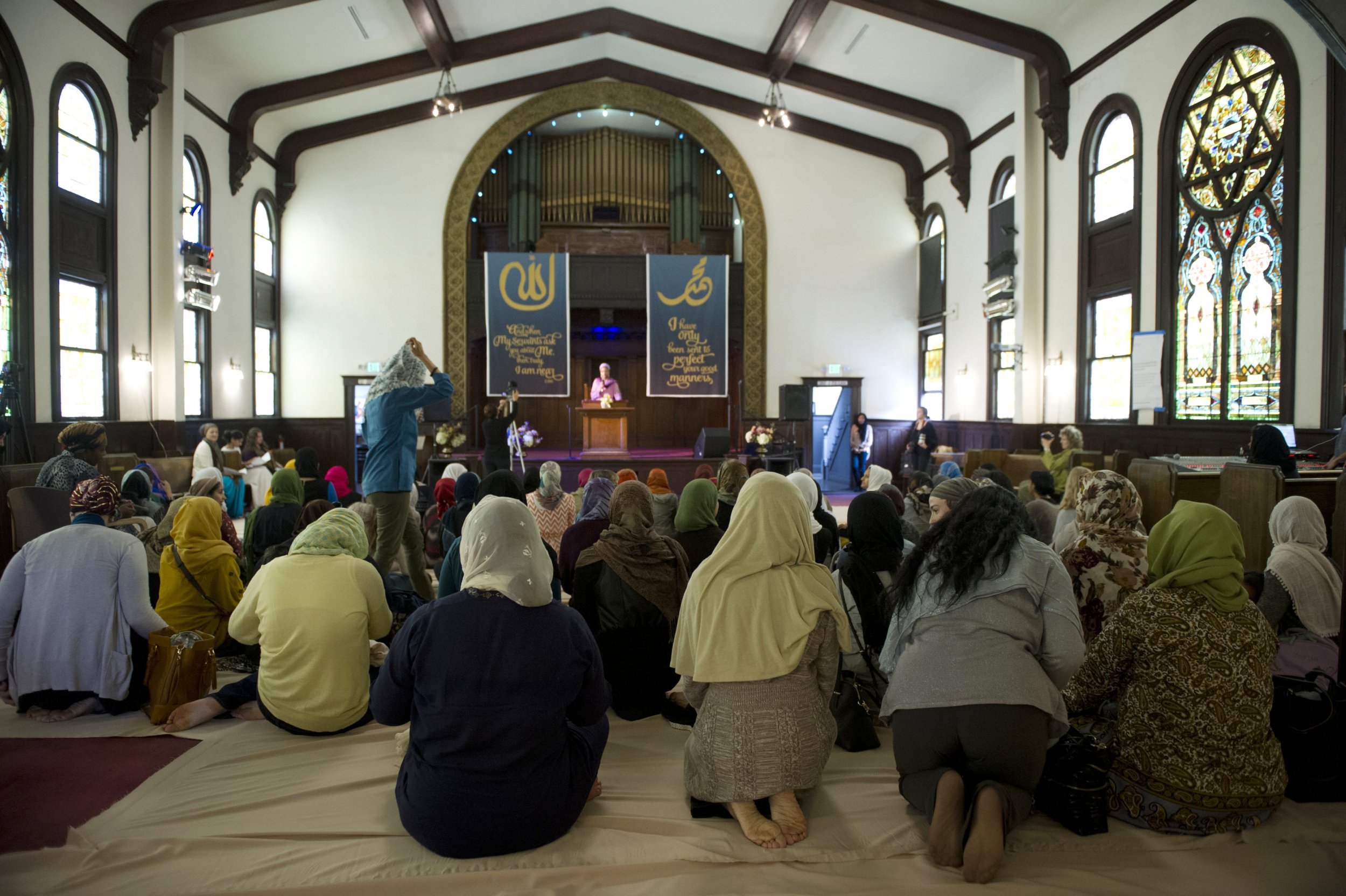 Breast cancer screening with mammography is a controversial issue, but it can uncover a tumor at an early stage when it's easiest to treat. Currently, the U.S. Preventive Services Task Force recommends annual mammograms for women between the ages of 50 and 74, with screening under 50 being an "individual" decision.
But many women don't have access to this information, a challenge that is especially pronounced in Muslim communities, where standard public health messaging doesn't address concerns related to religious beliefs.
Recent research shows that Muslim-American women have routine mammograms less than the female U.S. population as a whole. The study, led by Aasim Padela, who teaches medicine and directs the Initiative on Islam and Medicine at the University of Chicago, found that about 50 percent of Muslim-American women over age 40 undergo routine mammograms, compared with 67 percent of the rest of the general U.S. population of women in the same age demographic.
This finding led Padela to investigate whether involving mosques, the religious epicenters of Muslim-American communities, in education efforts could help improve breast cancer screening rates.
Padela, who is Muslim, recently tested a pilot program at two mosques in the suburbs of Chicago and presented his findings this week at an American Association for Cancer Research conference dedicated to cancer health disparities. His goal was to find a way to demystify this routine test and to encourage women to undergo it while still honoring religious observances and closely held beliefs of the community.
The Koran was, of course, written ages before modern medicine, but Islamic belief still influences community perceptions about human health. "There is a theological view that God controls disease and cure," says Padela. He wanted to find a way to reframe beliefs about medical testing and mammography in a way that would be appropriate to discuss at mosques and acceptable within the framework of Islam.
After conducting focus groups in the community, Padela designed a program and held a series of education classes at two different mosques. One was a predominantly Arab mosque, located in the western suburbs of Chicago, and the other was a predominantly South Asian mosque in the city's northern suburbs.
A total of 52 Muslim women who had not undergone a mammogram in the past two years participated in the program. Roughly 73 percent of participants had health insurance coverage or regular access to a physician. Their mean age was 50, meaning all of the women in the study met the criteria for breast cancer screening.
Through the pilot program, Padela and his fellow researchers identified a number of ideological barriers that prevent women in this demographic from undergoing breast cancer screening. Some women held a fatalistic belief that a person's health is out of her own control and determined by God, for example.
But there were other cultural challenges as well. Concerns about modesty and gender concordance played a role. Some women, says Padela, were unaware that many health clinics have female technicians on staff and that religious leaders agree that it is permissible to receive care from male medical professionals when there aren't other options.
Women in the study also expressed concern that mammograms are painful. This worry is common for all women—religious or not.
At the education classes, which lasted three and a half hours each, an imam provided a spiritual teaching, a breast surgeon talked about the importance of mammography screening and the guidelines, and peer educators led group discussions about how religious beliefs may be influencing their decision to not have a mammogram.
Padela's approach centered on changing beliefs through a religious lens. "The technique we used was reframing," he tells Newsweek. "When you do a good deed, any sort of harms or trouble you get along that path are rewarded by God. The specific message was the pain incurred along that path is rewarded by God and the good deed would be taking care of your body. Mammograms are part and parcel to taking care of one's body."
At the six-month follow-up interviews, 42 percent had already obtained a mammogram. Overall, the women reported being significantly more likely to get a mammogram than they had been before participating in the classes.
Most hospitals that serve diverse populations consider the needs of religious female patients. The Mount Sinai Health System's breast imaging division in New York City, for example, provides extended hours and a physician staff of mostly women, says Dr. Laurie Margolies, chief of breast imaging there.
"We strive to address cultural barriers such as modesty and language, which may enhance the experience for all patients," says Margolies. "The majority of our breast imaging staff is also female, which may be important to those whose religion mandates maximal modesty."
However, hospitals are slow to partner with mosques for community-based health programs. Though imams are often consulted by patients for advice during illness, Muslim chaplains are not common in the U.S. health care system. Previous research conducted by Padela suggests that improving communication between hospitals and community imams would help Muslim patients make critical decisions, as would educating imams on how to counsel community members on medical issues.
A study published in 2015 found that community-based health education programs at mosques such as Padela's have the potential to make a big difference in women's health. However, several challenges make this approach hard to sustain. Mosques are often staffed by volunteers with high turnover rates, and these communities may lack resources and funding, for example.
But another challenge is the current political climate, which may cause feelings of distrust in the community and make it difficult for hospitals to conduct outreach to these communities. "Mosques are challenged. There's a new crisis in the community every week, and thinking about health is not the first priority," says Padela. "Anytime there's a refugee crisis or a terrorist attack, health falls by the wayside."
Uncommon Knowledge
Newsweek is committed to challenging conventional wisdom and finding connections in the search for common ground.
Newsweek is committed to challenging conventional wisdom and finding connections in the search for common ground.
About the writer
Jessica Firger is a staff writer at Newsweek, where she covers all things health. She previously worked as a health editor at CBSnews.com and Everyday Health. Before taking on the medical beat, she was a stringer for the Wall Street Journal's metro section and was the lead on-the-ground reporter for the paper's coverage of Occupy Wall Street. Jessica has also written for the New York Times, Al Jazeera America, Salon, Elle and Marie Claire, among others. She's a native New Yorker.