The Breathtaking Nature of the Abraham Accords | Opinion
I will admit that my becoming familiar with the United Arab Emirates (UAE) was a slow process. Though I considered myself fairly well-traveled and open-minded, the name conjured up nothing appealing to me when it first came across my desk years ago. It was a country that, at the time, did not recognize the legitimacy of a country I cherish: Israel, the Jewish state. If they won't welcome Israelis, I thought, then there is no reason for me to welcome them, either.
Some years later, I once again came across this foreign land when I met a large real estate company developing massive projects in Dubai. They described to me an astonishing project being developed—man-made islands in the shape of a palm tree. How do they conceive of, and actually build, such wondrous projects, I wondered.
Years after that, I came across another Emirati group when my then-employer —The Trump Organization—successfully acquired from an Emirati company a masterpiece of a golf resort, three golf courses and a luxury hotel, in Scotland. That complex is now known as Trump Turnberry.
Then my very limited interaction with the UAE came to a surprising end. At the end of 2016, I was tapped by President Trump to serve in his administration, as an assistant to the president and the White House envoy to the Middle East. Among my tasks was working on strengthening Israel's ties with its Arab neighbors.
To my surprise, when I met many of the regional foreign ministers at the Arab League summit in March 2017, I was fascinated and captivated. The meetings were eye-opening. While we didn't see eye to eye on many of the positions they publicly took on the Israeli-Palestinian conflict, the private conversations with some were as surprising as they were illuminating.
The achievement of the Abraham Accords and the aftermath of those accords are simply breathtaking. This past week saw yet another historic achievement by President Trump and the Trump administration, with the agreement by the Kingdom of Morocco to normalize relations with the State of Israel.
I just returned from the UAE for a fourth time in the past 12 or so months—three of which were with some or all of my immediate family members. My soon-to-be son-in-law proposed to my daughter in the desert of Dubai, at the home of a close friend, with the music of one of Israel's most popular singers—Ishay Ribo—playing on Spotify in the background. I flew on Emirates Airline with my kippah and prayed morning prayers with my tefillin (phylacteries) on the plane. All this without a second thought. But I would not have considered doing this even a year ago.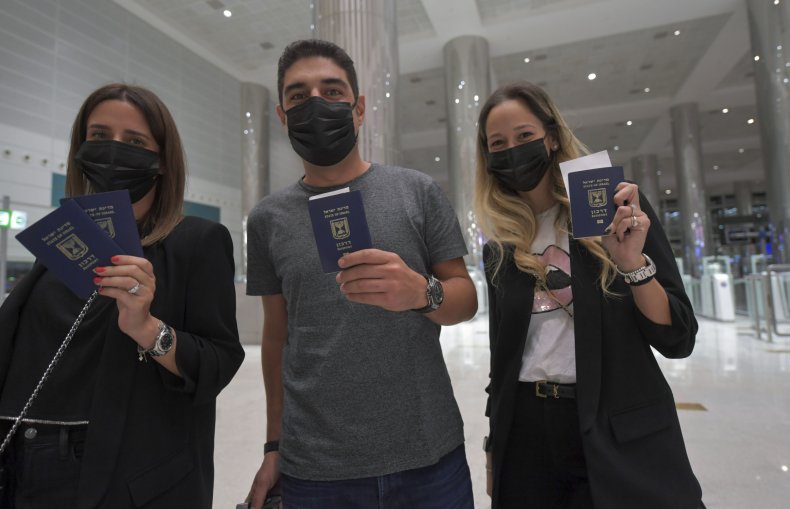 The dramatic shifts in cross-country ties throughout the region have been remarkable. When I was at the White House, I used to say that it felt as though I was visiting cousins and that it was "time to bring the family back together again." Many of the government officials I met shared that view. Our customs and rituals are different, to be sure—but they have many similarities and they feel somewhat familiar despite their differences.
There is a warmth, welcomeness and hospitality that I experience whenever I visit the UAE (and many other places in the region) that reminds me how we are, indeed, so similar to one another. Our religions have our dietary requirements, our prayer customs, the way we value family and kindness to strangers, modesty rules and so much more. The Abraham Accords have broken the wall that separated us and reconnected us. I believe there is no going back. That the Kingdom of Morocco has been so quickly added to the roster of the Abraham Accords shows how President Trump's approach to the region has been the right one.
Agreements are being signed almost weekly between Israel and the UAE—and now Bahrain is joining the excitement. People are traveling back and forth and getting to know one another. Business is being done. Relationships are being built. Culture is being shared. Orthodox Jewish weddings are taking place in Dubai. Chanukah programs are happening. Passover programs are being planned. Investments in both directions are happening. It is such a marvel to behold.
I also believe that in time, this will be true of others in the region, including other countries I have also been privileged to get to know and develop relationships with. These include Saudi Arabia, Qatar and Oman. And let's not forget those countries that already have peace agreements with Israel, two others I enjoy visiting and connecting with: Jordan and Egypt. I am sure we will soon see the same excitement of business, cultural exchanges and friendship between Israel and Morocco.
I am excited about the trip I just returned from, and the possibilities these trips hold. More importantly, I am excited for the future and the promise that they hold for the next generation.
This holiday season, let's remind ourselves how we can be partners together, striving for prosperity, peace, safety and security. Let's reach out to those we might be indifferent to, those we may not understand and even those we might be suspicious of. Let's reconnect and inspire hope, just as the Abraham Accords were able to do, so quickly and so dramatically, in one of the most complex regions of the world—the Middle East. Let's follow the lead of the courageous leaders who made the Abraham Accords possible, and who brought brightness and inspiration to the whole region.
Jason D. Greenblatt was the White House's Middle East envoy for nearly three years. Follow him on Twitter: @GreenblattJD.
The views expressed in this article are the writer's own.