Drunk Man Steals Horse at Breeders' Cup, Nearly Makes it to Track
While jockeys and horses were racing at the Breeders' Cup Saturday a man was able to slip through the chaos and onto a horse. The 24-year-old man from Georgetown, Kentucky, made his way through security at the cup and back to where the horses are kept.
The man, Michael Wells-Rody, snuck back into an area where guests of the race weren't meant to be and got onto a horse after consuming alcohol, the Lexington Herald-Leader reported. Wells-Rody successfully got on a horse and rode it to the entrance of the track, according to the citation by police.
The man was charged with public intoxication and disorderly conduct and is expected to appear in court Monday for his arraignment.
The Breeders' Cup took place from Friday to Saturday at Churchill Downs in Louisville, Kentucky. Wells-Rody will never know how he would have stacked up against the actual professional jockeys and horses on the field. This year the horse Accelerate, ridden by jockey Joel Rosario came in first place after a somewhat difficult start getting into the gate.
Accelerate lived up to its name and sped up in the backtrack when it really mattered. The horse and jockey was able to come from behind to end up in first for the end of the race.
The Breeders' Cup is a thoroughbred race with one of the highest purses in racing -- $30 million in prizes are given out over the two days of the race, according to the Cup's official rules. The Breeders' is the last race in the United States until the season starts up again in January with the Pegasus World Cup in Florida. After that there aren't many big purse races again until May.
In 2018 there was a Triple Crown winner, meaning a horse that won the the Kentucky Derby, the Preakness Stakes and the Belmont Stakes, that horse is named Justify. Before the 2018 season the last winner was American Pharoah that won and was crowned in 2014. Before that, there hadn't been a Triple Crown winner since 1978.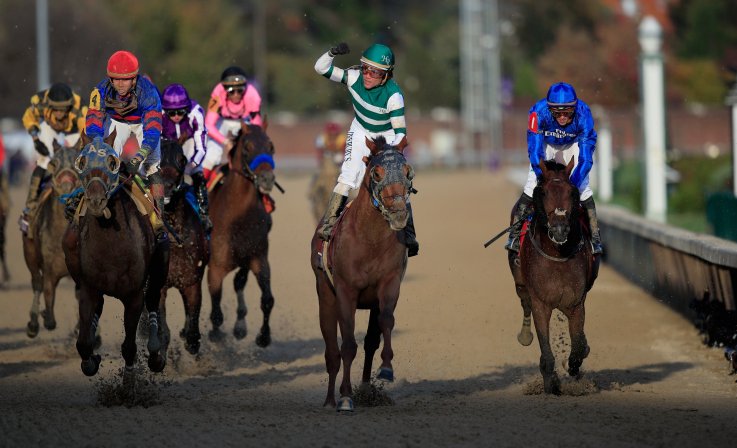 Drunk Man Steals Horse at Breeders' Cup, Nearly Makes it to Track | U.S.