Breitbart Defends Roy Moore Against Child Sex Assault Charges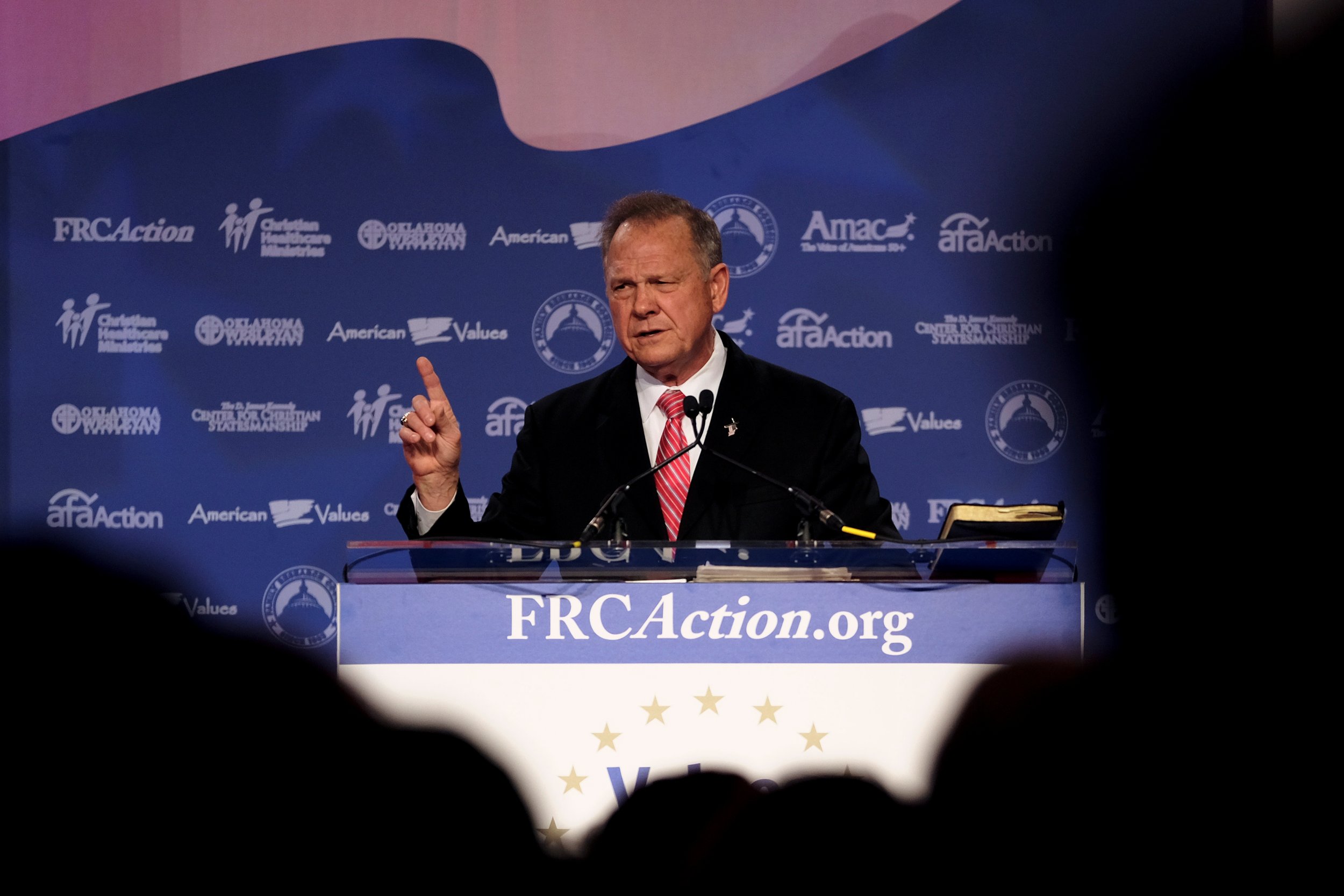 Coming off defeats in several legislative races on Tuesday, the Republican Party was stunned—and stung—on Thursday by a Washington Post report that alleges Roy S. Moore, the former Alabama chief justice now running for a Senate seat from that state, molested a 14-year-old girl in 1979, when he was a 32-year-old district attorney.
The Post spoke to three other women who alleged that Moore "pursued them when they were between the ages of 16 and 18 and he was in his early 30s, episodes they say they found flattering at the time, but troubling as they got older. None of the women say that Moore forced them into any sort of relationship or sexual contact."
Moore is supported by Stephen K. Bannon, the former White House chief political strategist. After leaving the position in August, Bannon returned to Breitbart News, where he'd served as the executive chairman, promising war on the Republican establishment. He endorsed Moore in the special primary election against incumbent Senator Luther Strange earlier this fall. Moore's decisive victory was seen as a rebuke of Senate Majority Leader Mitch McConnell. President Donald Trump endorsed Strange, but after Moore's victory, the president said Moore "sounds like a really great guy."
Now, however, Republicans find themselves in an astonishingly uncomfortable position, having to stand by a candidate whose hardline conservative views on homosexuality and other social issues already made him difficult to defend. Allegations of sexual assault of a minor will make that virtually impossible.
Cassie Smedile, a spokeswoman for the Republican National Committee, declined to say whether Moore would continue to receive financial or organizational support. In September, RNC chairwoman Ronna Romney McDaniel vowed that the GOP would stand with Moore. "We're going to get in and make sure that Roy Moore is the next senator from Alabama," she said on Fox & Friends.
They can, if they wish, take a cue from Breitbart News, which was told in advance by the Moore campaign of the forthcoming Washington Post story. Its own reporting prominently features denials and denunciations from Moore and his campaign, including one that says, "This garbage is the very definition of fake news and intentional defamation."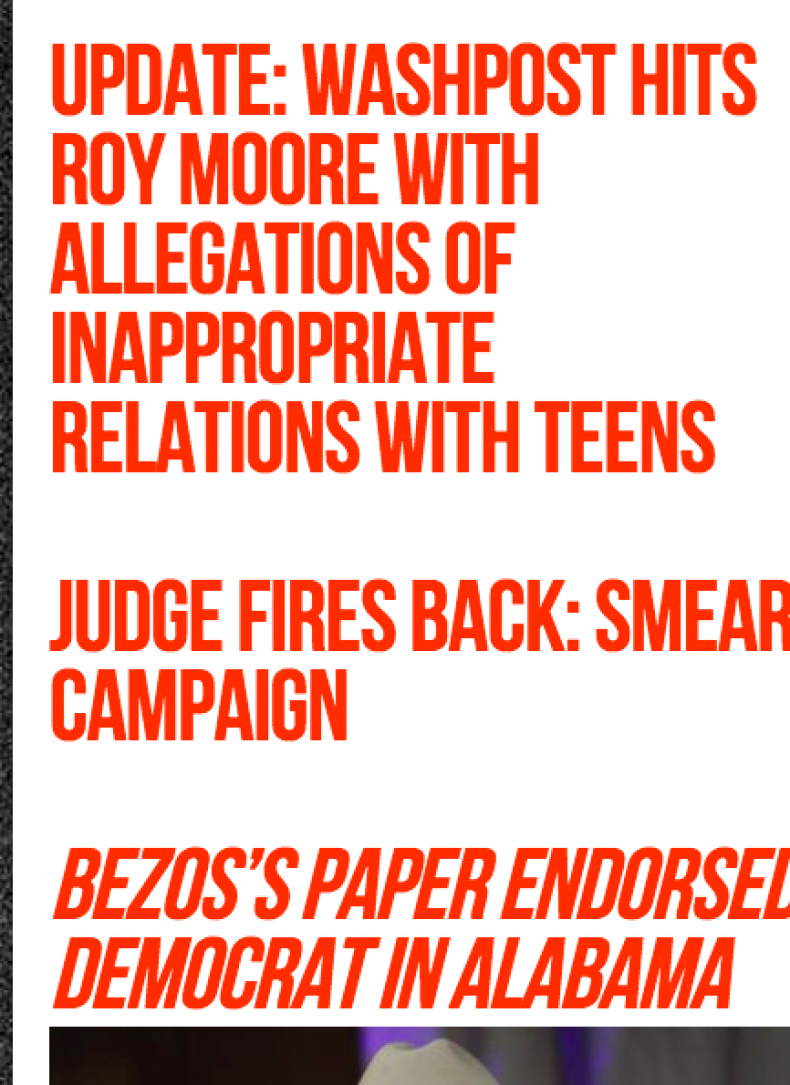 The Breitbart News report also notes that The Washington Post "formally endorsed Moore's Democratic opponent Doug Jones in the Senate race," without explaining that a newspaper's editorial and news-gathering operations are separated by an unbreachable firewall. Breitbart News also attempts to tie Jones to "far-left groups financed by George Soros that push open borders and a host of radical causes." The candidate's connection to these groups is not explained.
Fox News did devote a segment to Moore's troubles on Thursday afternoon, but for part of the day, its website led with a story about comments critical of Hillary Clinton made by a former Democratic National Committee interim chairwoman, Donna Brazile. A section of the website devoted to recent allegations of sexual misconduct by prominent figures makes no mention of Moore. Later, the website's banner headline referenced the Uranium One deal, now seven years old, that is an acute obsession of the anti-Clinton right.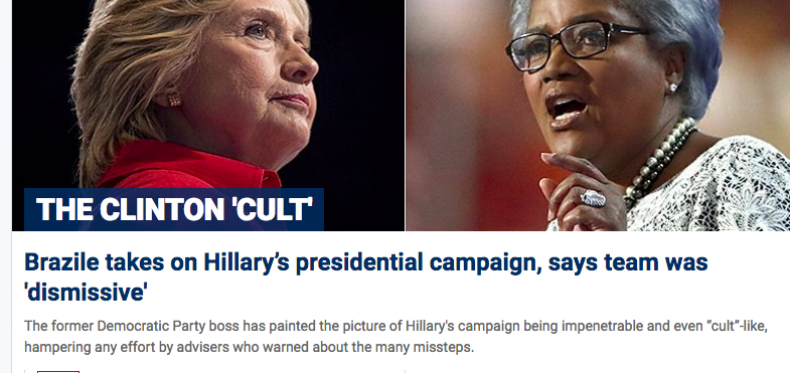 InfoWars, the conspiracy website run by Trump supporter Alex Jones, also makes no mention of the Moore allegations. Its top item has to do CNN chief Jeff Zucker, who the site claims is on the cusp of resigning. Infowars frequently makes claims that are not true.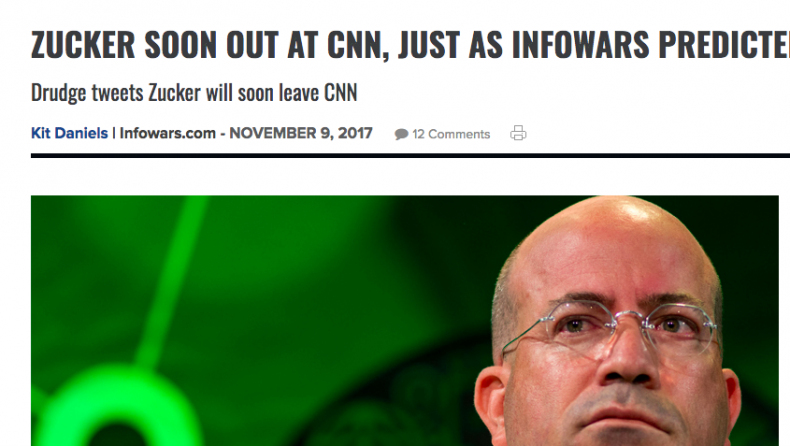 But downplaying Moore's alleged transgressions may prove difficult. The Drudge Report, the conservative news clearinghouse visited by 2 million people each day, featured the news in a banner headline.
"Alabama rocked," it said.