Breitbart News Goes to War for Steve Bannon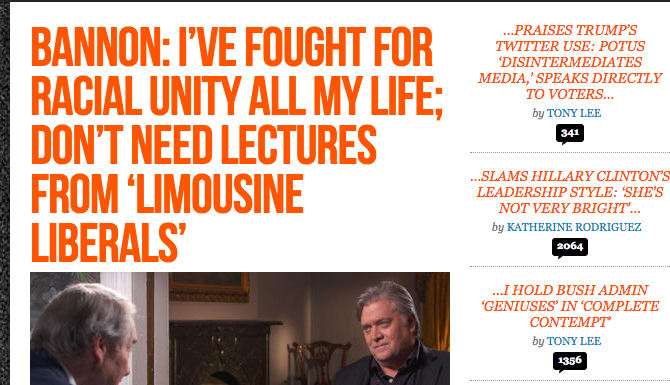 It was the 16th anniversary of the 9/11 attacks, and Hurricane Irma was causing havoc across the Southeast. But the home page of Breitbart News, the far-right news outlet, led with a different story: The previous night's interview of its chief executive, Stephen K. Bannon, with Charlie Rose of 60 Minutes. This was journalism of the "Venerable Leader" variety, perfected by the diligent Soviet scribes of Pravda and Izvestiya. The site's banner headline touted Bannon's lifelong fight for "racial unity," an allusion to his remarks the previous night. Other articles selected Bannon's 25 best quotes from the interview and singled out his attacks on the Clintons and Bushes.
A month ago, Bannon was forced out of his post as the White House's chief political strategist. He returned to the Breitbart News headquarters, a townhouse near the Supreme Court, proclaiming the Donald Trump presidency "over" and promising "war" on establishment Republicans—as well as the insufficiently conservative "globalists" within the West Wing—who have stifled Trump's populist revolution. Breitbart News was going to be Bannon's main weapon, brandished in the name of nationalism, protectionism and stricter immigration laws.
"Bannon the Barbarian is back! Democrats and establishment Republicans alike should be absolutely fucking terrified," former Breitbart editor Milo Yiannopoulos told Rosie Gray of The Atlantic. "They have no idea of the storm that is coming. Steve is so much more powerful and dangerous outside the White House than in."
But a review of the website's recent content suggests this war is being waged with slingshots and spitballs, and that Breitbart News is far more interested in chest-thumping and name-calling than the kind of sophisticated intellectual and political warfare Bannon has invoked. To the contrary, Breitbart News appears to have succumbed to the very kind of self-pleasure that Bannon himself was accused of, in famously vulgar terms, by short-lived White House Communications Director Anthony Scaramucci.
As such, Breitbart News may have inadvertently revealed itself as perfectly representative of Trumpism: the image of bold iconoclasm, without any of the hard work genuine iconoclasm would have entailed; petty cruelty disguised as principled truth-telling; a pose of intellectual fearlessness that masks a preoccupation with and deep sensitivity to public image.

The influence of a news organization is difficult to measure. Breitbart's traffic numbers remain extremely high, with the site ranked 56 in the nation by Alexa, which measures web traffic. That traffic, however, plateaued after rising sharply around last year's presidential election. Since then, it has remained flat at an estimated 45 million unique visitors per month.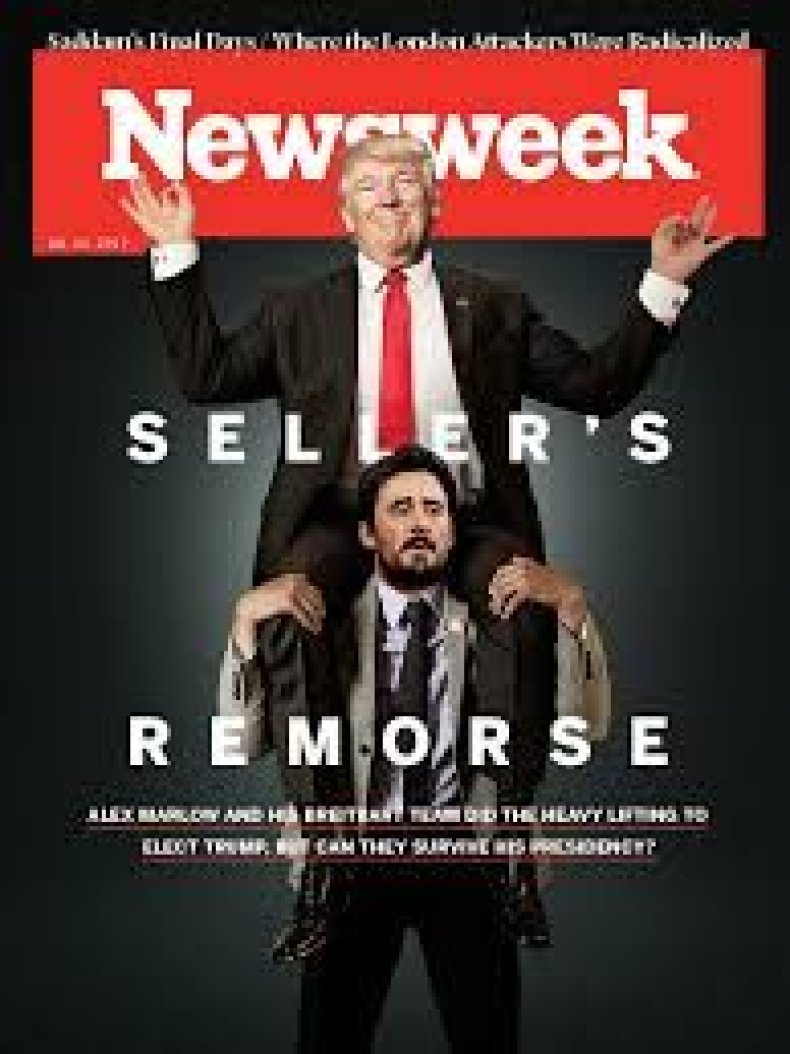 Some believe Bannon's return could prove auspicious for Breitbart's fortunes. "Bannon back at Breitbart is a much-needed booster shot for the site, which had become defocused and cautious since his departure," says Lee Stranahan, a former Breitbart journalist who has been a frequent critic of the site's recent direction. "At this point," Stranahan tells Newsweek, Bannon is "clearly working on business deals behind the scenes, but once he starts making his voice heard again on a daily basis, he's going to instantly be the leading voice for a new type of Republican."
Deals may be in the works for Bannon, but it is unclear to what extent these will involve Breitbart News. Earlier this week, BuzzFeed News reported that Bannon was pondering the creation of "a TV network or online show," though details of such an effort were sparse. (Alex Marlow, the site's editor, and Larry Solov, its president, both did not respond to a request to comment on Breitbart's direction since Bannon's return. Bannon was traveling in Asia.)
More substantively, Breitbart News has not shown any inclination to engage in substantive ideological warfare since Bannon's return to head the organization. To the contrary, it has continued to attack establishment politicians on predictable grounds while also serving as a wire service with a conservative bent (a good portion of its traffic relies on links from the Drudge Report, the influential right-leaning news aggregator). And for an organization that spurns the mainstream media, Breitbart News is certainly eager for affection from the coastal elite establishment, publishing four articles on a New York Times Magazine feature on Breitbart News, which was notable primarily for it obsequious approach.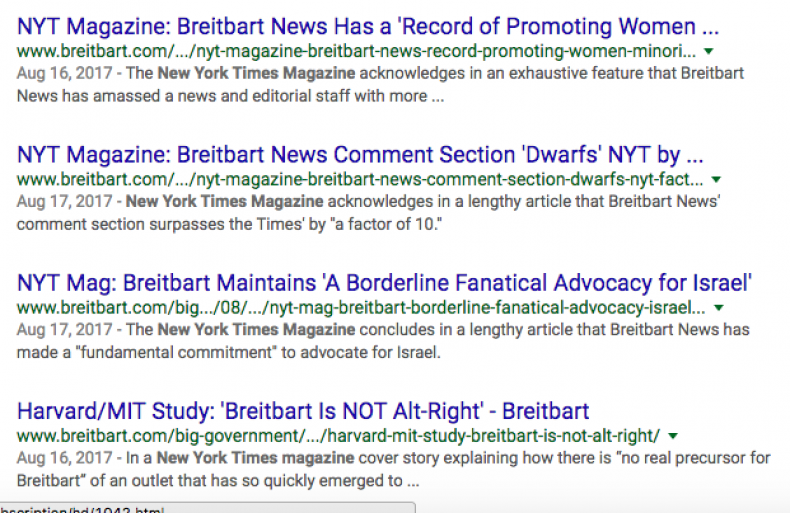 Breitbart was once intimately bound to the Trump administration, but what Rich Lowry of National Review deemed "the Breitbart White House" has been dismantled. Bannon's departure was followed by that of Sebastian Gorka, the Islamophobic terrorism "expert." Also gone is Ezra Cohen-Watnick, a National Security Council staffer friendly with the Breitbart crowd. The most influential Breitbart alumna at the White House is Julia Hahn, a special assistant to the president known as "Bannon's Bannon" for her disdain for establishment Republicans.
It must gall the editors of Breitbart to read that Trump's strict new chief of staff, General John Kelly, has restricted the president's access to printouts from conservative sites like Breitbart and The Daily Caller, so much so that Trump has taken to wondering if those sites remain in operation.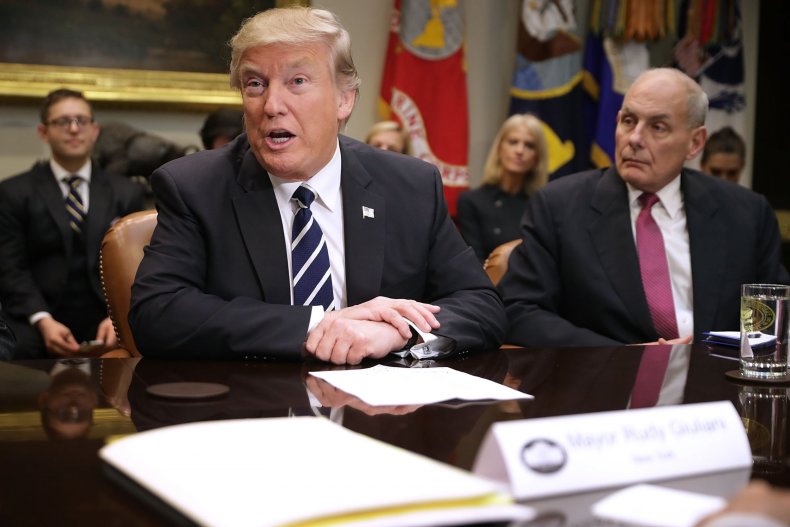 With its standing within the White House greatly diminished, Breitbart has taken to waging a self-referential battle for its reputation, as well as Bannon's. Since his return, the site has been tirelessly extolling his relevance, starting with the article announcing his dismissal from the White House, which reportedly resulted from friction with Kelly: "'Populist Hero' Stephen K. Bannon Returns Home to Breitbart." According to an informal count, since Bannon's return to Breitbart News, it has published more than 30 articles whose primary concern is to celebrate Bannon or underscore his beliefs: "Columbia Prof Agrees With Bannon: Identity Politics Hurting Democrats," about a passing reference to Bannon in a conversation between New Yorker editor David Remnick and Columbia political scientist Mark Lilla; "With Steve Bannon Gone, Donald Trump Risks Becoming Arnold Schwarzenegger 2.0," a warning to Trump about the dangers of centrism, culled from a superficial review of the former California governor's two terms in office; "WND: Bannon's Exit Means 'Obama Wins 3rd Term,'" a summary of a conspiratorial WorldNetDaily article that misspells the name of Gary D. Cohn, head of the National Economic Council.
The Bannon-related content reminds the site's readers of how influential Bannon remains while also warning Trump to not deviate from his guidance (Bannon and Trump continue to speak regularly). It almost never seriously engages with critics or proffers credible arguments of any originality. For example, after Pope Francis criticized Trump's decision to cancel the Deferred Action for Childhood Arrivals program, Breitbart—which has long supported tougher immigration laws—published a rambling piece by John Nolte (a recent hire from the Daily Wire) about the Vatican's "guards and checkpoints," as well as "a whole bunch of high-tech surveillance equipment that would stop a James Bond." Political journalism in 2017 necessarily involves serving up plenty of red meat, but this was Grade D chuck, badly undercooked.
It is not common for a news organization to praise its chief executive. For example, The New York Times does not publish articles extolling its publisher, Arthur Ochs Sulzberger, Jr., or his political views. Breitbart has no such compunctions, showing little independence since Bannon's return. Its chief correspondent in the White House, Charlie Spiering, should presumably be covering the Trump administration. But in the last week, he has published six stories on Bannon.
Breitbart News has also continued its attacks on Bannon's reported enemies within the White House, including Ivanka Trump and her husband, Jared Kushner; economic adviser Cohn, whose globalist status is connoted with a globe emoji, which some have perceived as anti-Semitic innuendo; national security adviser General H.R. McMaster; McMaster deputy Dina Powell, whose Egyptian heritage Breitbart highlights by using her full name, "Dina Habib Powell," a tactic reminiscent of references to "Barack Hussein Obama" in right-wing media outlets.
A measure of Breitbart's influence looms in Alabama, where a contest is being waged for the Senate seat formerly occupied by Jeff Sessions, now Trump's attorney general. Trump is backing Senator Luther Strange, an incumbent, while Bannon is behind Roy S. Moore, a favorite of the religious right. Politico, which first reported on Bannon's preference for Moore, noted "it was an act of opposition toward Republican Senate Majority Leader Mitch McConnell of Kentucky, who is supporting Strange and has made the race a top political priority." Breitbart has covered the race with a strong pro-Moore bias, devoting its most dogged journalist, Matthew Boyle, to the race. Moore now leads Strange by 16 percentage points, but it is not clear how much Breitbart is responsible for the margin.
Kurt Bardella, who worked as a spokesman for Breitbart until last year, cautions against underestimating the power of Breitbart News. "Today, you have a president who is in communication with Bannon, who seeks out Breitbart News clips and openly advocates for them," he says. "There is a direct line between them and the leader of the free world. Also, the Republican Party itself is in a far different place today than it was three to four years ago. The most extreme base of the GOP is the most vocal, and there is a lot more reluctance from members of Congress to stand up to them."
Bannon recently met at the Breitbart Embassy—as the townhouse on A Street is known—with Mark Meadows, who heads the far-right Freedom Caucus in the House of Representatives; they reportedly discussed the ouster of House Speaker Paul Ryan, another Bannon nemesis. Politico reports that Bannon is also grooming challengers to two Republican senators, Jeff Flake of Arizona and Dean Heller of Nevada. Any such challenger would be likely be buoyed by Robert Mercer, the billionaire who donates to far-right causes and is one of the primary funders of Breitbart.
It is not clear, however, what role Breitbart News will have in such electoral initiatives. While it has shown a near-endless capacity to throw darts, it has not yet mastered the spear, let alone the missile. On a recent episode of Pod Save America, the popular anti-Trump podcast, Dan Pfeiffer, communications director for President Barack Obama, mocked what he called "the lionization of Steve Bannon and Breitbart."
"It's fucking website that's run out of some dude's house," he said. "So what? Steve Bannon and Mark Meadows met. Who cares?" In a subsequent episode of Pod Save America, host Jon Lovett continued the mocking assault. "You run a fucking blog for racists," he said of Bannon and Breitbart News.