Brendan Gleeson Impresses With Uncanny Trump Portrayal
The internet has been blown away by Brendan Gleeson's uncanny portrayal of President Donald Trump for the upcoming Showtime series The Comey Rule.
The trailer was released Wednesday and the Irish actor's embodiment of the commander in chief has sent heads spinning for his realistic take on the president's unique mannerisms, complete with a blonde wig and prosthetics.
The series is based on former FBI director James Comey's (played by Jeff Daniels) book A Higher Loyalty and follows his role before and after the 2016 election when he was fired while investigating Russia's role in the election.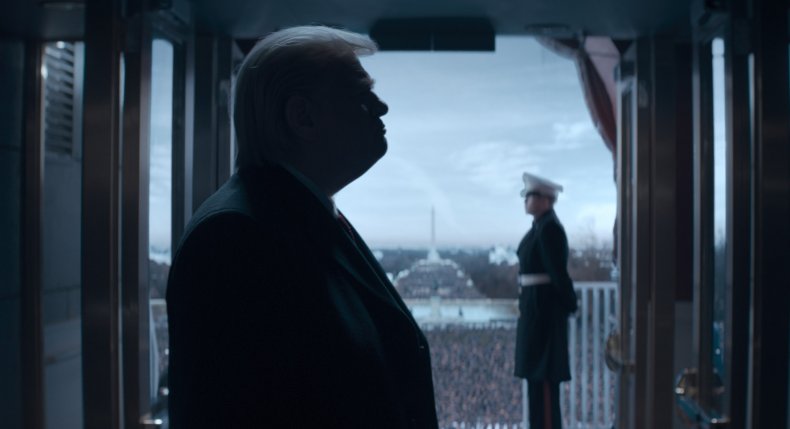 Following the promo's release, legions of TV buffs took to Twitter to bask in the In Bruges actor's incredible transformation.
One Twitter user wrote: "Oh S***. Brendan Gleeson is going to be excellent in this, isn't he?"
While another added: "God Brendan Gleeson looking EXACTLY like Trump, right down to the dumb face, under no illusions the project will be as good as he is."
Another person couldn't get over the likeness, writing: "Brendan Gleeson as Trump is causing my brain to break a little bit..."
And another added: "I'm really unnerved with how good Brendan Gleeson is as Donald Trump."
Another tweet reads: "I've never seen such an amazing casting like Brendan Gleeson as Trump."
One person said they had always wondered who would be the right casting for Trump, tweeting: "I spent years wondering how biopic filmmakers would depict pres trump.... brendan gleeson honestly good casting."
Other cast joining Gleeson in the miniseries are Holly Hunter as former Acting Attorney General Sally Yates, Michael Kelly as former FBI Director Andrew McCabe, Jennifer Ehle as Patrice Comey, Peter Coyote as Special Counsel for the U.S. Department of Justice Robert Mueller and Kingsley Ben-Adir as President Barack Obama.
The synopsis for The Comey Rule reads: "Based on Comey's No. 1 New York Times bestselling book A Higher Loyalty and more than a year of additional interviews with a number of key principals, The Comey Rule is an immersive, behind-the-headlines account of the historically turbulent events surrounding the 2016 presidential election and its aftermath, which divided a nation.
"The Comey Rule is not a biopic of one man, but is instead the story of two powerful figures, Comey and Trump, whose strikingly different personalities, ethics and loyalties put them on a collision course."
The Comey Rule premieres on Sunday, September 27 on Showtime.