Panic! At The Disco frontman Brendon Urie is not happy that his music is being played at Trump rallies.
The musician, 33, took to Twitter on Wednesday and demanded President Donald Trump stop using his songs at his events.
Trump walked onto the stage at a campaign rally in Phoenix, Arizona to one of Urie's bands' hit single, "High Hopes."
Urie was unequivocally in his tweet, telling the President he was "not invited" to use the track.
He wrote: "Dear Trump Campaign, F*** you. You're not invited. Stop playing my song. No thanks, Brendon Urie, Panic! At The Disco & company."
In a follow-up tweet addressed to "everyone else" Urie urged his followers to vote Trump out in November.
"Donald Trump represents nothing we stand for. The highest hope we have is voting this monster out in November." And linked to voter registration site, Head Count.
Urie has not been shy about expressing his disdain for Trump in the past, he once, in an interview with NME referred to the President as a "toxic orange."
"Why couldn't you have just stayed a menial celebrity?" Urie said. "We love laughing at you, but not when you're just breaking our country down, dude."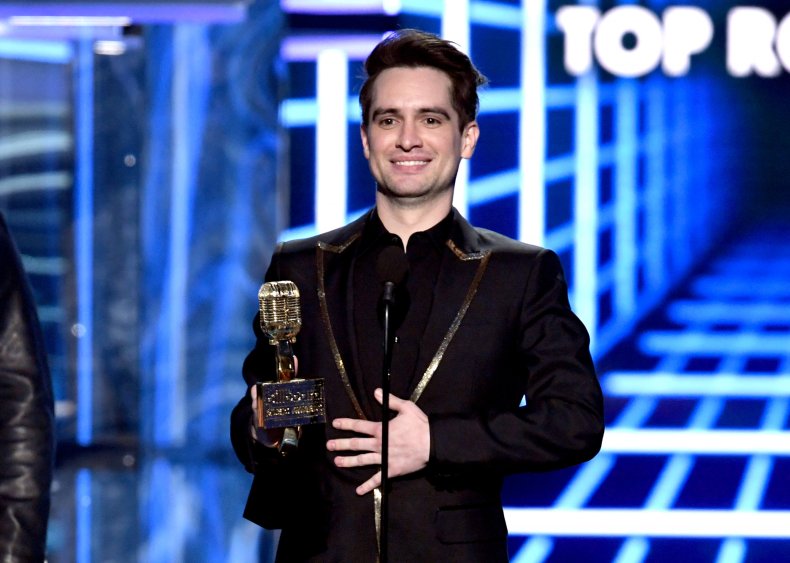 He added: "Your rhetoric is so poisonous," he continued. "You toxic, toxic orange. Just stop, please. I'm begging you, at this point. I'm not even mad anymore, I'm just sad. So sad. Just bring it back, bro. You're the worst."
Urie is the latest in a long line of celebrity musicians to publicly ban Trump from using their music at his political events.
The estate of the late Tom Petty issued the president with a cease and desist this month saying the performer "would never want a song of his used for a campaign of hate."
The 1989 song "I Won't Back Down" was reportedly played at President Trump's comeback rally in Tulsa, Oklahoma last week.
The statement was signed Adria, Annakim, Dana, and Jane Petty and shared on the singer's official Twitter page from Petty's children, widow, and first wife.
"Tom wrote this song for the underdog, for the common man and for EVERYONE," they noted, adding: "We believe in America and we believe in democracy. But Donald Trump is not representing the noble ideals of either."
Other musicians and bands who have spoken out against their music being played at Trump rallies include Prince, Rihanna, R.E.M., Aerosmith's Steven Tyler, and Neil Young.