Brennan Accuses Trump Of Causing Division That Could 'Spill Over into The Streets'
Former CIA Director John Brennan has accused President Donald Trump of "dividing Americans," warning that growing tensions in the U.S. could "spill over into the streets."
Speaking on HBO's Real Time with Bill Maher, Brennan said that Trump's presidency has had a negative impact on the political climate in the U.S. and said he believed it was likely to get worse.
Warning that the U.S. is "in a crisis," Brennan said: "What he's doing to this country, he's dividing us...He's dividing Americans."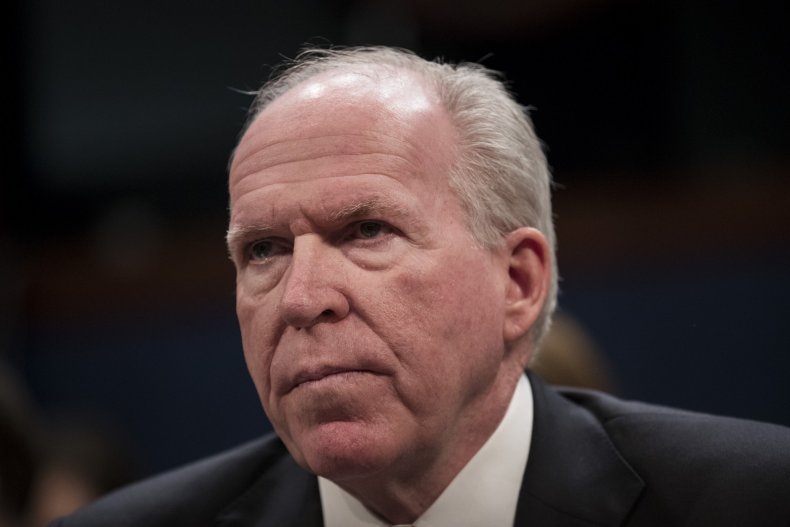 "So I'm really concerned that as he continues to play to his base, he's further dividing us, and I'm really concerned about whether this could spill over into the streets," he said.
The former CIA chief and U.S. leader have repeatedly attacked each other in the wake of Trump's decision to revoke Brennan's security clearance earlier this month.
Many, including Brennan, who played a role in the intelligence community assessment that determined Russia had meddled in the 2016 U.S. election, viewed Trump's decision as a form of retaliation after the former CIA head rebuked the president repeatedly on social media over his leadership.
Before losing his clearance, Brennan had written several sharp criticisms of Trump, writing in one Twitter post: "It's astounding how often you fail to live up to the minimum standards of decency, civility and probity," after the president called former aide Omarosa Manigault Newman a "dog" on social media.
"Seems like you will never understand what it means to be president, nor what it takes to be a good, decent and honest person," he said.
Trump cited Brennan's "erratic behavior" as his reason for removing his security clearance and later, told The Wall Street Journal that he would "put a Republican on [clearance removal] too, if I thought they were incompetent or crazy."
On Aug. 15 the White House issued a statement accusing Brennan of "lying and recent conduct characterized by increasingly frenzied commentary," as well as engagement in "highly partisan positions."
Brennan said on Friday that he had made the decision to continue to speak out against Trump because he believes the stakes are too "high" to remain silent.
"This is a very abnormal time. This is a very abnormal presidency and the stakes are so high," Brennan said. "That's why I've decided to speak out and be outspoken."
In addition to fears that division in the U.S. could lead to violence, Brennan said he was also concerned by Trump's failure to clearly express his agreement with the U.S. intelligence community's findings of Russian meddling at his recent Helsinki summit with Russian President Vladimir Putin.
"This was an opportunity for Donald Trump to fulfill his responsibilities, to say, 'Russia, cut this out, don't do it again, and if you do it again, you're going to pay a cost'," Brennan said.
The former CIA chief said that Trump's apparent refusal to do so felt like a betrayal to the U.S.
"Treasonous is defined as a betrayal of trust as well as aiding and abetting the enemy, so that was the word that came to mind," Brennan said.