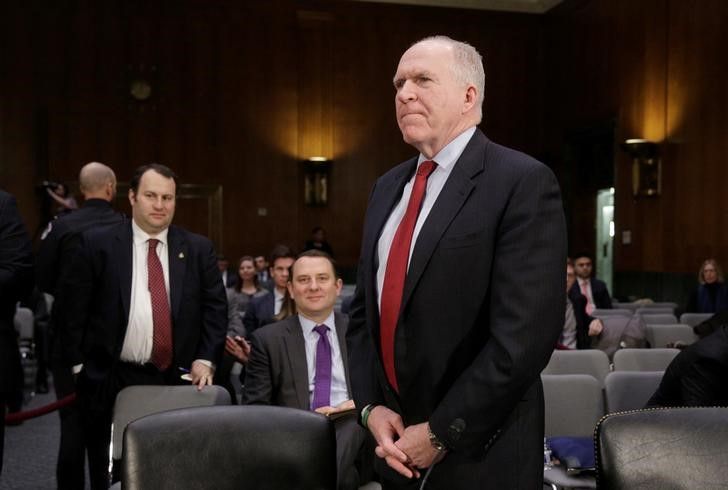 Updated | In mid-November 2013, I paid a visit to CIA headquarters with the then-Editor-in-Chief of this magazine, Jim Impoco. We walked across the famous CIA logo and past the agency's wall of mostly anonymous stars for the fallen. At the turnstiles we were met by an agency representative, who took us upstairs to a meeting room, where we were greeted stiffly by the CIA's grim-faced head of clandestine services and other officials.
The purpose of the meeting was to discuss an article we were preparing on the CIA's successful joint operation with Israel in 2008 to assassinate Imad Mughniyah, a Hezbollah operative responsible for killing hundreds of Americans. I had thought the CIA might want to help us piece together one of its most justifiable lethal operations in its history, which we had learned of through confidential sources. The agency had other ideas: It did not want us to publish the story.
The meeting went badly for the first half-hour, as the Langley officials struggled, and failed, to make their case for spiking the piece. Then one of the officials left the table. A few minutes later, he returned with John Brennan, who took a seat at my elbow.
I had expected the CIA director to be imperious and condescending. But to my surprise, he was polite, respectful and earnest, an attitude rarely demonstrated toward reporters by puffed-up Washington officials. He quietly laid out the case for not publishing—since the details remain off the record, I cannot discuss them here. But I can say it involved which lives would be at stake if we published. And although we engaged in some vigorous back-and-forths, Brennan never abandoned his deferential demeanor.
In the end, our editor-in-chief made the decision to sit on our exclusive—until it was broken by The Washington Post 14 months later. We got our own version online two hours after that.
Related: The anatomy of a CIA assassination
Brennan's courtliness was on display again Tuesday on Capitol Hill in front of the House Intelligence Committee, when he parried repeated attempts by South Carolina Republican Trey Gowdy, the Ahab of Benghazi, to hector him into serving up a Fox News-worthy headline that he had "no evidence" that Trump and company had colluded with the Russians. Rejecting Gowdy's bait, he repeatedly, and politely, would say only that he was "aware of information and intelligence that revealed contacts and interactions between Russian officials and U.S. persons involved in the Trump campaign," which he was "concerned about because of known Russian efforts to suborn such individuals."
The point of all this is that Brennan can be extraordinarily effective, if only because he tries to persuade outsiders by bringing them in and sharing what secrets he can. In his appearance Tuesday, he again displayed how persuasive he is. Although the subject was Russian interference in the 2016 election, the ex-CIA chief's presentation was an unintended tutorial on what major intelligence agencies do besides stealing foreign secrets. The tipoff was his high, professional regard for what the Russians had pulled off in 2016, which is to say, help get Donald Trump elected. And then sow national discord here once Trump took office.
"I have, unfortunately, a grudging respect for Russian intelligence capabilities, their aggressiveness, their pervasiveness and their determination to do what they can do undermine this country's democracy and democratic institutions," Brennan said.
No one asked why he would have such respect, perhaps because a candid answer from Brennan would prompt such gleeful headlines in Russia as "Former CIA chief admits his agency interferes in foreign elections, bribes politicians, plants fake news stories, launders cash, uses business leaders and banks to spy on adversaries and from time to time assassinates its enemies."
The CIA has done that since its founding in 1947, as countless press reports, books, congressional investigations and court cases have revealed through the decades. But that's a fact that has gotten lost in the well-founded alarm about the success of Russian "active measures" to damage Hillary Clinton's candidacy in 2016. Not in their "wildest dreams," many informed experts have said, could the Russians have imagined that stealing and publicizing the private emails of the Democratic National Committee and the chairman of Clinton's campaign would be so effective in paving Trump's path to the White House.
"They clearly had a more favorable view toward Mr. Trump, and the actions they were taking were trying to increase his prospects, even though they probably thought they were not that great," Brennan testified. Much less could they have counted on Trump, once elected, working so hard to undermine such major U.S. institutions as the press, the courts and even the major security organs of his own government.
Brennan said Tuesday he twice called up Alexander Bortnikov, the head of the Federal Security Service (Russia's intelligence agency), to complain about Moscow's covert campaign to "interfere in our upcoming presidential election." He did not say whether he also brought up Russia's constant recycling of phony claims by Trump or his surrogates about Clinton, not to mention his denigration of Muslims. Brennan said Bortnikov "denied" any interference, but you can imagine how that conversation really went.
"You know, Alex, we all engage in this stuff," Brennan might have said, "but I must protest how far you've pressed your opening." And Bortnikov might well have issued a guttural chortle and replied, "My dear John, you know it is not our duty stop it, as you will not stop interfering in our affairs. But it is your responsibility to prevent it, in the same way we prevent your interference." Good luck with that, Bortnikov probably thought: We have our man in the White House.
U.S. Representative Will Hurd of Texas, a CIA operations veteran himself, asked Brennan about "countermeasures" the CIA had undertaken to blunt the Russian assaults. The retired CIA chief said he could talk about them only in a closed session to follow on Tuesday afternoon. But you can imagine that at least some of the committee members want to know whether the CIA has at last adopted what James Clapper, the recently retired director of national intelligence, recommended: Give the Russians "some of their own medicine."
If the CIA has, you can expect the Russians to make light of it. Unless, of course, they want to keep how they know what we're doing a secret.
This article has been updated with John Brennan's statement on Russian activities during the 2016 presidential race.