Brent Musburger Mocks Elizabeth Warren's Heritage
Brent Musburger has found himself at the center of controversy yet again, after mocking Elizabeth Warren's heritage on Twitter.
Over the weekend, the 79-year-old broadcaster, now the radio voice of the Oakland Raiders, tweeted a picture of several men in Native American headdress attending President Donald Trump's rally in Bozeman, Montana.
The caption read: "Elizabeth Warren's 'relatives' backing Trump in Montana!"
The Massachusetts senator has been subject of a series of attacks from Trump, who has repeatedly fired barbs at her Native American heritage.
The President has argued that Warren "used the fact that she was Native American to advance her career" and how "other people who work with her know it."
Trump has addressed the Democratic senator as "fake Pocahontas," an action she later deemed to be "a disgusting low."
Last month, the 69-year-old opted to publicize the results of her DNA test, which proved she is indeed of Native American heritage.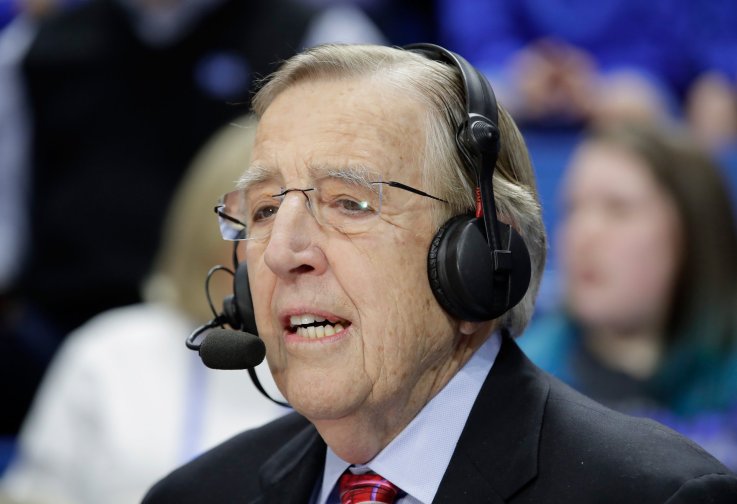 The NFL and the Raiders are yet to make an official comment over the incident but the broadcaster's latest exploit has gone down like a lead balloon in some quarters.
"[Oakland Raiders owner] Mark Davis is free to hire and fire whoever he wants, but the fact that he fired Greg Papa for Musburger will not be a proud moment for this franchise," tweeted Tim Kawakami of The Athletic.
"Among many bad moments this season and beyond."
NFL columnist added Mike Freeman added: "Musburger does radio broadcasts for the Raiders. Wonder if they think this kind of disgusting bigotry is appropriate. I'm old enough to remember when NFL teams wanted Kaepernick to stick to sports."
It is not the first time the veteran broadcaster has flirted with controversy, most notably in 2013 when he voiced his opinion on the Katherine Webb's looks.
At the time, Webb, a top 10 finisher in the Miss USA pageant in 2012 , was the girlfriend of Alabama quarterback A.J. McCarron.
Musburger was calling the 2013 BCS championship game between Alabama and Notre Dame when the camera panned on Webb who was in attendance.
"Now, when you're a quarterback at Alabama—you see that lovely lady there? She does go to Auburn, I want to admit that, but she's also Miss Alabama and that's AJ McCarron's girlfriend," he said.
"You quarterbacks, you get all the good looking women. What a beautiful woman."
"If you're a youngster in Alabama, start getting the football out and throw it around the backyard with pop."
ESPN apologized for the incident, explaining in a statement that Musburger had "gone too far".
The former CBS and ABC broadcaster left ESPN last year and now conducts a daily two-hour show on the Vegas Stats & Information Network from a casino in Las Vegas.
He also calls Raiders games on the radio, which gave him the perfect opportunity to reignite the issue sparked by his comments about Webb. As he welcomed McCarron to Oakland earlier this year, Musburger made a point of mentioning the quarterback's wife directly.
"Welcome A.J. McCarron to the Raider family," he tweeted.
"Can't wait for the "beautiful "Mrs. McCarron to join us in Oakland."
Brent Musburger Mocks Elizabeth Warren's Heritage | Sports