Brent Wilson, Former Panic! At The Disco Bassist, Arrested on Drug Charges in Las Vegas
A cache of drugs and a loaded handgun were found in a car driven by former Panic! At The Disco musician Brent Wilson during his arrest last last month, a police report states.
The bassist, who was part of the pop rock band from its formation in 2004 until 2006, was arrested in Los Angeles on January 22 after allegedly crossing three lanes of traffic without indicating, cutting off oncoming traffic.
A search of Wilson and the vehicle uncovered 13 grams of meth, 1.2 grams of cocaine, 62.6 grams of heroin, a scale, small baggies and foil covered in residue, according to the arrest document obtained by 8 News Now.
A loaded Glock 17 was also discovered underneath the driver's seat, police said.
Wilson, who was on parole at the time of the arrest, was also said to be out two hours beyond his curfew deadline.
The new details emerged after TMZ first reported the 33-year-old's arrest. The celebrity news site reported that officers saw a "bag with a white substance inside" during the traffic stop. He was booked into the Clark County Detention Center.
The musician has previously been convicted of four drug charges.
Newsweek has contacted the Los Vegas Police Department for comment.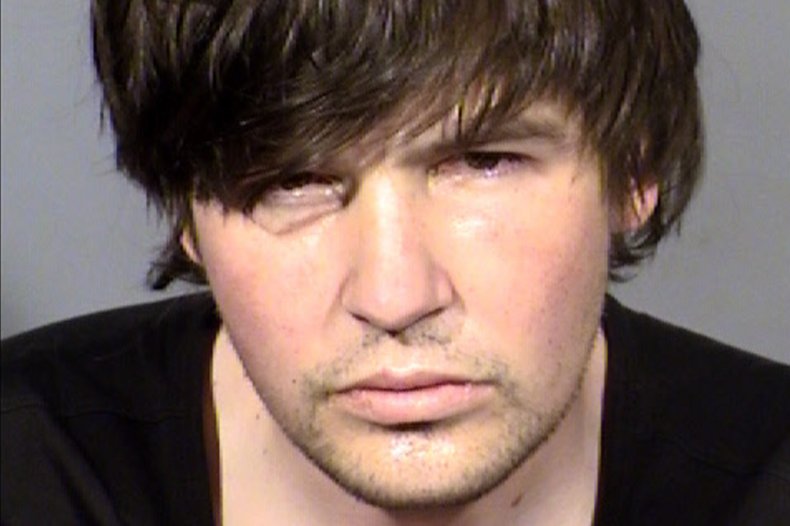 Panic! At The Disco were formed in 2004 by childhood friends Brendon Urie, Ryan Ross, Spencer Smith and Wilson.
Wilson featured on the band's 2005 debut album A Fever You Can't Sweat Out, which peaked at number 13 in the U.S. Billboard album chart.
The second single to be taken from the album "I Write Sins Not Tragedies," reached number 7 in the singles chart.
However, in May 2006 it was announced during a tour that he had left the band and been replaced by Jon Walker.
Wilson spoke about the incident to MTV News the following month. "It was done as a phone call and the only person who spoke was Spencer," he said.
The band has gone on to have further success, with its latest two studio album's— Death of a Bachelor (2016) and Pray for the Wicked (2018)—topping the album charts.
Panic! At The Disco frontman Brendon Urie made headlines in the build up to the 2020 presidential election, when he demanded Donald Trump's team stop playing the band's music at rallies.
Trump walked onto the stage at a campaign rally in Phoenix to the band's hit single "High Hopes"
In response, Urie wrote: "Dear Trump Campaign, F*** you. You're not invited. Stop playing my song. No thanks, Brendon Urie, Panic! At The Disco & company."
The singer has not been shy about expressing his disdain for Trump in the past, he once, in an interview with NME referred to the President as a "toxic orange."