Breonna Taylor Activists Call Kentucky Bill Against Insulting Police 'Retaliation'
Activists say a Kentucky bill seeking to make it a crime to insult or taunt a police officer is "retaliation" for racial justice protests sparked by the killing of Breonna Taylor and other Black people.
Under Senate Bill 211, anyone who "accosts, insults, taunts, or challenges a law enforcement officer with offensive or derisive words, or by gestures or other physical contact, that would have a direct tendency to provoke a violent response" in a public place would be guilty of second-degree disorderly conduct.
The offense, a Class B misdemeanor, would be punishable by up to 90 days in jail and fines of up to $250.
The provision is part of a larger bill seeking to increase the penalties for crimes related to riots. A state Senate committee advanced the bill last week.
Kentucky state Sen. Danny Carroll, who sponsored the bill, has said it is a response to the violence and vandalism seen during protests last year, as well as the riot at the U.S. Capitol in January.
It comes almost a year after Taylor, a Black woman, was fatally shot by Louisville police after they entered her apartment during a botched raid. Her killing sparked protests in Louisville and beyond.
The bill "is not about lawful protest in any way, shape, form, or fashion," Caroll, a retired police officer, said. "What this deals with are those who cross the line and commit criminal acts." Newsweek has reached out to Sen. Carroll for comment.
But opponents to the bill have called it an attack on First Amendment rights and a bid to quell protests against police brutality and racial injustice.
Chanelle Helm, an organizer with Black Lives Matter Louisville, told Newsweek that the legislation is "actually retaliation for anyone standing up for racial justice."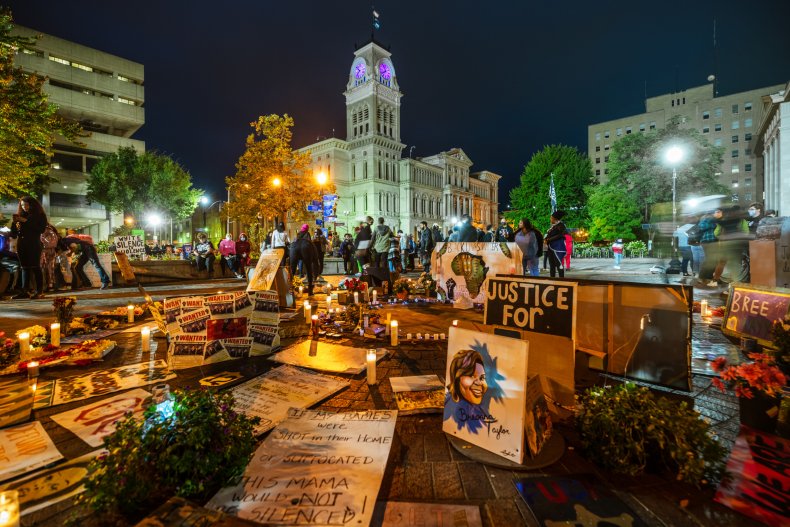 She said: "People are not shot and killed by police because they go and protest, we protest because people are getting shot and killed by police. They're meaning to silence our voices, and that is against our constitutional rights."
Cassia Herron, the chairperson of Kentuckians For The Commonwealth which supported protests calling for justice in Taylor's case, agreed, describing the legislation as a "visceral response" to last summer's Black Lives Matter protests.
"There seems to be certainly a desire to quell that [as] protesters are gearing up for the summer," Herron told Newsweek. "Our local governments are trying to stop free speech and it's something that everybody should be concerned about."
Herron noted that the job of officers at protests is to keep people safe and "that's what they signed up for."
"They have guns and weapons, they have military equipment... and now we're saying if if you flip a police officer off, or call them an a**hole, you're gonna get charged?" Herron said.
"They've got to have thick skin... that's what we ask of Black people everyday when we see people getting killed, and we are disrespected at our jobs. We gotta have thick skin."
She added: "It just scares me to think that anytime any Kentuckian decides to stand up for themselves, there's a possibility that they could get a charge for demanding what's rightfully theirs."
The American Civil Liberties Union of Kentucky described the legislation as an "extreme bill to stifle dissent."
And Keturah Herron, a policy strategist with the ACLU, told Newsweek that such legislation is showing up across the nation in response to the widespread racial justice protests that took place across the nation last year.
"When you look at this nation, historically, you see people protesting, and exercising their First Amendment right," she said.
"But I think what we saw last year in 2020, we've never seen anything like this, we've never seen all 50 states and 18 different countries coming together in solidarity, demanding justice for Breonna Taylor, for George Floyd. In my opinion, this is a direct attack for those people who've been protesting, calling for justice.
"We need to be addressing the issue of why people are protesting, not what the protests look like."
Helm added that lawmakers are seeking to "criminalize Black and brown folks for protesting, but did absolutely f***ing nothing to a bunch of white people upset that Trump isn't in office," she said.
She pointed to the difference in police response to a mostly white mob of Trump supporters who stormed the U.S. Capitol in a deadly riot earlier this year as evidence of racism in the U.S. criminal justice system.
"We watched white men and white women tear up the Capitol in one of the largest white rebellions in this nation in modern history, and were able to do as much damage as possible and interrupt this government, to the point that we know that there are two different systems in this country.
"We know that white protesters, or anybody white, do not get adjudicated by the same law system as Black folks... we saw that on January 6 with the insurrection. We know exactly who [the bill] is for."
She added: "People are actually dying in our communities... and we are worried about whether or not [police officers'] feelings get hurt? That's not even on my agenda."