Breonna Taylor's Mother Says National Protests 'Keeps Me Determined' Amid Push For Justice
Breonna Taylor would have turned 27 on Friday. Instead, this March, she was shot dead by Louisville police officers who conducted a "no-knock" warrant search on the wrong property. Taylor's mother, Tamika Palmer, took the day off work to mourn and talk to media about justice.
"I'm so grateful to the people listening and wanting the same thing I want — justice," said Palmer during an interview with nonprofit news organization The 19th and published in The Washington Post.
Taylor's case is among a series of recent killings of unarmed black Americans including George Floyd on 25 May, who was killed by police after a store worker called 911, accusing him of buying cigarettes with a fake $20 bill. Dreasjon 'Sean' Reed was killed on May 6 in Indianapolis after being pursued by police both in his car and on foot, then shot. Plus, in April in Georgia, former Police Officer Gregory McMichael helped corner Ahmaud Arbery near Brunswick, which ended with Arbery being shot dead.
"It's been hard, but the added support I'm getting from around the country helps keep me going," said Palmer of her daughter's death. "It helps me know that I am not in it alone anymore. It keeps me determined, that's for sure."
There have so far been no charges made in Taylor's case, which received limited attention for weeks, before gaining momentum amid protests across America, calling for an end to systemic racism.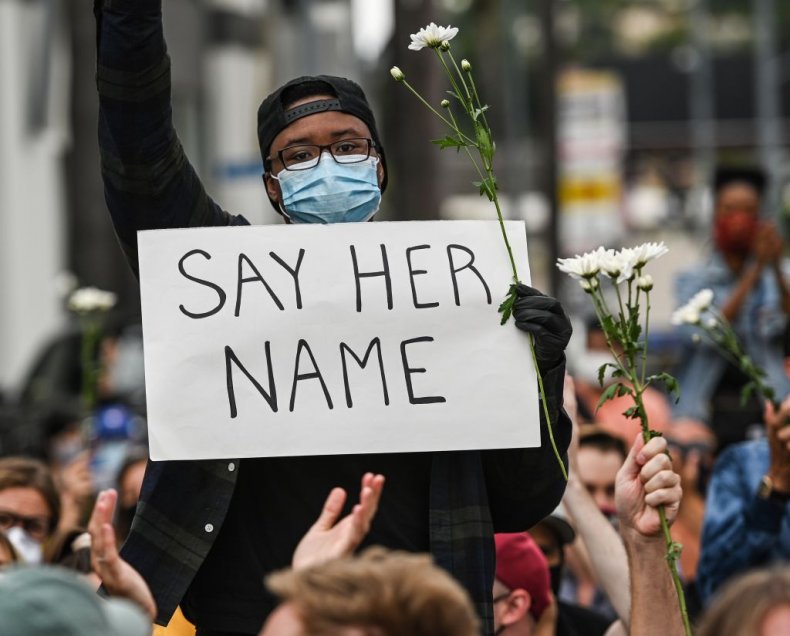 At the time of her death, Taylor was selflessly working on the frontline as an Emergency Medical Technician, an emergency responder helping to save lives during the coronavirus pandemic.
An inordinate amount of African Americans are killed by police each year in the U.S. The police involved in Taylor's case have taken a leave of absence but have not been arrested for the shooting.
"It's very frustrating, it's heartbreaking," Palmer said of police accountability. "It's a smack in the face, actually, to know that these officers are still being paid to do a job that they failed at."
Palmer is sure her daughter Taylor would have been involved in the anti-racist protests across the U.S. if she were alive today. "She'd be right here doing the same thing without a second thought," Palmer said.
Taylor's dream was to become a nurse. In tribute to the young EMT on her birthday, the University of Louisville announced a nursing scholarship for black women in Kentucky under Taylor's name.
Meanwhile, Breonna's Law has been approved by the Louisville Metro Council, which restricts police use of no-knock warrants.