Four former Louisville, Kentucky, Metro Police Department officers were charged on Thursday in the fatal shooting of Breonna Taylor.
During a news conference, Attorney General Merrick Garland announced that his office has filed federal charges against Louisville Metro Police Department's former Detective Joshua Jaynes and Sergeant Kyle Meany, as well as against Detective Kelly Goodlett and former Officer Brett Hankison. The Louisville Courier Journal reported Thursday that the police department has begun termination proceedings for Meany and Goodlett.
"Among other things, the federal charges announced today allege that members of LMPD's Place-Based Investigations Unit falsified the affidavit used to obtain the search warrant of Ms. Taylor's home, that this act violated federal civil rights laws, and that those violations resulted in Ms. Taylor's death. Breonna Taylor should be alive today," Garland said.
The announcement came more than two years after Taylor, a 26-year-old Black woman, was fatally shot during a police raid at her home in Louisville in March 2020.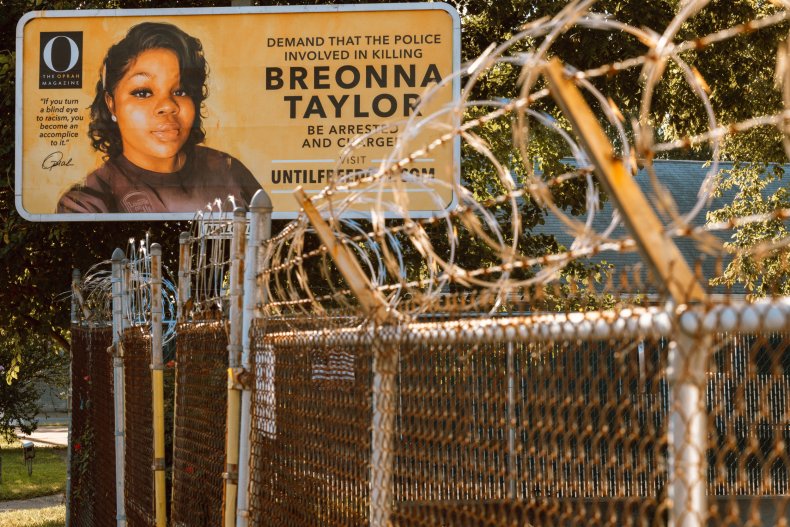 According to a press release from the Department of Justice, the charges filed against the individuals involved in the deadly raid of Taylor's home include "civil rights offenses, unlawful conspiracies, obstruction offenses, and use of excessive force."
The press release stated that the civil rights offenses carry a "a statutory maximum sentence of life imprisonment where the violation results in death or involves an attempt to kill." Additionally, the charges of obstruction carry a maximum sentence of 10 years in prison, and the conspiracy charges carry a maximum of five years in prison, if the accused individuals are eventually found guilty.
According to the Department of Justice, Jaynes and Meany were charged in one indictment, which accuses them of creating and approving a false search warrant that resulted in Taylor's death. Hankison was charged in a second indictment, "for firing his service weapon into Taylor's apartment through a covered window and covered glass door," the Department of Justice said. Goodlett has been accused of conspiring with Jaynes in order to create the false search warrant and "to cover up their actions afterward."
In March, Hankison was found not guilty of state charges that accused him of wanton endangerment.
"Since the founding of our nation, the Bill of Rights to the United States Constitution has guaranteed that all people have a right to be secure in their homes, free from false warrants, unreasonable searches and the use of unjustifiable and excessive force by the police. These indictments reflect the Justice Department's commitment to preserving the integrity of the criminal justice system and to protecting the constitutional rights of every American," Assistant Attorney General Kristen Clarke said in a statement.