Breonna Taylor Protests Take Place Across U.S. On Anniversary of Her Death
Protests took place across the country on Saturday, renewing calls for justice on the anniversary of Breonna Taylor's death.
Hundreds of demonstrators gathered in Taylor's hometown of Louisville, Kentucky a year after the Black woman was killed during a botched drug raid at her apartment in the early hours of March 13, 2020.
Louisville officers broke down the door of Taylor's apartment, prompting her boyfriend Kenneth Walker—who later said he feared an intruder was breaking in—to fire his gun once, striking an officer in the leg.
Three officers fired a total of 32 shots into the apartment, killing Taylor.
Her name, along with George Floyd and other Black people killed by police, became rallying cries, fueling a summer of protests against police brutality and racial injustice.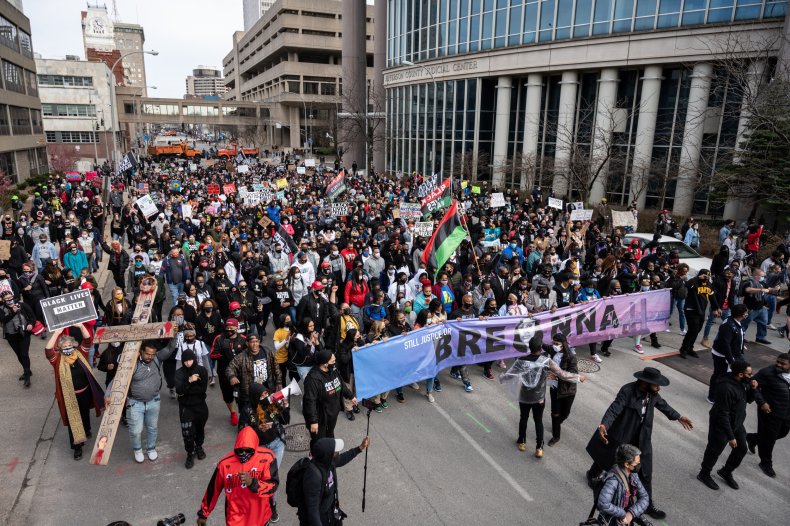 A grand jury later indicted one of the officers for shooting into an neighbor's apartment, but no officers were charged in relation to Taylor's death.
Last week, Walker had an attempted murder charge against him dropped. At Saturday's rally, he described it as a "nice start," according to the Associated Press. But he added: "We've got to keep going."
Other rallies protesting Taylor's killing took place across the U.S. on Saturday, including in New York City and Atlanta.
In Los Angeles, what started as a peaceful demonstration later turned violent. Videos posted on Twitter showed protesters marching in the Hollywood neighborhood, chanting Taylor's name.
A video posted by Vishal Singh showed a police vehicle drive forward sharply, knocking down two protesters who had climbed onto the car's hood.
Another video shared by Singh showed a tense stand-off between police and protesters. "LAPD throwing down protesters and opening fire at point blank range," Singh wrote alongside the clip. "Officers shot, beat, and arrested many activists as well as members of the press who were merely documenting."
The Los Angeles Police Department has been contacted for comment.
In Seattle, police made more than a dozen arrests during a protest marking the anniversary of Taylor's death.
Videos posted on social media showed police on bicycles pushing groups of people through the street.
The Seattle Police Department tweeted that some people taking part in the march had moved construction signs and other items into the street to block traffic. They also shared a picture of a Starbucks that had been vandalized.
Police said 13 people were arrested for offenses including assaulting an officer, obstruction, pedestrian interference and resisting arrest.
Mike Scaturo, a freelance journalist, tweeted that officers responded with "lots of pepper spray" after protesters moved objects into the road.
He tweeted that at around 9,20 p.m., Seattle officers had "surrounded the group on the sidewalk and arrested an apparent bystander caught in the mix."
Scaturo added that "with nowhere to go and people behind us, many get pushed to the ground."
The police department has been contact for comment.