Breonna Taylor Seen Singing and Dancing in Video Going Viral on Anniversary of Her Death
A video showing a smiling Breonna Taylor dancing and singing along to music has gone viral on Twitter.
The 14-second clip of Taylor shows her in a room with at least three others, playfully sticking her tongue out at the camera as she dances.
Brooke Ariel, who posted the video on Twitter, noted that it was probably the first time many people would have seen Taylor in motion.
"This might be the first time you actually saw Breonna Taylor on video," Ariel wrote in the tweet.
"This is how I want to remember Her. Filled with life and love."
She added: "When we get your justice we finna turn up just like this in your name." Ariel has been contacted for additional comment.
The clip has amassed more than 500,000 views and more than 50,000 likes since it was posted on Twitter on Saturday—the anniversary of Taylor's death.
Taylor, a 26-year-old Black EMT, was killed by police officers during a botched drug raid at her apartment in Louisville, Kentucky in the early hours of March 13, 2020.
Officers with the Louisville Metro Police Department broke down the door to Taylor's apartment. Her boyfriend Kenneth Walker, believing that intruders were breaking in, fired a gun once, striking an officer in the leg.
Three officers responded by firing 32 shots into the apartment, killing Taylor.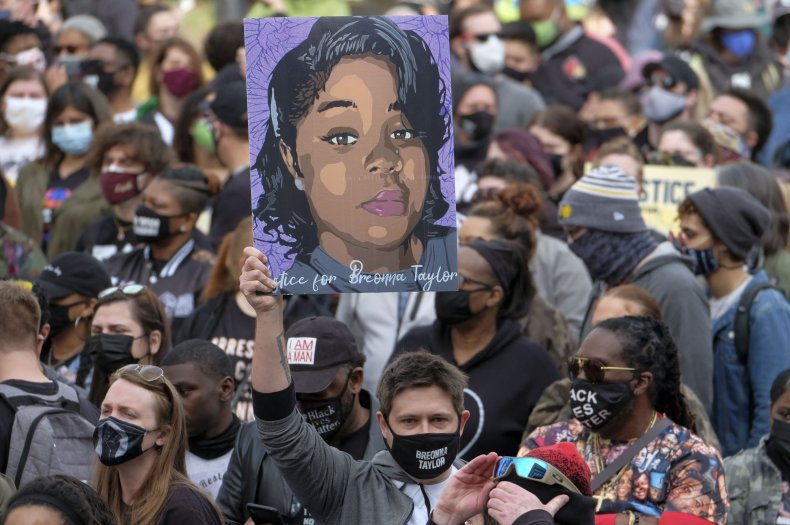 A grand jury indicted one of the officers for firing into a neighbor's apartment, but no charges were ever filed in relation to Taylor's killing.
Her name, as well as those of other Black people killed by police, fueled a summer of protests against racial injustice and police brutality last year and sparked a national reckoning on race.
Protesters renewed their calls for justice in Taylor's case again on Saturday, taking to the streets in cities across the U.S. on the anniversary of her death.
Many also took to Twitter to remember Taylor, including Kentucky governor Andy Beshear.
"I will never understand the unimaginable grief of Tamika Palmer and other family and loved ones, but I am committed to listening and working with others to build a more equitable and fair commonwealth for every Kentuckian," he wrote.
President Joe Biden was among those who paid tribute to Taylor, calling her death "a tragedy, a blow to her family, her community, and America."
He added: "As we continue to mourn her, we must press ahead to pass meaningful police reform in Congress. I remain committed to signing a landmark reform bill into law."