Breonna Taylor's Family Receiving Largest Settlement in Louisville History Following Wrongful Death Suit
The city of Louisville has agreed to a $12 million settlement with the family of Breonna Taylor, a 26-year-old Kentucky woman who was fatally shot five times by police in her apartment in March.
Louisville Mayor Greg Fischer made the official announcement on Tuesday in a joint press conference with the lawyers of Taylor's family. He said while the investigation by Attorney General Daniel Cameron is still ongoing, his "administration is not waiting to move ahead."
In addition to the payment, the settlement includes a number of police reforms to be implemented in the city. One of these includes the requirement of commanding officers to approval all search warrants before an officer seeks judicial approval.
Fischer said he hopes to build stronger community connections by establishing a housing credit program to incentivize police officers to live in the city. He also said social workers would be integrated into the Louisville Metro Police Department and that funds for this activity have already been initiated.
"It has been so long getting to this day, where we could assure that Breonna Taylor's life wouldn't get swept under the rug like so many other Black women in America who have been killed by police," Ben Crump, one of the attorneys representing Taylor's family, said on Tuesday.
Taylor's settlement the largest paid by the city for a police misconduct case. Previously, the largest settlement paid by Louisville's government for allegations of police misconduct was made to Edwin Chandler in 2012 for the sum of $8.5 million. Chandler was wrongfully imprisoned for more than nine years after Detective Mark Handy was indicted on one count of perjury for providing false testimony against Chandler.
Crump said the settlement is the largest amount ever paid in the U.S. over a police shooting involving a Black woman.
Sam Anguilar, another attorney representing Taylor's family, also confirmed to CNN on Tuesday that the case has reached a settlement.
"The city's response in this case has been delayed, and it's been frustrating, but the fact that they've been willing to sit down and talk significant reform was a step in the right direction and hopefully a turning point," he told CNN.
Newsweek reached out to Crump and Anguilar for comment but did not hear back before publication.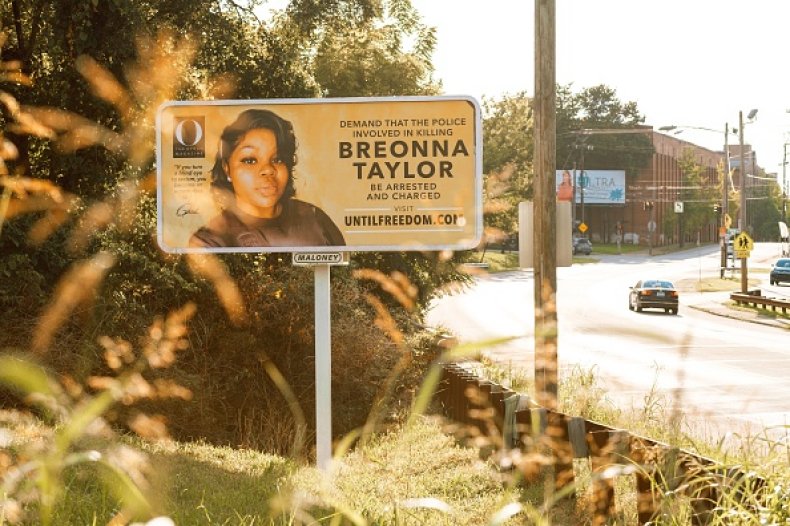 The deal in the civil suit brought by Taylor's family comes the same week that a Jefferson County grand jury may decide on whether criminal charges will be brought against any of the three officers involved.
Currently, neither Jonathan Mattingly, Brett Hankison nor Myles Cosgrove face criminal charges for their involvement in the shooting death—a measure Taylor's family has pushed for and many have demanded in their protests for Taylor's justice.
Hankison has since been fired from the Louisville Metro Police Department, a decision the officer has appealed. A hearing for the case has been delayed until completion of the criminal investigation. Mattingly and Cosgrove have been placed on administrative reassignment.
Taylor, a medical worker, was shot and killed on March 13 when Louisville police served a no-knock warrant, which have since been banned in the Kentucky city, at her apartment in connection to a narcotics investigation.
Police officials said the no-knock warrant was necessary "due to the nature of how these drug traffickers operate."
"These drug traffickers have a history of attempting to destroy evidence, have cameras on the location that compromise Detectives once an approach to the dwelling is made, and a have history of fleeing from law enforcement," Louisville detector Joushua Jaynes wrote in an affidavit obtained by ABC News.
When police broke the door down, Taylor's boyfriend, Kenneth Walker, fired at the officers. He later claimed neither he nor Taylor knew who was at the door.
Police now claim they knocked and announced their presence before Walker struck Mattingly in the thigh. The three officers fired back, striking Taylor five times before she died in the hallway.
The Louisville Metro Police Department referred Newsweek to the mayor's office.
Newsweek reached out to Fischer for comment but did not hear back before publication.
The wrongful death suit filed by Taylor's family alleges that police used excessive force and that the search was grossly negligent and executed in an effort to clear out a block for gentrification.
Taylor's death garnered national attention after the death of George Floyd, as millions took to the streets to call for an end to police brutality and racial injustice. On what would have been her 25th birthday, the hashtag #SayHerName trended on Twitter to bring awareness to Taylor's death and other Black women with similar stories.
Several public figures and politicians, including Senator Kamala Harris, the players of the WNBA and Oprah Winfrey, who featured Taylor on the cover of her magazine in July, have spoken out about the young woman's death.
Update 15/09/20 2:40 p.m. EDT: This story was updated with comments from Crump.