Breonna Taylor's Mother 'Never' Had Faith in Kentucky Attorney General: 'We Are Never Safe'
Breonna Taylor's mother, Tamika Palmer, "never" had faith in Kentucky Attorney General Daniel Cameron but hoped he would "do the right thing," something she said failed to happen when a grand jury didn't hold accountable the police officers involved in her daughter's death.
Taylor was fatally shot in her Louisville apartment when officers executed a warrant during a narcotics investigation that turned up no drugs or the suspect. Her death sparked nationwide calls for holding the officers accountable. On Wednesday, officer Brett Hankison, who was fired by interim Police Chief Robert Schroeder, was indicted on three counts of wanton endangerment for shots that entered neighboring apartments.
Two other officers involved in the shooting, Jonathan Mattingly and Detective Myles Cosgrove, were not indicted on any charges. The judge granted Hankison a $15,000 cash bond and issued a warrant for his arrest. Wanton endangerment in the first degree is a Class D felony and punishable by up to five years in prison.
"I never had faith in Daniel Cameron to begin with," Palmer said in a statement read at a Friday press conference. "I knew he was too inexperienced to deal with a job of this caliber. I knew he had already chosen to be on the wrong side of the law.
Lonita Baker, an attorney for the family, said in a Facebook post that if the facts were sufficient to indict Hankison on wanton endangerment to other people, they were sufficient to indict him for the "wanton murder of Breonna."
Before making a presentation to the grand jury, Cameron said his office spent thousands of hours examining ballistic evidence, including 911 calls. His job, he said, was not to determine if Taylor's death was a tragedy, a question that can be answered with an "unequivocal yes." His job was to "put emotions aside," analyze the facts and determine if criminal violations of the law resulted in the loss of Taylor's life.
Having completed its investigation, Cameron's office determined that Cosgrove, who fired the fatal shot, and Mattingly were justified in discharging their weapons, as they were first fired upon by Kenneth Walker, Taylor's boyfriend. Since their use of "deadly fire" was justified, under Kentucky law Cameron's office could not pursue criminal charges in Taylor's death, he said.
"Today says what kind of society we want to be," Cameron said. "Do we really want truth? Or do we want a truth that fits our narrative? Do we want the facts? Or are we content to blindly accept our own version of events?"
Cameron, Palmer said, helped her realize that it will "always be us against them" and that "we are never safe when it comes to them."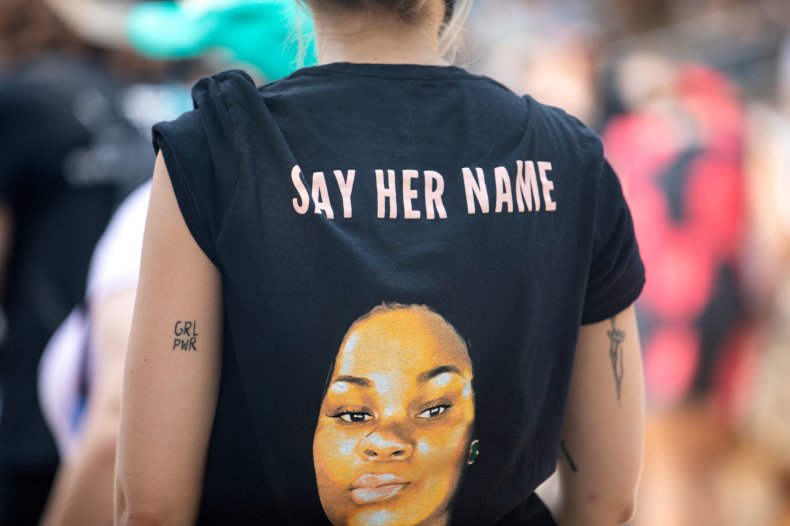 The decision not to charge any of the officers involved in Taylor's death sparked nationwide protests. During a press conference Friday, Benjamin Crump, who represents the families of George Floyd and Jacob Black, two Black men who were the victims of police violence in Minneapolis and Kenosha, Wisconsin, respectively, encouraged people who were outraged to channel that passion on Election Day.
Ahead of Cameron's announcement, the city of Louisville settled a lawsuit with Taylor's family for $12 million. Along with the payment to the family, the city agreed to implement new drug testing rules for Louisville police officers, incentivize officers to live in specific neighborhoods and increase scrutiny over search warrants.
"Justice for Breonna means that we will continue to save lives in her honor," Palmer said in a statement at the time. "No amount of money accomplishes that, but the police reform measures that we were able to get passed as a part of this settlement mean so much more to my family, our community, and to Breonna's legacy."
Crump said he hadn't seen the "responsive systemic reform" that occurred in Louisville occur elsewhere. However, he called the lack of charges in Taylor's shooting "outrageous and offensive."
"If Brett Hankison's behavior was wanton endangerment to people in neighboring apartments, then it should have been wanton endangerment in Breonna Taylor's apartment too," Crump said. "In fact, it should have been ruled wanton murder!"
Newsweek reached out to Crump for comment but did not receive a response in time for publication.
After Taylor's death, people on social media and protesters kept a running tally on the number of days when no charges were brought against the officers involved. Cameron committed to conducting a full investigation to "find the truth and pursue justice." But he said on September 9 that it had to be done properly and could not "follow a specific timeline."
In the dark about when the grand jury's decision was coming, state and local officials took action early this week to prepare for Cameron's announcement. On Monday, Louisville police canceled vacations and set up barricades in the downtown area, where many of the protests have occurred. Mayor Greg Fischer declared a state of emergency on Tuesday "due to potential civil unrest," restricted access to five downtown parking garages and banned on-street parking to "provide an extra layer of security" for protests near Jefferson Square Park.
"Our goal is ensuring space and opportunity for potential protesters to gather and express their First Amendment rights after the announcement," Fischer said on Tuesday. "At the same time, we are preparing for any eventuality to keep everyone safe."
At a Wednesday briefing, Fischer acknowledged that news of the grand jury's decision was coming on a day that people in Louisville and across the country had been anticipating. His comments came about an hour before Cameron's announcement.
The mayor reiterated that he didn't know what the decision would be but said that it was "important" for the facts surrounding her death to come out and that everyone should be committed to a "peaceful and lawful response." He also asked that people continue to focus on the need for racial equity and reimagining public safety "so we can all move forward as a city."
Mattingly, who was wounded during the shooting, criticized Fischer as well as Public Safety Chief Amy Hess and Police Chief Steve Conrad in an email to his colleagues on Tuesday, saying the three officials had failed police officers "in epic proportions for their own gain and to cover their asses." He defended his actions, asserting that regardless of Cameron's decision, he knew "we did the legal, moral and ethical thing that night."
"It's sad how the good guys are demonized and criminals are canonized," Mattingly wrote. "Remember, you are just a pawn in the mayor's political game. I'm proof they do not care about you or your family, and you are replaceable."