Brett Favre Defends Packers' Drafting Jordan Love: 'No One Is Going to Replace Aaron Rodgers Unless He Chooses To'
Almost a week since the first round of the NFL Draft, the Green Bay Packers' decision to draft Utah State quarterback Jordan Love continues to draw scrutiny.
The Packers shocked the NFL by trading the 30th overall pick and a fourth-round pick to the Miami Dolphins in exchange for the 26th overall pick, which they used on Love and effectively signaled they have started to plan for life after Aaron Rodgers.
The veteran quarterback took the Packers to the NFC Championship Game last season and was desperate for the team to add weapons to what has been a depleted offensive arsenal to ensure he could mount another Super Bowl tilt.
Instead, the Packers went the other way and traded up to select a quarterback who threw 17 interceptions last season and did not add help for Rodgers in the later rounds either.
While Rodgers did not publicly comment on the Packers selecting Love, a number of reports suggested the 36-year-old was far from happy with the franchise's choice.
Rodgers finds himself in the same position Brett Favre was in 2005, when the Packers drafted the former with the 24th overall pick as the designated heir to their legendary quarterback.
Favre knows exactly what it feels like to be the quarterback of a franchise that has just drafted a potential successor and suggested Rodgers has nothing to be worried about.
"Look, no one's going to replace Aaron unless Aaron chooses to be replaced," Favre told TMZ Sports.
"There's no worry for him that he's going to be ousted. He's too good of a player... I think he's got many good years barring injury ahead of him. But, you do have to start grooming the next guy. And, Aaron gets it."
Rodgers sat in each of his first three seasons in Green Bay before earning the starting job in 2008, when Favre moved to the New York Jets.
"At 37, I realized when they drafted Aaron that that was kind of reality setting in," Favre said. "Not that I thought I was going to be replaced right away, but that it's slowly transitioning out with the old, and in with the new."
In 2005, Favre was a year older than Rodgers is now and, like his successor, had lead the Packers to one Super Bowl title during his spell in Green Bay. Crucially, however, Favre had openly hinted at retirement while Rodgers has insisted he wants to play until his 40th birthday, provided his fitness level doesn't fall off a cliff.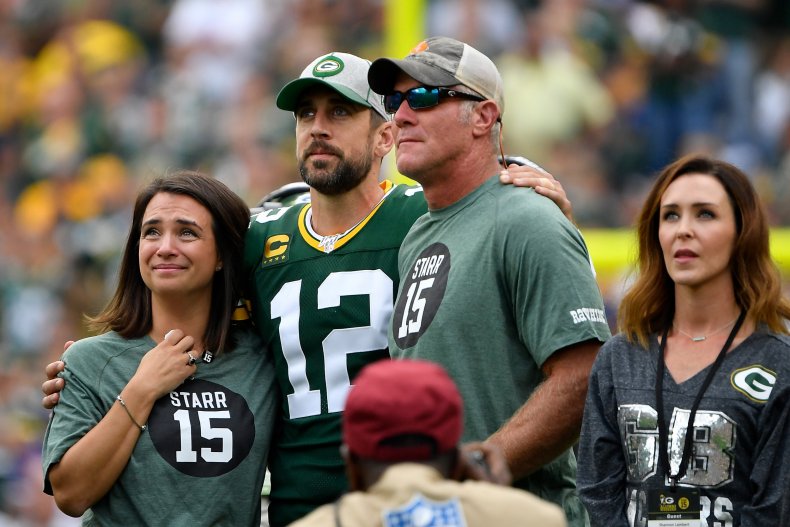 Furthermore, the Packers signed Rodgers to a four-year extension worth $134 million in 2018.
While his successor may be unhappy with the draft haul—aside from Love the Packers added a running back, tight end, two guards, a center, a linebacker and a defensive end and a free safety—Favre believes he understands the franchise needed to plan for the future.
"It's funny because Aaron and I were talking about it last year, how he gets how I was when he came in," he said. "Because now he's at that age that I was when he came in, and so it's getting about time that you start looking at drafting a guy or picking someone up in free agency."
As Favre suggested, taken in a vacuum the prospect of Love playing understudy to Rodgers makes perfect sense for the Packers. The former Utah State star could hardly have picked a better quarterback to be shadowing as he takes his first steps in professional football.
However, Rodgers' notoriously character makes the decision to draft Love very risky.
Packers coach Matt LaFleur, however, indicated he did not expect the veteran quarterback to cause problems for Love or the team.
"Aaron is a pro, and he's the leader of our football team, and I anticipate that for a really long time," the second-year coach said Saturday after the draft concluded.
"I have so much respect for him not only as a player but the person, and some of the stuff that nobody sees. So I can't tell you how much I like working with him."
LaFleur and Love added they had both spoken with Rodgers following the draft.