Former NFL quarterback Brett Favre endorsed President Donald Trump in the upcoming election Friday, stressing a freedom of choice that all Americans "should respect."
Favre, the three-time NFL MVP and one-time Super Bowl champion, announced his endorsement of Trump in a tweet.
"My Vote is for what makes this country great, freedom of speech & religion, 2nd Amnd, hard working tax paying citizens, police & military," Favre wrote in his tweet. "In this election, we have freedom of choice, which all should respect. For me & these principles, my Vote is for @RealDonaldTrump. #Vote."
Favre's endorsement of Trump comes less than a week before Election Day and just days after the former Green Bay Packer asked Trump about how professional sports leagues should support anti-racist messages without becoming political.
During an episode of Sinclair Broadcasting Group's America This Week, Favre said "The NBA and the NFL are struggling with lower ratings, as fans clearly do not want political messaging mixed with their sports," and asked Trump "So how should the leagues support and promote an anti-racism position without becoming political and alienating fans?"
In response to Favre's question, Trump referred to him as "a great guy," and "a champion," and said "People don't want to see all of the politics. They've got enough politics, with me and with everybody else. And they don't want to see it with football or sports, on Sunday or whenever they happen to be watching."
This is not the first time Favre has spoke highly of the Republican president, and during an interview with the Washington Examiner in early October, Favre spoke about playing golf with Trump and said, "Well, I think the fact that I went and played golf with him, the assumption is that I support him. I think he's done a good job for our country. Is he perfect? By no means is he perfect. Tell me someone who is perfect other than Jesus Christ, and I'll call you a liar."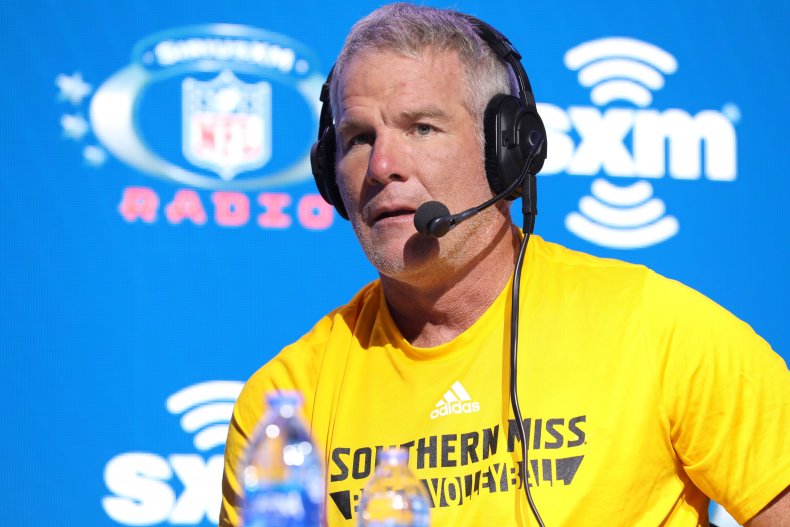 In addition to Favre, a number of other notable former professional athletes have expressed support for Trump.
With less than a week before Election Day, Trump has received endorsements from several former NFL stars such as Jay Cutler, Herschel Walker and former NFL coach Mike Ditka. UFC Commissioner Dana White, golf icon Jack Nicklaus and two former MLB stars, Johnny Damon and Curt Schilling, have also said they support Trump in the upcoming election.
Newsweek reached out to Trump's campaign for comment but did not receive a response in time for publication.